If there is one place in the world where both kids and adults have equal amount of fun, it has to be the water parks. The cool waters of the pools, the numerous thrilling water slides, and other fun attractions are loved by people of all ages. An ideal summer holiday should be to a place where there is ample amount of water parks. Plus, you would find at least 1 water park in almost all the countries you visit. While some are regular ones, there are several that have the latest, state-of-the-art slides and attractions.
Here we would talk about some of the best water parks in the world.
Aquaventure Water Park, Dubai, UAE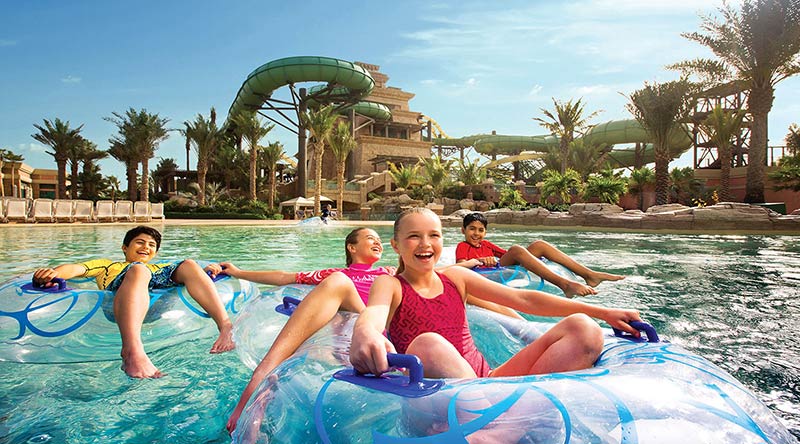 A part of Hotel Atlantis, the Palm, Aquaventure Water Park is one of the largest water parks in the world. Home to more than 79 slides, this water park is filled with record-breaking attractions. Leap of Faith, Blackout, Poseidon's Revenge, Hydra Racer, Slitherine, Immortal Falls, etc. are some of the slides that would appeal thrill seekers. There is also a Splashers Kids' Play Area where kids would have great fun. Apart from all these, the Aquaventure Water Park gives you the opportunity to try surfing and relax at its private beach. You would find several more interesting activities for kids here.
Aquatica, Orlando, Florida, USA
A popular gem of Orlando, Aquatica Water Park is one of the best places to visit if you are in this city of Florida. This theme park is home to some amazing slides and pools that are perfect for both adults and kids. Some of the slides and attractions that you should try here include KareKare Curl, Riptide Race, Ray Rush, Ihu's Breakaway Falls, Katta's Kookaburra Cave, Omaka Rocka, etc. Do check out the Dolphin Plunge, where you can explore the underwater world along with the dolphins. Aquatic is also a great place to sit back and relax, as it has a pretty beach and a lazy river, where you can float without any stress.
Wild Wadi Waterpark, Dubai, UAE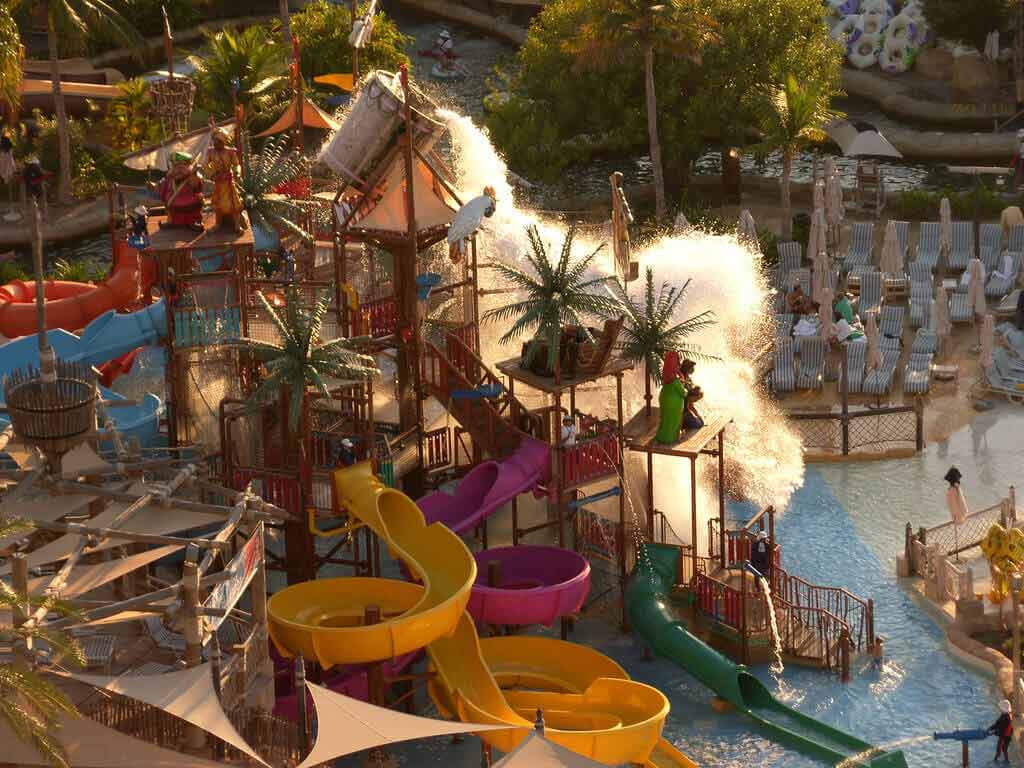 Located in Jumeirah area, close to Hotel Burj Al Arab, the Wild Wadi Water Park is one of the oldest and one of the water parks in Dubai. Once home to the largest water slide outside North America, Wild Wadi is known for its amazing array of thrilling rides and slides that would impress the adventure lover in you. One of the best things you should try here is the Jumeirah Sceirah, the tallest and the fastest free-fall water slide outside the Americas. Apart from this, Tantrum Alley & Burj Surj, Juha's Journey, Wipeout AND Riptide, Juha's Dhow and Lagoon, FlowRider, etc. are some of the star attractions of the place. Guests staying at the Burj Al Arab or any of the Jumeirah hotels are eligible for free entry at the Wild Wadi Water Park.
Beach Park, Fortaleza, Brazil
Known to be the largest water park in Brazil, Beach Park is sprawled around 9 acres of area. While the park has many thrilling slides, the highlight of the place is Insano. Standing at the height of 135-foot, it is the second tallest body water slide in the world. Little children would have a great time at the Noah's Ark play area, Treasure Island, and the Aqua Circus. When you are exhausted after trying all the slides, lounge at the pool side with a refreshing drink. You can also make use of the sports courts, fitness centers, games arcades, and theaters inside the premises of Beach Park.
Siam Park, Tenerife, Spain
A 5-star water park in Tenerife, Siam Park is a Thai-theme water park and one of the best in Spain. Spread around an area of 46 acres, Siam Park has 20 rides and attractions. A perfect place to spend your day with family and friends, there are amazing rides, slides, and pools here. Some of the rides and slides that you should definitely try here include Naga Racer, Patong Rapids, Jungle Snake, Dragon, The Vulcano, Mekong Rapids, Singha, etc. Some of the family-friendly attractions here are Bodhi Trail, Coco Beach, and the Lost City.
Waterbom Bali, Bali, Indonesia
Not many associate Bali with water parks, but if you love water adventures, Waterbom is a water park that you must visit. Spanning around an area of 38,000 square meters, this water park is home to numerous pools, slides, tropical gardens as well as leisure and dining facilities. One of the highlights of Waterbom Bali is Smashdown 2.0, a slide chute that is 25.9 meters long. Some other thrilling rides here include Twin Racers, Fast n' Fierce, Climax, Boomerang, Python, Double Twist, etc. There is a separate section for the little ones, i.e. Funtastic, with numerous shallow pools and fountains.
Watercube Waterpark, Beijing
If you have to pinpoint one unique water park, it should be Beijing's Watercube Water Park. The space was created for Summer Olympics 2008 and was recreated as an amazing indoor water park once the sporting event was over. Today, it is the second most visited tourist spot in Beijing. Before you enjoy the rides, slides, and pools of the Watercube Water Park, you would be mesmerized by the setting of the place as well. You get to see the entire underwater world complete with fish, coral, jellyfish, and air bubbles here. You would also find 10 rides here, which include speed slides, lazy river, wave pool, tube slides, etc.
Aphrodite Water Park, Cyrpus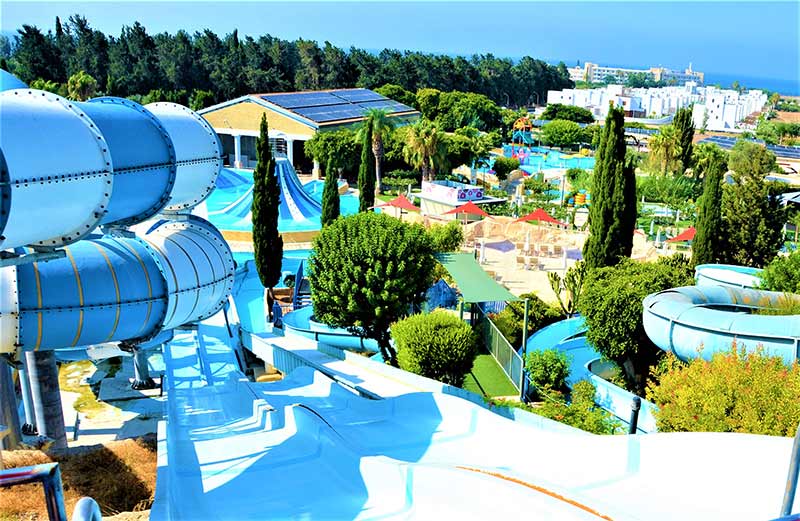 Popularly known as Paphos Aphrodite Water Park, it is located right amidst the stunning natural beauty of Cyprus. Attracting more than 100,000 visitors every year, this water park is the biggest and the best water park in the little island country of Cyprus. The water park is full of adrenaline-pumping rides, the most popular being the Kamikaze, which is the highest one in the water park. Then there is the Free Fall, which would give you the chance to slide down from 1 meters above the pool. There are several family-friendly attractions here, include the Wave Pool, Family Rafting, Pirate Ship, etc. You can also choose to relax on one of the 1000 sunbeds and parasols at this water park.
So you see, water parks are fun way to spend time when you are tired of sightseeing while on a holiday. If you are planning a holiday to any of these places in the near future, do check out these water parks for a fun and memorable time.