Dubai is among the most attractive places in the world to visit because of its breathtaking views and aesthetics. It is currently one of the most well-liked tourist destinations and receives many visitors all year round.
It is well-known for its skyscrapers, golden sand desert, palm trees, and islands as well as for its Dubai Dhow cruise and lavish lifestyles. Each of these elements significantly enhances the city's beauty and importance by a wide margin.
However, do you intend to travel to Dubai in April but are unsure of which experiences to opt for? If so, let us now take a detailed look at a few things you can do:
Cool Things to Do in Dubai in April
Visit Burj Khalifa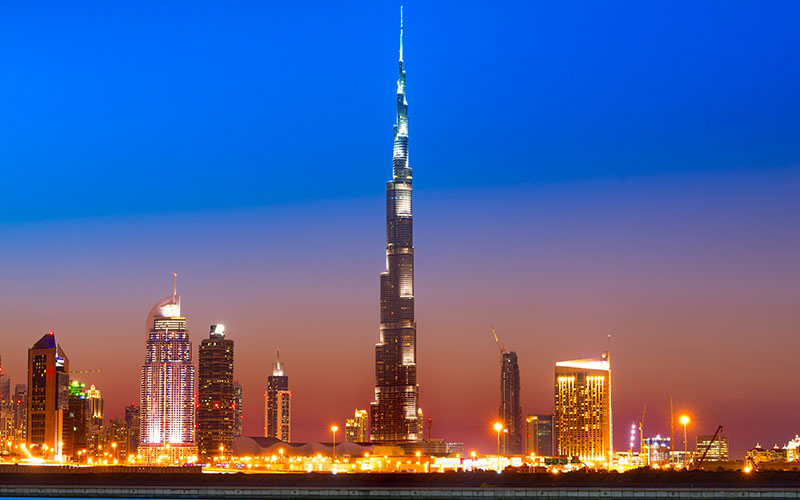 Although it may seem cliche, visiting Burj Khalifa is one of the best things you can do if you travel to Dubai in April. This building is a megastructure that is 828 meters high, making it the tallest structure on the planet. This factor has allowed Burj Khalifa to have an observation deck for visitors.
You can take in a panoramic view of the city from this deck because April in Dubai is known for its warm morning and soothing evenings. It is one of the top attractions in the city since you can easily witness the picturesque landscape of the entire city from the observation deck. It has one of the most luxurious and unique places to dine in Dubai, At.mosphere restaurant
Palm Jumeirah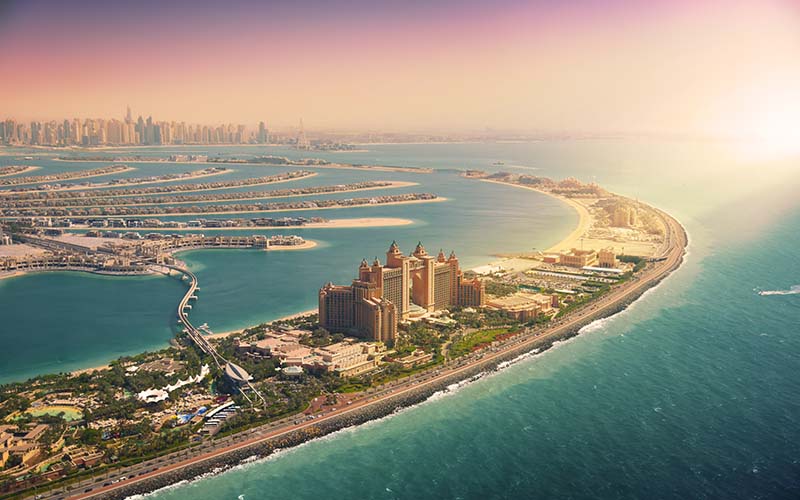 Palm Jumeirah is yet another fantastic destination you may visit while in Dubai. It is an artificial archipelago that you will find in the city. It is renowned for its stunning surroundings and aesthetics.
You will be able to notice that this location was built to resemble a palm tree if you opt for an aerial view. This factor is the main attraction of Palm Jumeirah, and you may have already heard about it before.
It is the city's first significant tourism initiative. Not only that, but this area also has several tourist sites that are ideal for a trip in April.
Ski Dubai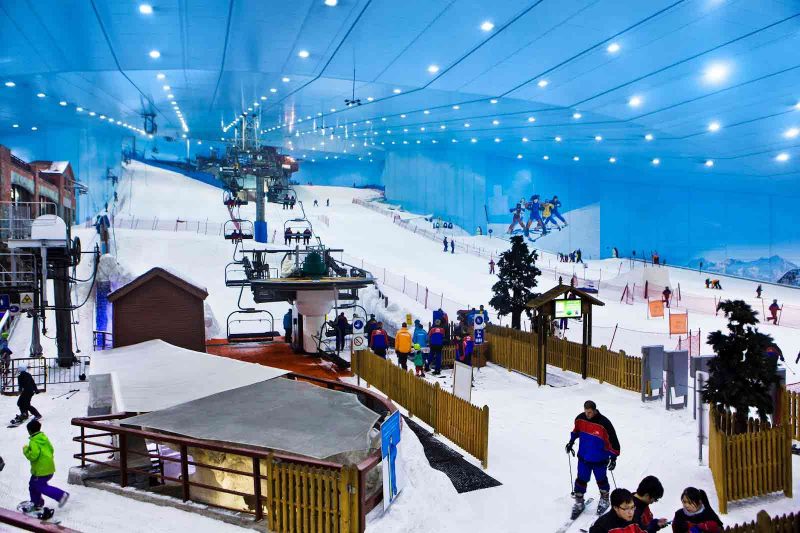 If you travel to Dubai in April, another great attraction that you can visit to cool down is Ski Dubai. It is a resort with indoor skiing that has 22,500 kilometers of space. The snow park, skiing academy, ice museum, ski slopes, and other things you may find in an actual ski resort are all present in this artificial park.
Also, this resort allows you to witness a variety of performances and concerts. Avalanche Cafe is a stunning place where you can also have a meal. Moreover, you will also find real penguins and chairlifts here. If you like such polar activities, also book a ticket to Chillout Ice Lounge in Dubai.
Dubai Dhow Cruise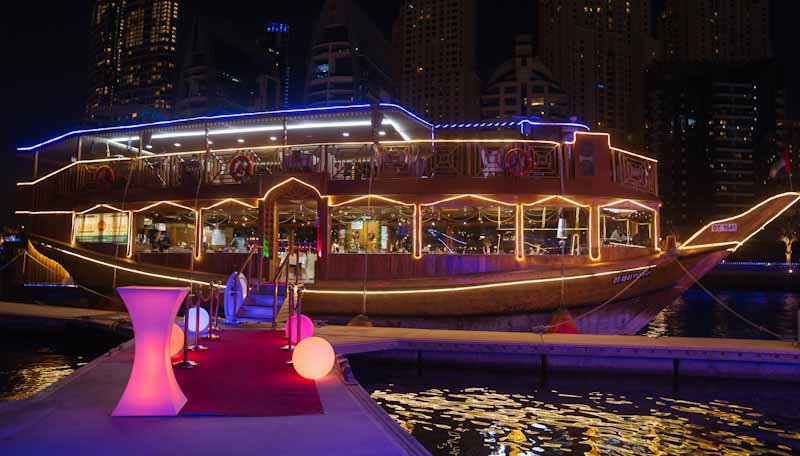 Dubai Dhow cruise is among the top experiences you can have if you travel to this city in April. It is one of the most beautiful and exciting floating restaurants in the world that invites any tourist to easily experience the city's older and newer sides by devouring their favorite dish.
Dhow cruise on Marina and Dubai Creek serves as the primary destination. While the Marina Canal is artificial, the Creek is a natural saltwater waterway.
Visits to Dhow cruises will also give you the chance to experience the heritage of the sea. You can also enjoy a lavish buffet on a cruise as such.
Atlantis The Palm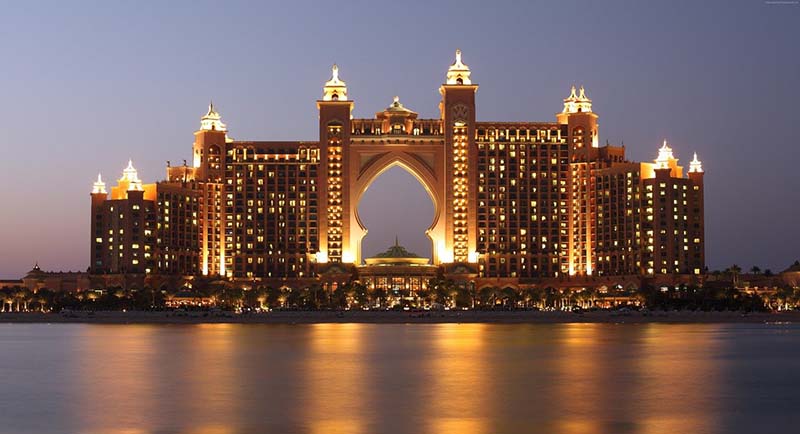 Do you want to explore private beaches when you visit Dubai in April? Atlantis The Palm is the destination for you if the answer is yes. It is a five-star resort that will effortlessly offer you exciting and unique activities. You may enjoy the breathtaking view of the Arabian Gulf while staying at this resort.
Not only that, but this location also has a significant number of aquariums and water parks to greatly enhance your experience. A helicopter tour is another option if you want to look at Atlantis from an aerial point.
Miracle Garden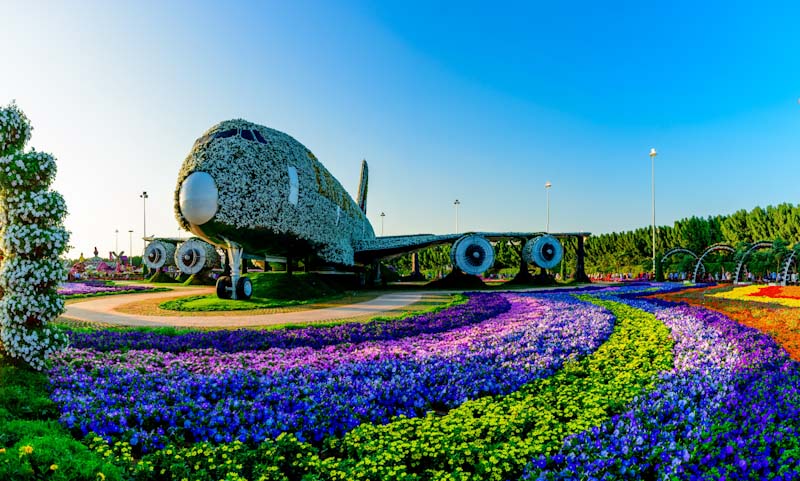 If you visit in spring, you might also choose to take a trip to the Miracle Garden, one of the must-visit sightseeing attractions in Dubai. It is the largest and most attractive flower garden on the planet. It is located on a 72,000-square-meter plot of land and contains around 45 million plants and flowers.
This location is ideal for you if you enjoy spending time in nature and learning about various plants. Since it will be springtime when you visit this garden in April, you will be able to see the flowers in full bloom.
Dubai Museum Of Illusion
When you travel to Dubai in April, you should stop by the Museum of Illusions if you enjoy being intrigued by tricks. The Rotating Cylinder, the Ames Roof, the Al Seef, and other interesting exhibits are housed in one of the biggest museums in the world.
These attractions will all effectively trick your eyes and amuse you. A visit to this location is a must on your trip to Dubai.
FAQs
1. Is April a good time to visit Dubai? 
April is one of the wonderful times to visit Dubai. It is not harsh hot or humid. The winter season is about to end and the summer has begun. You can spend days visiting the indoor attractions and as the night approaches, the temperature drops creating a favorable climate.
2. What is the temperature in Dubai in April? 
The temperature of Dubai in April is 21°C – 33°C.
3. What are the best places to visit Dubai in April?
Some of the best places to explore in Dubai in April are Ski Dubai, Dubai Creek, Dubai Aquarium & Underwater Zoo, Museum of Illusions, and Al Fahidi Fort.
4. When is the best time to visit Dubai?
The best time to visit Dubai is from mid-November to February. The weather is cold, pleasant, and favorable. You can know more through our guide on Dubai in December.
5. Does it rain in Dubai in April? 
There is the least possibility of rain in April with an average rainfall of 8 mm spread over two days.
Conclusion
Leaving for a Dubai trip can be super easy if you plan your visits appropriately. This aspect will allow you to ensure your vacation goes on smoothly. When visiting Dubai in April, you should keep in mind to experience the abovementioned attractions to boost your experience significantly.