Be it a romantic outing with your partner in Dubai or a corporate lunch with your colleagues in New York, there are top dining places globally. Most people look for unique dining experiences in some of the most exotic locations in the world. But did you ever think of dining on floating vessels?
So here is a list of some of the best floating restaurants from different corners of the world with beautiful views and delicious food.
Top Floating Restaurants in the World For all Adventurer Foodies
1. Grand Banks, New York City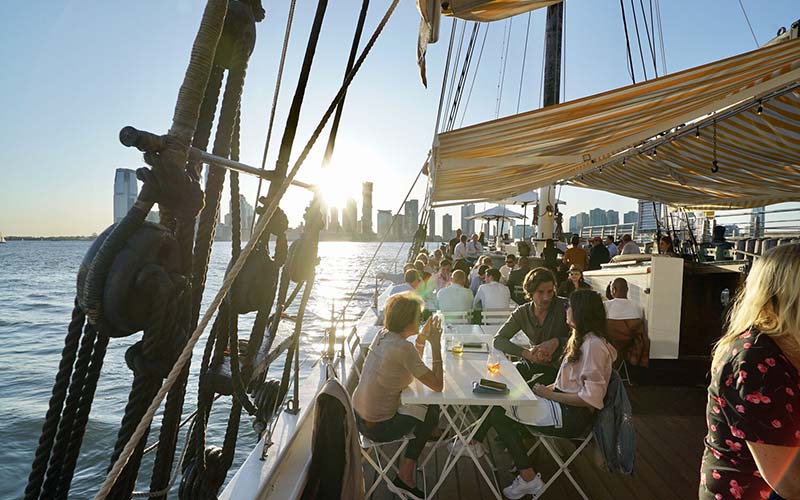 Image Credit: crewny.com/grand-banks
Built in 1922 by some of the finest craftsmen, the F/V Sherman Zwicker is one of the last original fishing vessels. Grand Banks, an establishment, later bought it, and now this beautiful masterpiece has been converted into a fine floating restaurant.
You can enjoy some top-class oysters and sip on fine cocktails while gazing at the glittery downtown skylines.
2. Rustar Dhow Floating Restaurant Dubai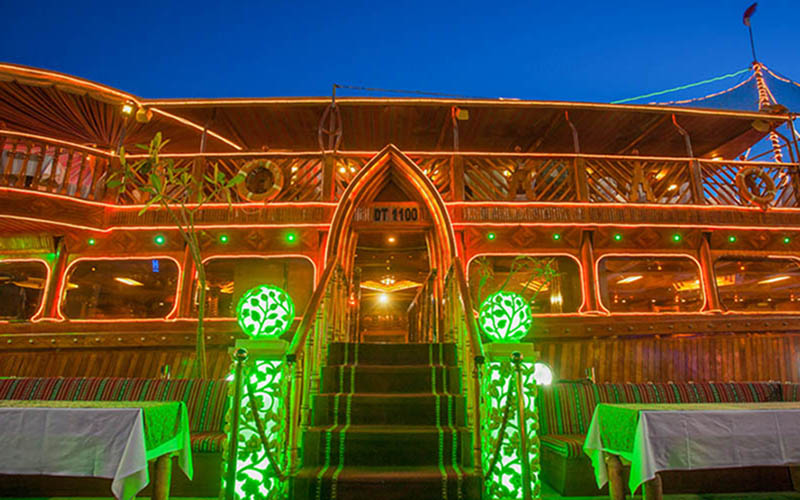 While talking about unique places to eat, how can we skip Dubai?
In Dubai, you can enjoy some of the best world-class cuisines at the Rustar Dhow cruise Dubai. This floating restaurant is massive and can accommodate 400 people in one sitting. You can enjoy an exquisite meal while admiring the majestic view of Dubai and the skyscrapers.
This beautiful floating restaurant in Dubai is also a popular destination for romantic dinners, family get-togethers, and wedlocks.
Dubai is stepping ahead with the floating hotel with helipads and villas.
3. The Saigon Restaurant, Vietnam
This is a unique triple-decker floating restaurant popular among tourists visiting Vietnam. The restaurant can accommodate 600 people, and you can savour some good food and wine while enjoying the beautiful view.
The Saigon Restaurant is the perfect place to spend a peaceful evening away from busy city life. Along with delicious Vietnam food on special occasions, you can also witness top-class performances by the local residents.
4. Jumbo Floating Restaurant, Hong Kong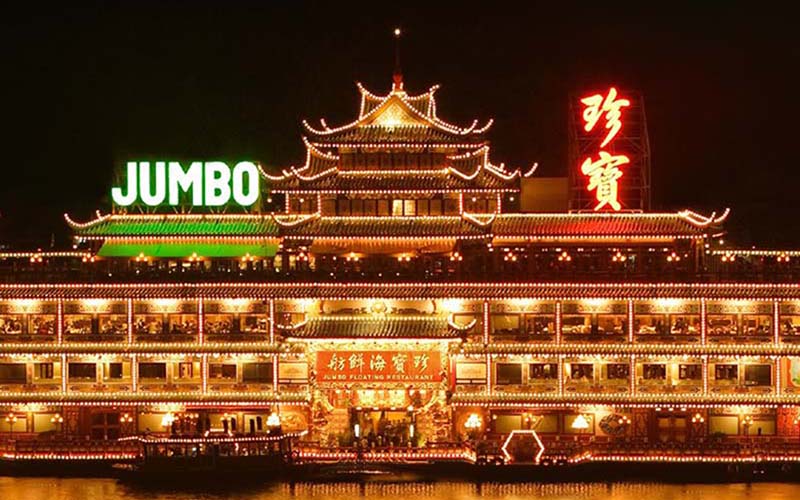 Image Credit: jumbo.com.hk/
If you are visiting Hong Kong, then the Jumbo Floating Restaurant is something you do not want to miss. The place has hosted famous people like John Wayne and Queen Elizabeth II.
Even though this restaurant was established in the early 70s, it was renovated in 2003 and was converted into a theme park. Apart from enjoying the different cuisines, you can also enjoy exciting rides, shopping, and cultural attractions.
5. Sea Place, Amsterdam
This is the first Chinese floating restaurant in Europe, and they promise to offer a once-in-a-lifetime experience. The restaurant has an uncommon pagoda-style exterior where you can have one of the finest dining experiences while enjoying the view of Amsterdam.
You can enjoy local food and also relish the excellent chinese delights.
6. William Thornton Floating Bar & Restaurant, Norman Island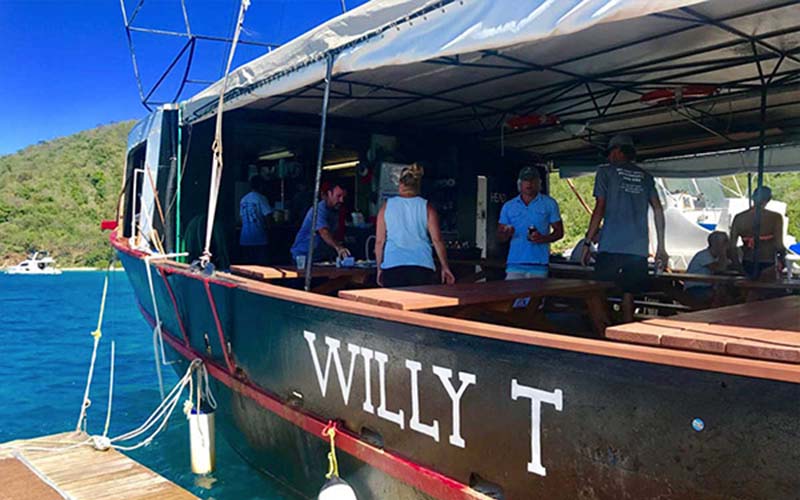 image Credit: willy-t.com/
Floating in the water of Norman Island in the British Virginia Islands, this restaurant is very popular for hosting some of the wildest parties in the area.
William Thornton Floating Bar & Restaurant was opened to the crowd in 1985 and currently offers both a lunch and dinner menu.
7. Veli Lake Floating Restaurant, Trivandrum
Now let us talk about India. Located in the Veli Lake in Trivandrum, this floating place is one of the most popular places in India and is daily visited by hundreds of tourists.
Veli Lake Floating Restaurant is a popular hotspot among tourists both from India and outside. A beautiful pedestrian bridge connects the boat to the mainland. This is the perfect place to savor some of the top-class cuisines while experiencing the beauty of nature.
8. Cloud9, Fiji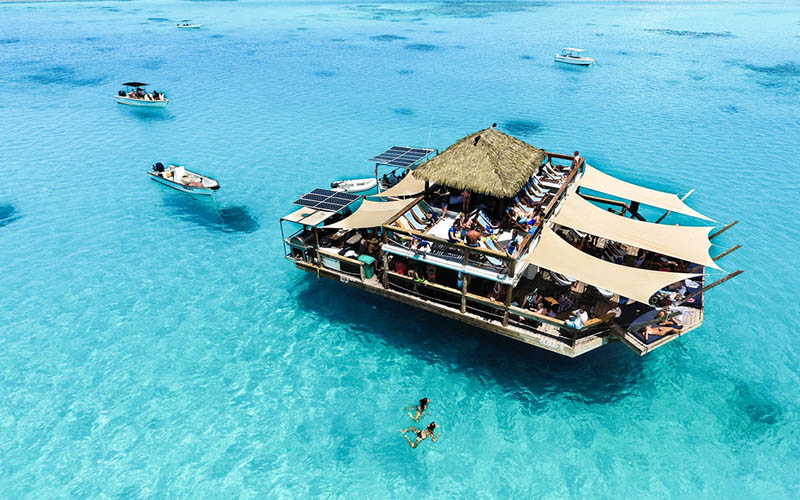 Image Credit: cloud9.com.fj
Cloud9 is a world-class reputable restaurant located only a 50-minute sailboat ride from Port Denarau, Fiji. The restaurant has a maximum capacity of 120; however, they follow a no-menu list. This simply means that you will get to enjoy whatever food is cooked on that day.
While onboard this restaurant, you can go diving, sunbathing, and snorkeling.
So if you are up for a fine dining experience with some water sports and adventure, this is the complete package.
9. Plastic Dining Room, Vancouver
Named after the 1650 plastic bottles used to build this boat restaurant, the Plastic Dining Room in Vancouver offers a unique experience at the False Creek Yacht Club.
This floating restaurant was primarily established to boost awareness of the misuse of plastic which is polluting the ocean. The restaurant currently offers a 6-course seafood cuisine and is a perfect spot for private events like weddings and anniversaries.
The interiors are pretty simple; however, you will witness more greenery than other floating restaurants, which should definitely be on your bucket list.
10. Eateries at Cat Ba Bay, Vietnam
While passing through the waters of Cat Ba Bay, you will witness a beautiful site of numerous boats operated by the local Vietnamese. These boats act as floating eateries.
11. Nusa Penida Island Floating Restaurant, Indonesia
Located just off the beautiful island of Nusa Penida is a beautiful floating restaurant that has been inspired by modern architecture.
This large, flat-bottom restaurant can also be easily accessed from Toya Pakeha Beach.
12. Tattershall Castle, London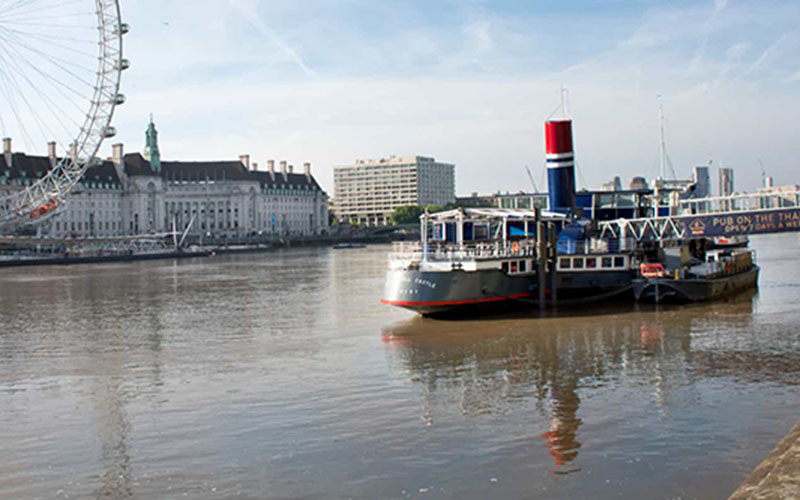 Image Credit: thetattershallcastle.co.uk/
The PS Tattershall Castle has a unique history. It used to operate as a passenger and goods vessel in 1934. During World war 2, it was one of the first civil vessels to carry radar; however, in 1973, the ship was retired from service.
In 1981 it was converted into a popular bar and restaurant and is currently anchored in the river Thames in London.
13. The Salt & Sill Restaurant & Hotel, Sweden
The Salt & Sill Restaurant & Hotel is a top-notch seafood restaurant that also acts as a hotel and has 23 huge rooms. All these rooms have private outdoor sitting areas, but the royal suite has a private rooftop jacuzzi.
This floating restaurant specializes in fresh local produce like herrings.
Conclusion
So these are some of the best floating restaurants worldwide, where you can enjoy world-class cuisine while enjoying the mesmerising view of nature, landscapes and other places near the location. These restaurants are a perfect spot for a romantic date with your partner. You can also enjoy a happy time with your friends and family. To add exciting destinations to your bucket list, go through our guide on the best places to visit in the world in 2023.