Dubai, one of the seven emirate cities of the UAE, has always surprised the world with its architectural marvels. From the Burj Khalifa (the tallest building in the world) to the Palm Islands (man-made islands), no project has failed to wow anyone. Each new addition to the city has only increased tourists' attraction towards Dubai.
Dubai is often described as a desert city. True, but it's not like any other desert vacation. While there is a vast Arabian desert to explore and have adventures in, Dubai is better known for its stunning Persian Gulf coastline and winding waterways that run through its region. While Dubai Creek and Dubai Marina are popular water attractions to visit in Dubai, Dubai Water Canal, a newly constructed man-made waterway, offers spectacular views of the city. Here's a deeper look at the Dubai Canal.
What is Dubai Water Canal?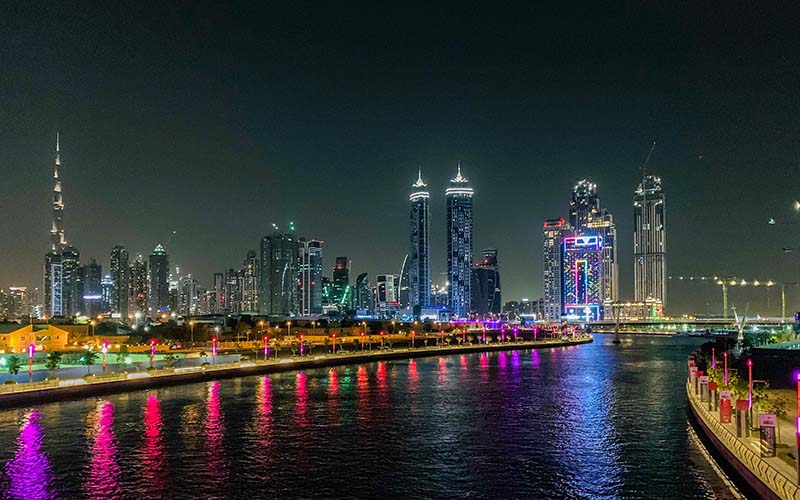 The Dubai Water Canal is a man-made 3.2-kilometer-long waterway that connects Dubai Creek to the Arabian Gulf via Business Bay. The Dubai Canal was created to introduce a waterfront area in the middle of the city. His Highness Sheikh Mohammed Bin Rashid Al Maktoum had the brilliant idea of incorporating a central attraction of impressive engineering and architectural feats that people could marvel at their own pace for a longer period of time. This water canal's construction was meticulously divided and executed with precise strategies to ensure that construction in the area surrounding Sheikh Zayed Road did not disrupt traffic on this major route in Dubai.
To create this artificial waterway, the entire canal had to be dredged to a depth of 4 to 6 meters and then flooded with 7,800,000 m3 of water. It first opened to the public in 2016 and has since become a major Dubai attraction, winding through several neighborhoods and landmarks. With pedestrian promenades and a waterway for cruises and other sailboats, the canal is a popular destination for both tourists and locals. It is regarded as one of the world's biggest dynamic changes made in a city offering a new dimension to the city's skyline. Its unveiling gave Dubai a brand-new waterfront address Over time, this attraction has drawn more commercial establishments, dining options, and entertainment areas to open and serve both locals and visitors. Apart from all this, the water canal offers connectivity within the city. You can take a boat or ferry across the Dubai Water Canal to travel within the city.
Interesting aspects of Dubai Water Canal:
Running tracks, footpaths, cycling lanes, and sitting areas can be seen along the Dubai Canal.
The water canal is environment-friendly. Solar energy powers all the street lights you see here.
The canal has several charging stations where you can keep your phones while enjoying the view of the canal. It ensures that your cell phones never run out of battery when in the water canal.
The water canal has nine marine stations, five of which are located along the canal and four in the business bay area. You can take a ferry or a water taxi to travel across the canal. Dhow cruise and  Abras are also available if you want to enjoy the view of the canal at leisure.
Restaurants, eateries, luxury hotels, boutiques, cafes, and entertainment areas flank the water canal. In short, there is no chance of getting bored during your visit here.
Dubai Water Canal Timings
Dubai Water Canal is open 24 hours a day, seven days a week. However, the waterfall on Sheikh Zayed Bridge is only active from 8 p.m. to 10 p.m.
Dubai Water Canal Entry Fee
Dubai Water Canal is a gorgeous public attraction that costs nothing to visit. It is completely free for all visitors. This makes it one of the best free attractions in Dubai and a favorite among budget-conscious visitors. However, numerous activities, such as canal cruises or fine dining experiences, would tempt you to loosen your wallet.
Highlights of Dubai Canal
Dubai Water Canal Boardwalk
The Dubai water canal Boardwalk is lined along the entire area of the 3.2-kilometer water canal and is one of the best ways to explore the city on foot. From the boardwalk, you can view the city skyline as well as the stellar bridges of the Dubai Canal. At night, it is illuminated in multi-colored lights which is a sight to behold!
Dubai Water Canal Footbridges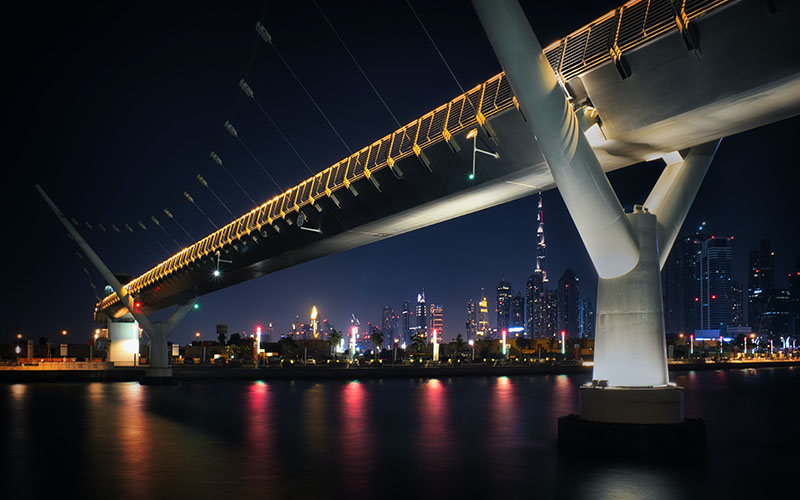 The Dubai Water Canal attraction consists of five impressive pedestrian bridges, three of which connect to both sides of the canal. One of the bridges has an arch and concrete slopes and is preferred by cyclists for taking in the scenery while riding. Two bridges connect Sheikh Zayed Road and Al Wasl Road, and one connects Al Wasl Road and Jumeirah Road. In honor of International Tolerance Day, one of the bridges is named Tolerance Bridge. It is the UAE's first suspended bridge of its kind. This iconic bridge is easily recognized by its arch shape, which illuminates purple hues at night. All bridges are equipped with electric elevators and escalators on both sides.
Dubai Water Canal Waterfall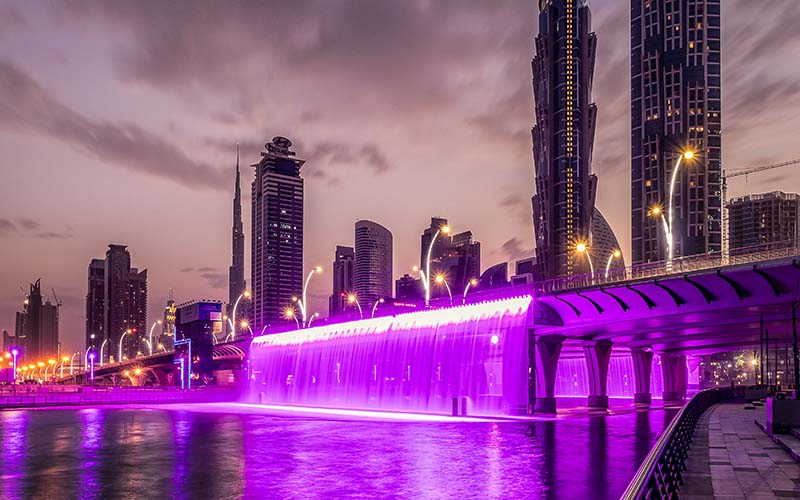 One of the bridges on Sheikh Zayed Road also houses the Dubai Canal Waterfall, which attracts visitors in the evenings with a spectacular light and water show. The waterfall is designed in such a way that it turns off automatically when a boat approaches. The Dubai Canal Waterfall, located on the Sheikh Zayed Road Bridge at Exit 4, welcomes guests for a complimentary show from 8 to 10 p.m.
Attractions around Dubai Water Canal
Ras Al Khor Wildlife Sanctuary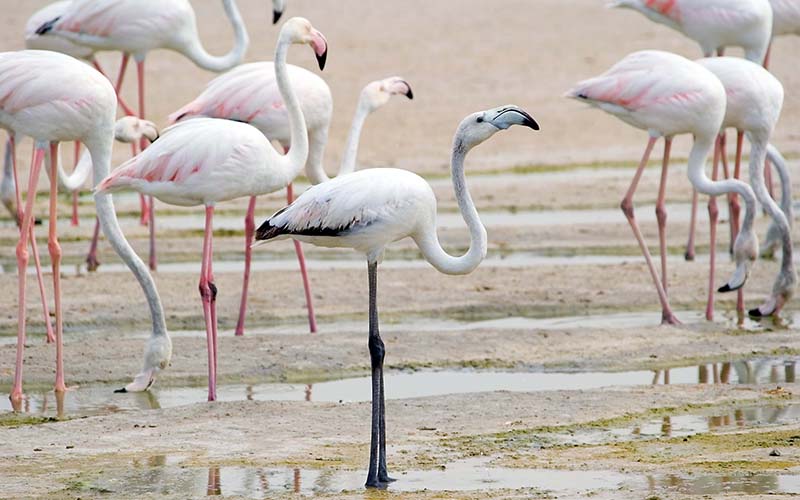 The Dubai Canal begins near the Ras Al Khor Wildlife Sanctuary. This migratory bird haven is one of the most pleasant attractions in the city if you want to get away from the crowds without leaving the metropolis behind. It is a must-visit attraction for birdwatchers.
Safa Park
The park, located on Al Wasl Road, is a beautiful, refreshing green landscape just a few minutes away from the Tolerance Bridge. It is one of the area's oldest parks, but it is also the best place to spend time outdoors with friends and family.
Jumeirah Beach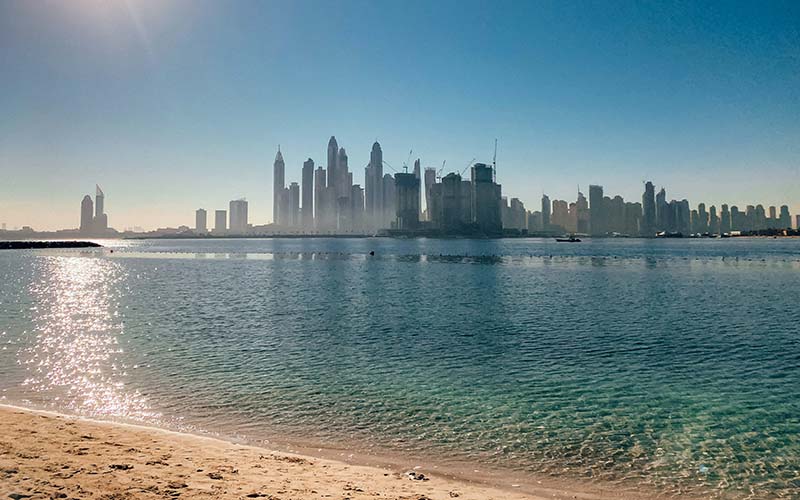 Just before Dubai Canal merges with the Persian Gulf, you can discover Jumeirah Beach, a gorgeous golden sandy beach. The beach is one of Dubai's most popular must-sees for beachgoers looking for sunset views and a relaxing stroll.
Al Habtoor City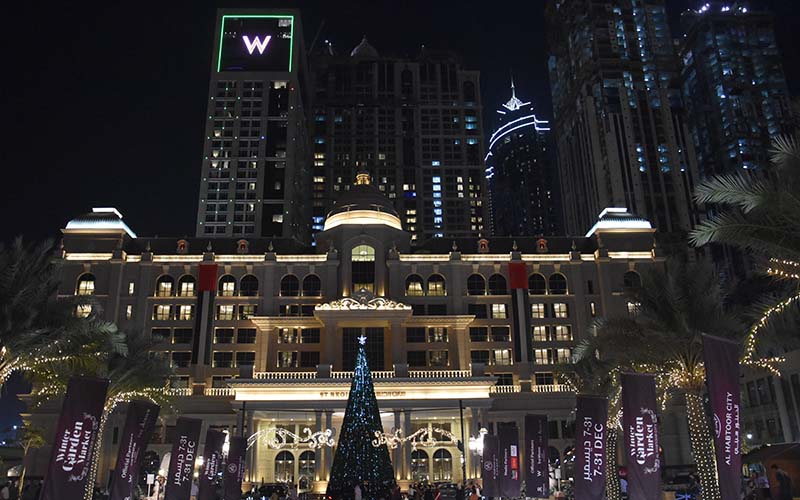 Al Habtoor City, an opulent leisure destination offering shopping, dining, and entertainment experiences, graces the shoreline along the Dubai Canal Waterfalls. This is where the La Perle by Dragone, Dubai's first permanent live show, is located. It is also a popular destination for foodies, with a variety of fine dining options, including Mexican at Zoco and South African cuisine at City Grill.
Downtown Dubai and Burj Khalifa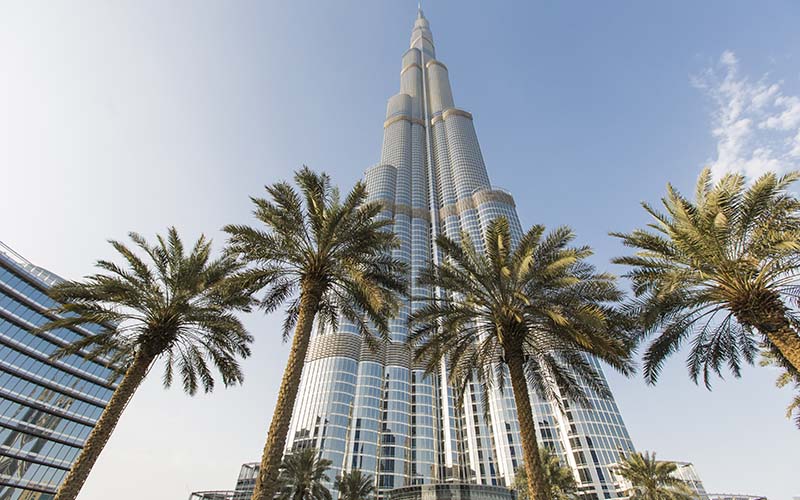 The Dubai Canal is also close to Dubai Downtown, the city's most popular and well-known attraction. The iconic trio of the Burj Khalifa, Dubai Fountain, and Dubai Mall are unquestionably must-sees for any visitor to Dubai, whether first-time or repeat.
Top Restaurants Close to Dubai Water Canal
The Larder at Radisson Blu Hotel, Dubai Canal View: It is the best spot to relish an exquisite buffet breakfast with impeccable views of Dubai Canal.
The Kana Cafe, Business Bay: It is a quaint cafe offering an assortment of dishes, and mocktails, and other delicious beverages in a serene outdoor setting in Business Bay.
The Library at St Regis Downtown Dubai: As a great spot for afternoon tea, it allows you to enjoy delectable pastries while sipping satisfying sips of freshly brewed coffee and admiring the spectacular view of the Dubai Canal.
Mama'esh Business Bay: This restaurant, located at Bayswater Tower on Marasi Drive, is the place to go if you want to try some authentic Palestinian cuisine. Their six locations in Dubai testify to their delicious food and popularity among Dubai residents.
These are just a handful of them! Check out Al Habtoor City for a plethora of cuisine options from around the world in aesthetically pleasing restaurants scattered throughout the arena.
How to reach Dubai Water Canal
Wondering how to get to Dubai Water Canal Boardwalk? The Dubai Canal extends from Dubai Creek to the Persian Gulf coastline in the west and can be visited anywhere along its course. In addition, its proximity to Sheikh Zayed Road is its greatest advantage, as public buses or taxis can easily take you there. The nearest bus stops are Business Bay Metro Bus Stop Landside, Business Bay Seaside Metro Bus Stop – 1, Safa, Lufthansa – 01, and Safa, Interchange – 1. are the closest bus stops. If you are visiting the water canal in your vehicle, drive towards the Dubai World Trade Centre and take an exit beside St. Regis Hotel, which would take you to the Sheikh Zayed Road Bridge. Parking for visitors is arranged underneath the bridge. If you want to travel by metro, take the red line towards UAE Exchange. You can get down at Business Bay Station and walk towards Sheikh Zayed Road Bridge. Here, you would find a lift that would take you to the water canal. The nearest metro station is Business Bay Metro Station. It takes hardly 10-12 minutes by car and 25 minutes by Metro to get to Dubai Water Canal from Dubai Downtown attractions. Additionally, you can take ferries and water taxis along the Dubai Canal between Dubai ports.
FAQs
1.  Where should travelers go to experience the Dubai Water Canal?
The best part about a  Dubai Water Canal trip is that you can start anywhere. You can start your Dubai Canal experience from Downtown Dubai or Al Habtoor City.
2.  What is the best way to enjoy Dubai Water Canal?
There are various options for you when it comes to enjoying and exploring the water canal. You can take a walk on the bridges, cycle, or relax on one of the benches at the promenade. However, the best way to experience the Dubai water canal is by taking a cruise. You can either take an abra ride from one ferry point to another or indulge in a Dhow cruise or yacht cruise experience.
Abra rides from Dubai Festival City Mall start at 6.30 PM and 9 PM and can last 30 minutes, 60 minutes, or 90 minutes (you can opt for one of these). If you want something more, you can go on a dhow cruise dinner on the water canal. Apart from viewing the glitz and glamour of the city, the dhow cruise also offers a delicious three-course dinner and amazing entertainment. The Dubai Water Canal cruise begins at 8 PM from the pier near the Dubai Festival City and lasts for 2-2.5 hours, during which you can enjoy all the highlights that the Dubai Water Canal offers. Tickets for the Dubai Water Canal abra ride and dhow cruise can be purchased at the place of boarding. You can get more information on how to choose the best dhow cruise.
3. Can you walk along the Dubai Canal?
Absolutely! A walking tour along the Dubai Canal is one of the best ways to explore it. Footpaths, waterfront walkways, and bridges have been designed specifically to allow visitors to enjoy Dubai's gorgeous cityscape and canal views on foot at their own pace. Plan a stroll along the canal in the evening to catch a breath-taking sunset.
4. Is there a car parking facility available?
Yes, car parking is available at various locations, but these are not free parking spaces.
5. Is there any dress code to visit Dubai Canal?
Although there is no dress code, modest attire is required since this is a public attraction. Dress according to the ethical rules for Dubai shopping malls and public places. As it is outdoors, dress in light, airy clothing that will breathe in the Dubai heat.
Tips to Visit the Dubai Water Canal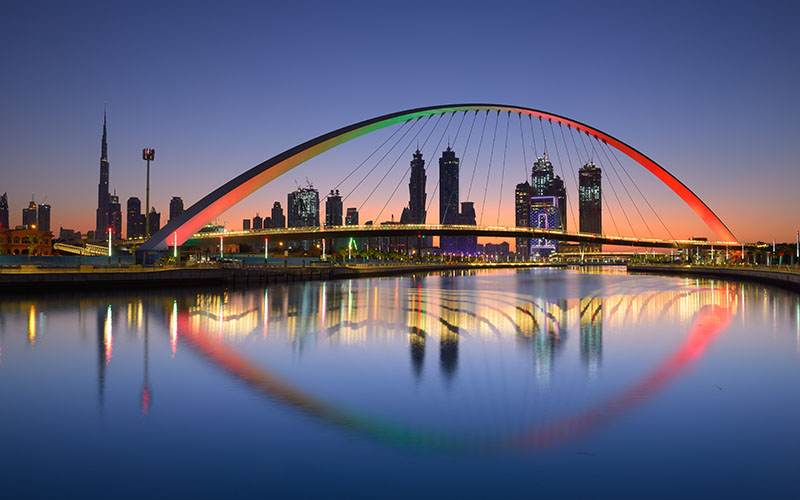 You can visit the Dubai Canal anytime during the day or at night. It does not have opening and closing hours. However, the best time to visit is in the evening, especially after sunset, when you can get a good view of the sparkling city – even the waterfall functions in the evening.
Do not forget to take your camera as you can get some magnificent shots of the city here.
If you visit the canal in your own vehicle, you can park it in the parking area (under the Sheikh Zayed Road Bridge). However, remember that it is no free parking. You can also pay through SMS by using a number code.
If you are a tourist or visitor in Dubai, do carry your passport whenever you are sightseeing in the city, even when visiting the Dubai Water Canal.
The work at the Water Canal is incomplete; hence, you may find people working and piles of sand and other materials around the promenade.
Do not litter anywhere near or around the promenade or canal. Do your bit to keep the place neat and clean.
If you visit the place during the evening, it is better to wear loose, comfortable clothes. Remember to carry a shawl or a jacket during the winter as the weather can be a bit chilly. However, do not forget to wear a cap or scarf and sunglasses for your daytime visit here due to the harsh sunlight.
Conclusion:
The Dubai Water Canal has, undoubtedly, turned out to be one of the hot spots for locals and tourists even though there is much more work to be done. There are malls and residential complexes to be constructed, cafes and restaurants to be opened, and several other interesting things to be introduced. Still, the canal is the perfect place to go if you want to get your daily dose of exercise or even if you want to do nothing at all. Dubai is home to some of the most precious and unique gems known to mankind; mankind; like Dubai Safari Park and the Dubai Water Canal is surely one of them. So, make sure that you do not miss it during your holiday in the emirate city of Dubai.