The city of Dubai has incredible beaches, stylish buildings, stunning skyscrapers, the captivating ever desert landscape, and an upmarket shopping scene. While Dubai promotes contemporary expos, infrastructure, and retail establishments, visitors should not overlook the city's culinary charm, both for its flavor and its distinctive eating experiences. It has the perfect shore offering the best location for floating restaurants to enjoy a relaxing time with your family and friends. Dubai has many gourmet and dine-in restaurants all over the city, but nothing beats the experience and ambiance of a dhow cruise. The Dhow Cruise Dubai is the perfect blend of world-class entertainment, the royal Arabian lifestyle, and the old-world charm of dhow boats. Here is a list of the floating restaurants Dubai that you must visit to experience a magical evening in this Arabian city.
1. Rustar Floating Restaurant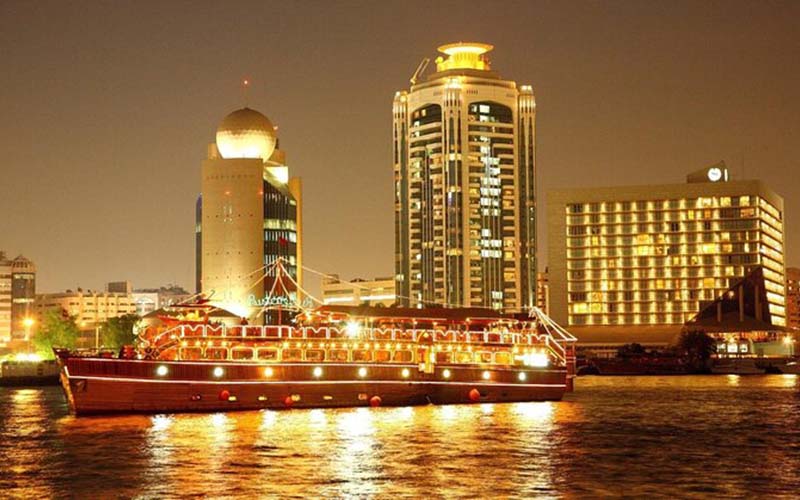 Image Credit: media.tacdn.com
Dubai's Rustar is the largest wooden floating restaurant in the world, wherein the guests can delight in the most exquisite cuisine while enjoying majestic views of Dubai city. The boat has three levels: the middle, upper, and lower deck. The lower deck is quaint and cozy for a private conversation. The middle deck has a spacious dining hall, while the upper deck is open for passengers to enjoy the breeze and watch the panoramic skyline views. This 155 feet long vessel can accommodate around 400 passengers at a time. Aboard the dhow boat, expect a traditional welcome with Arabic coffee and dates. Watch the live performances of singers and Tanoura dancers while enjoying a delectable dinner buffet comprising Arabic, Continental, and Asian cuisines. The place is filled with an alluring and elegant ambiance to enjoy a lavish meal and some relaxing moments.
2) Rayna Floating Restaurant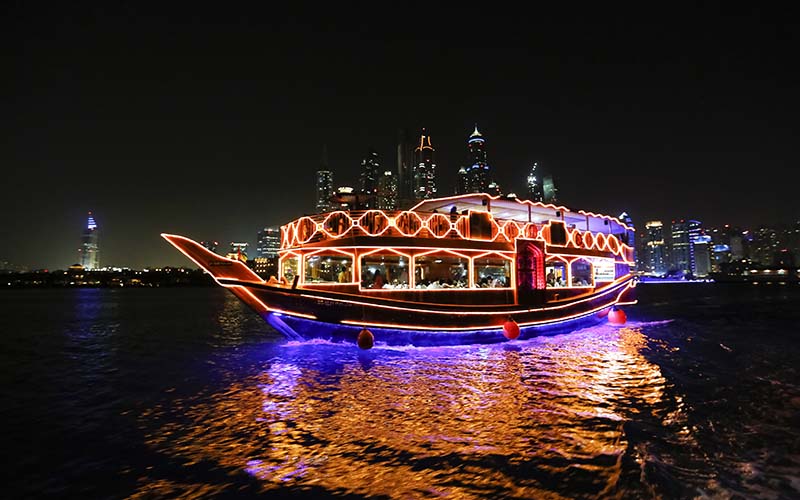 Rayna Floating Restaurant is one of the ultimate venues to experience the distinct charm of a dhow cruise in Dubai. It is available at all three cruise locations. Featuring an upper and lower deck, this dhow cruise restaurant is the perfect place to enjoy a relaxing evening with good food and great views. The buffet dinner menu includes a 3-course meal consisting of appetizers, main course dishes, and desserts. You will get to enjoy a combination of local and international cuisine here. Depending on your desired location, you will get to enjoy stunning views of the city. You can sit in its air-conditioned lower deck or proceed to the partially open-air deck to enjoy the breeze and unhindered views. You will also be entertained by a Tanoura dancer during your approximately two-hour cruise. You also get the combo of desert safari and dhow cruise to get the best of both worlds.
3. Jameela Floating Restaurant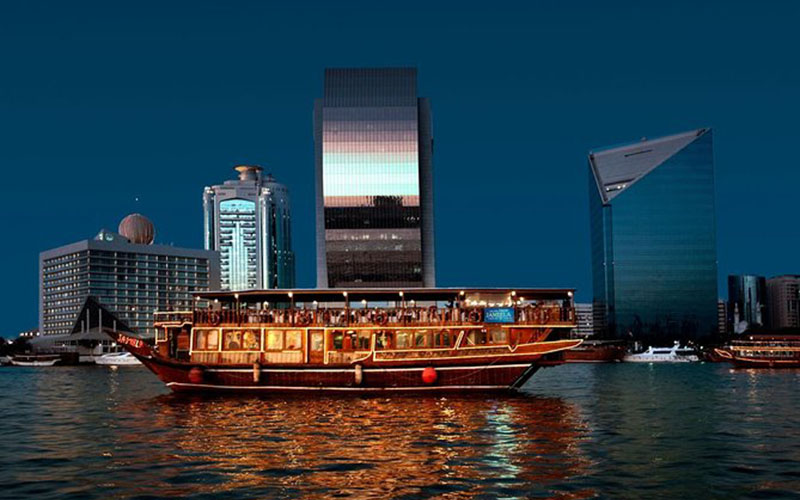 Image Credit: media.tacdn.com
Settle aboard Jameela, an Arabic wooden dhow floating restaurant and pass through the illuminated landmarks, which include The Al Maktoum Bridge, Rolex Tower, Floating Bridge, and the Grand Mosque to name a few, Enjoy a delightful international buffet dinner prepared by experienced chefs and watch live performances as you take in the cool breeze on the open upper deck with comfortable seating arrangements. You will also get a bar with drinks available for purchase, plus free Wi-Fi. The dinner menu comprises Fish Skewers, Grilled Beef in BBQ Sauce, Pasta Carbonara, Vegetable Lasagna, Bread Basket, Lamb Kofta, and a variety of salads like Humus, Fattoush, Tabouleh, Chicken Hawaiian salad, etc. Sample Cream Caramel, Umali, and Basbousa, among other Arabian sweets and desserts.
4. BBQ Donut
Get into a doughnut-shaped, bright orange boat with a charcoal barbeque in the middle of the sea to enjoy a different kind of dining experience in Dubai. You can also soak in the sunshine by clicking pictures against the backdrop of Burj Khalifa and many skyscrapers on Sheikh Zayed Road. You will have to book a Boardwalk BBQ Donut dining experience to set off afloat down Dubai Creek on a private and eight-person doughnut-shaped inflatable for afternoon tea. The BBQ Donut is stocked with a wide range of sweet treats, finger foods, and sandwiches. You can choose items from the menu to barbeque them yourself while drifting in the water. Whether it is a birthday celebration or a family meeting, the quirky concept of dining in the sea will leave you with great memories to cherish.
5. JA Bateaux Dubai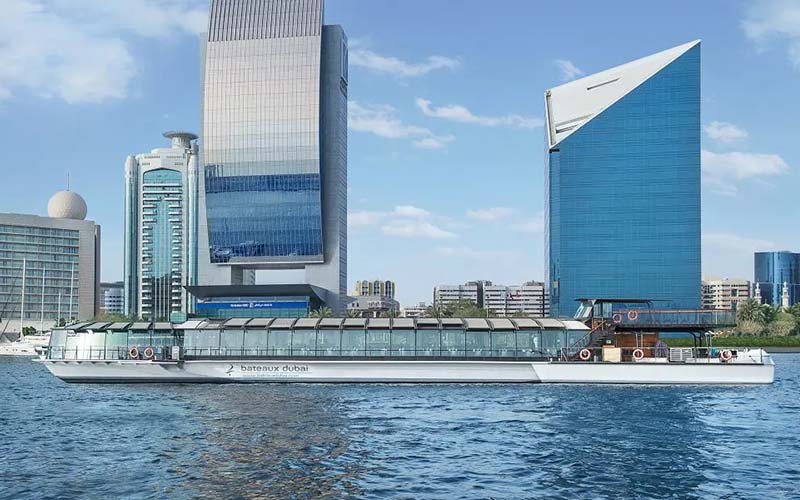 Image Credit: jaresortsholidays.com
JA Bateaux Dubai is a luxurious 5-star floating restaurant which offers a unique experience for locals and tourists alike. This elegant glass-windowed vessel first set sail in the year 2004. The air-conditioned boat can be booked for business lunches, afternoon teas, or wedding reception parties. Cruising off from the new Al Seef area at Bur Dubai, the after-dark affair fuses the panoramic views of the historic city with a scrumptious gourmet menu. On-board chefs delight you with a four-course dinner that includes dishes like blackberry panna cotta served with dark chocolate ice cream, braised beef short ribs, and parsley and lobster risotto. There are plenty of options for vegetarian cuisines as well. Start your culinary journey in JA Bateaux with a selection of premium beverages, taking in views of Dubai's landmarks from the al fresco deck.
6. The Aqua Pod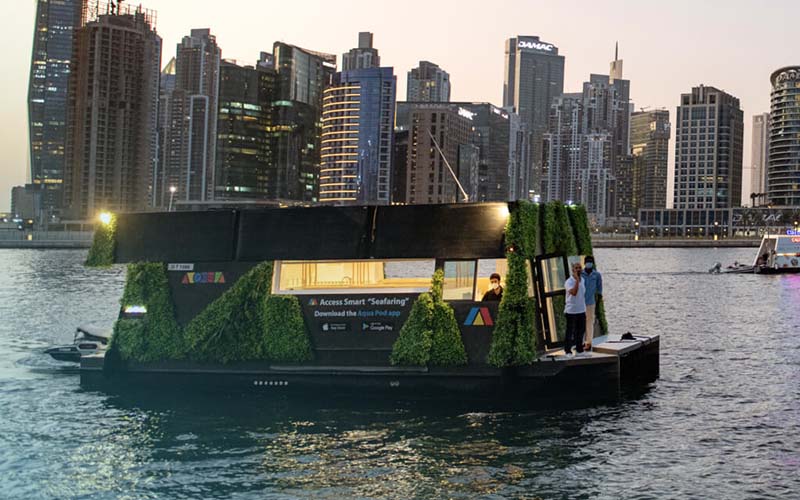 Aqua Pod is a new restaurant in Dubai's Shores that serves burgers, pizzas, and desserts from a floating food truck. The Aqua Pod, according to Ahmad Yousuf, founder of Aquatic Architects Design Studio, will travel and relocate based on consumer demand. Jumeirah, Al Sufouh Beach, Palm Lagoon, and Kite Beach are their primary regions. There are two ordering options: the first is to order directly at the Aqua Pod. This is appropriate for smaller boats or jet skis. Guests may pull up to the pod and make an order with the cashier. The second type of system is a flag system. Flags will be delivered to neighboring yachts and boats by a delivery jet ski and those who desire to order can raise their flag.
7. Dreamboats
It is a gorgeous floating cafe that can accommodate up to six people. They serve snacks and drinks, and guests can connect their phones and listen to music while enjoying stunning views of Dubai city and its waters. This cafe runs every day between 4.30 pm to 9.30 pm. Book the sunset slot to enjoy mesmerizing views of the Dubai sunset on the banks of the Al Jaddaf waterfront canal while relishing the beverages and refreshments. Consumption of alcohol on the boat is strictly prohibited. You can plan a romantic date wherein the 45-minute-ride for two persons will cost you around AED 450.
Conclusion
Watching one of the most beautiful cities with outstanding infrastructure from the waters is a one-of-a-kind experience. Whether you are a solo traveler or traveling with family, dining in one of the Dubai floating restaurants should be on your wish list. It will add that extra flavor to your luxurious Dubai getaway.