Given its many tall buildings, plush residences, and convenient proximity to public transportation, the Dubai Marina district has long been a favorite of both locals and visitors. The Dubai Marina Walk is the crowning glory of Dubai Marina. The Dubai Marina Walk is a fantastic tourist attraction with a wide variety of interests. Read on for a comprehensive overview of Dubai Marina Walk, including information on how to get there and where to eat, buy, and have fun, for all those who are yet to experience this popular destination.
The Dubai Marina Walk
Dubai Marina Walk route, by Emaar Properties, is a one-of-a-kind high-end shopping and leisure complex in the center of New Dubai. The artificial marina is surrounded by a tree-lined promenade that stretches about seven kilometers. It is a pedestrian promenade that connects the city's financial district with the shore and features upscale eateries, trendy bars, and prominent shops.
Dubai Marina Walk Attractions
Need some guidance while you are here at this world-famous watering hole? This blog gives you an in-depth guide to the Dubai Marina Walk, with recommendations for -where to eat, shop, and do other activities.
Places to satisfy your taste buds
What are the possible options? With the Dubai Marina boardwalk, Dubai has become a foodie's paradise. You may satiate your hunger for just about any food at one of the many cafés and restaurants along Dubai Marina Walk. Popular chains, including Nando's, PF Chang's, are here, as are several excellent breakfast cafes. You may enjoy dining at -Al Fresco Restaurants along Dubai Marina Walk, while gazing out over the marina. Were you trying to find something with a little more flair? Go to Pier 7, a famous landmark with seven restaurants offering distinct menus. Pier 7 is a fantastic new addition to Dubai's upscale dining scene, providing superb cuisine and breathtaking views of the Arabian Gulf and its emerald waters. You might also visit one of the Dubai Marina Walk hotels, and enjoy the excellent restaurants and lounges.
Shopping options for one and all
You may do some shopping in the Dubai Marina Mall, which is located close to Pier 7. Famous names in high street fashion, cosmetics, electronics, and homewares can all be found at this mall's businesses. A wide variety of stores, such as ICONIC, H&M, Steve Madden, Ted Baker, Sephora, and many others, can be found in the Dubai Marina Mall. This is one of only two Waitrose supermarkets in Dubai, so it is no surprise that locals frequent this mall. On the other hand, the retail section of Emaar's Dubai Marina Towers is home to a sizable Spinneys store.
Cruises on Yachts and Dhows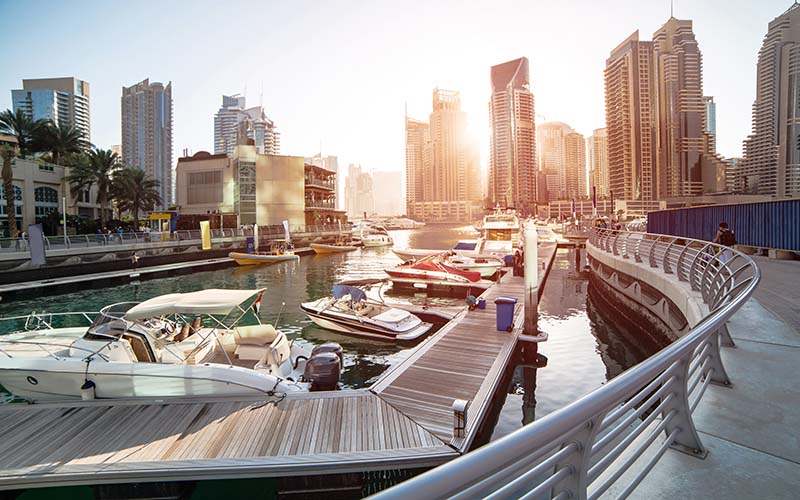 Dhow and boat tours around the Dubai Marina are a unique way to see the area. The marina is a sight, with traditional dhows and modern boats bobbing in the sea. Dinner, sunset, and sightseeing cruises are only the tip of the iceberg regarding Dubai Marina Walk's cruise offerings. See the sights and hear the noises as you cruise the marina and Arabian Gulf, where something exciting is going on. We recommend going through our guide on finding the best yacht charter in Dubai.
Enjoy the Spa sessions
Get a massage, facial, or other cosmetic treatment at one of the spas along Dubai Marina Walk and unwind. Visit the relaxing Chi Foot Spa on Marina Walk or the B/Attitude Spa and Retreat Spa at the five-star Grosvenor House. Enjoy the spa's tranquility while listening to the marina sea- waves.
Recreational Space for Active Play
Permit the children to have their fill of promenade fun. The promenade is littered with children's playgrounds, several of which feature slides, swing sets, and climbing frames. The rubber flooring in these play spaces keeps the kids safe, and the seats provide a place for the adults to take a load off. If you are interested in living in this family-friendly neighborhood, apartments in Dubai Marina are available for rent.
Tours of Mosques
The Mohammed Bin Ahmed Al Mulla Mosque shines like a diamond along the evening waterfront promenade. Curious non-Muslims who have never been inside a mosque can now take a tour of this beautiful house of worship. The 45-minute English-language time, visitor Q&A, and light refreshments are complimentary. This trip is an excellent way for visitors and locals alike to gain insight into Islamic culture and is available to people of all backgrounds, beliefs, sexes, and ages. Those interested in attending the mosque tour must do so in advance through the Islamic Information Centre's webpage.
Tour Timings: 10:00 a.m. – 11:00 a.m. ( Sundays)
Affordability: Free of Cost, Inquire at: +971 56 204 2045
Walk or Ride a Bicycle
Spectacular palm trees and planted flora line the broad pathways of the promenade. Perfect for a stroll for someone who is visiting Dubai on a budget, the area is alive with activity and offers breathtaking views of the marina and glistening buildings. One more must-visit spot for photographers is the Dubai Marina Walk fountain, which can be found next to Emaar's Marina Towers. In the evening, the dancing fountain is illuminated, and it is not uncommon to see families enjoying a splash in its waters.
Bicycle rentals are available to make getting around the promenade even more exciting. Throughout the marina promenade, you will find bike stands. Register at the stands, and then use your phone number to rent a bike. To know more, follow our guide on things to do in Dubai Marina.
How to Reach the Dubai Marina?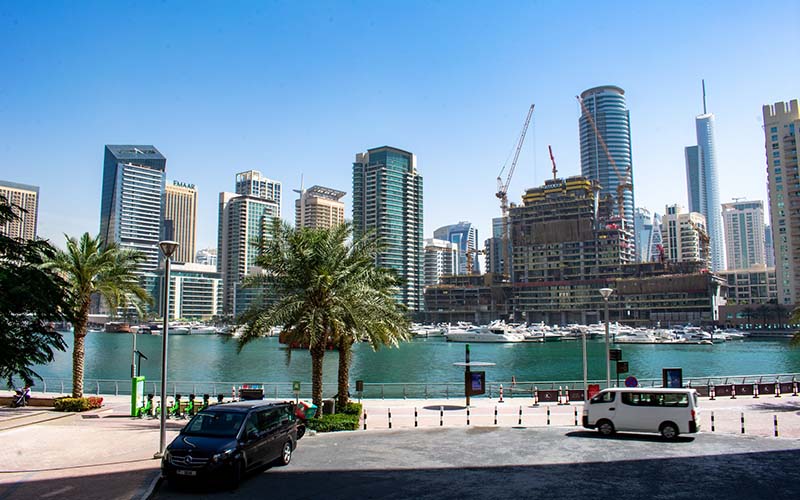 The marina promenade is convenient and can be reached by several means of transportation. Need directions to Dubai Marina Walk? Get out at the Damac Properties Station on the Dubai Metro, then walk across the pedestrian bridge to Dubai Marina. The walk to the marina boardwalk takes about five minutes. You can also take the Dubai Tram from the DMCC Station to the Marina Mall stop. The waterfront promenade is conveniently accessible from the shopping center.
Travelers arriving in Dubai by car should take Exit 32 on Sheikh Zayed Road and follow the Dubai Marina signs. To reach Dubai Marina Walk, keep going down Al Khayay Street. It is possible to get to Dubai Marina Walk from Abu Dhabi by taking Exit 32 through Al Naseem Street and following the signs for Al Marsa and Al Khayay Streets.
Are you taking a trip via the RTA bus? Catch Bus 8; it will drop you off at Jumeirah Beach Residence Station 2. Within five minutes, you might be strolling along the marina's boardwalk.
Thinking of hotels in Marina? You can browse the best places to stay in Dubai Marina with our guide.
Parking In The Dubai Marina Walk
Dubai Marina Walk by Emaar has a restricted parking lot, which can cause inconvenience to guests. Underneath the complexes that line the Dubai Marina Walk, parking is offered for free for a set period before a fee is imposed. However, guests can park free if a parking voucher is stamped at the store or restaurant.
Conclusion
Dubai has numerous world famous attractions to its credit. A visit to the Dubai Marina walk, which is the most picturesque dock in the UAE, is every travellers delight. Soak into its luxurious ambiance and make the most of your Dubai tour.