Dubai is a truly fascinating city. The growth and development it has achieved in a short period of time is truly commendable. While it has become one of the most prosperous cities in terms of construction and designing, it still surprises the world with its marvellous ideas in terms of building and architecture. One such wonder is the Dubai Marina.
Dubai Marina is also called the New City as it represents a city within the city. It is the largest manmade marina in the world. This canal city has an array of residential buildings, luxurious hotels in Dubai marina, malls and entertainment options for the residents and tourists of Dubai. While the city of Dubai is mesmerizing, the Dubai Marina takes it to the next level.
With the skyline covered with tall skyscrapers and amazing structures, and the waters and the yachts decorating them, the Dubai Marina is just like a dream, especially during night time when the lights light up the place in a festive way. Due to all this, Dubai Marina is a place you must definitely visit if you are on a holiday in Dubai. Here are some of the things to do in Dubai Marina.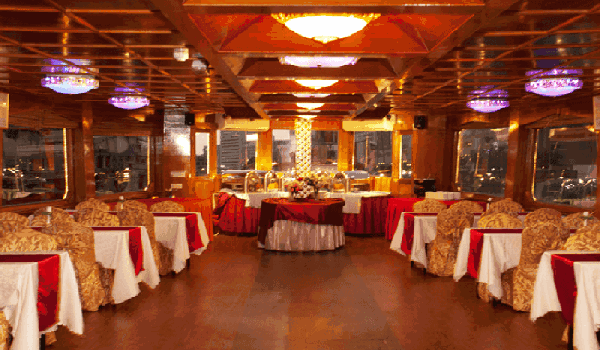 1.Dhow Cruise: 
Dhow cruise in Dubai Marina is an amazing experience. Dhows are traditional boats used by Arabs in the past for trading and transportation. Today, they are turned into dining restaurants where you can sit, relax, wine, dine and enjoy the beautiful sights of the Marina. The Dubai Marina with its tall buildings, promenades bustling with people on a walk and several vibrant places is a sight to behold, and going on a dinner cruise is a great way of enjoying all these things at a leisurely place. You can also check out some of the luxurious, private yachts as well as fishing boats while on the Dubai Marina dhow cruise. Apart from this, you should also go for the mouth-watering food and the awe-inspiring entertainment activities. You can plan to throw a birthday, celebrate a milestone, or enjoy an exciting New Year's Eve on dhow cruise with customised dinner menu and lavish arrangements. So, sail through the Dubai Marina on the dhow cruise!
2.Mall of the Emirates:
Dubai does not do anything on the small scale, and the Mall of the Emirates is one of the best examples for this. The Mall of the Emirates, which was opened in 2005, houses almost 700 stores (housing around 560 international brands), close to 90 restaurants and food outlets. It also has a Dubai Community Theatre and Arts Centre as well as a 14 screen multiplex theatre. But what makes this mall stand apart is that it is home to an indoor snow park and ski resort. It is the largest park of its kind in Dubai where one can indulge in snowboarding, skiing and such other fun activities. They also offer coaching or lessons for these activities too. The snow park is a great place to spend time with kids. With snow slides and penguin interactions, they would definitely have a great time. The little cafe inside is the perfect place to relax and have a cup of hot chocolate. Marina Mall, apart from offering amazing shopping opportunities, is also a great place to spend time with your family and friends.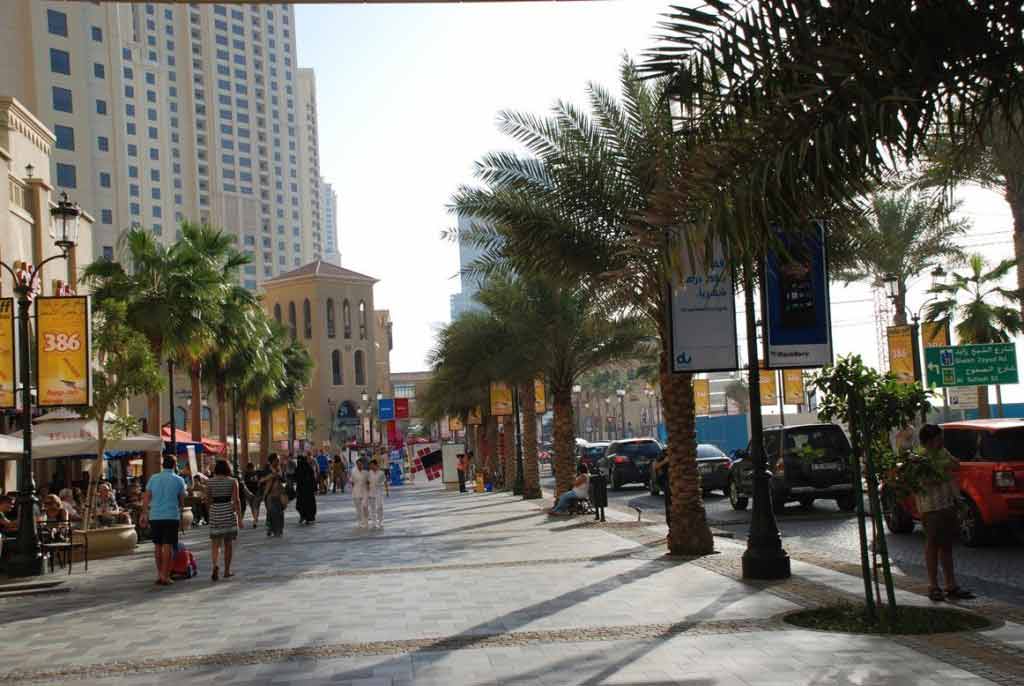 3.JBR Walk:
The Jumeirah Beach Residence Walk lies on the northern side of the Dubai Marina and is just next to the Persian Gulf. Comprising of 40 towers including residential buildings, hotels as well as hotel apartments, this is one of the most posh areas of Dubai. But the place is not famous only for its buildings. On the other hand, it is lined with several little restaurants that serve the most delicious food. Also, there are boutiques and stalls along the walkway. It is the ideal place to have a lazy weekend brunch or to meet with your friends. With a close access to Jumeirah Beach, it is the perfect location to spend time or have a picnic. JBR Walk also conducts some entertainment activities like live music during the weekends.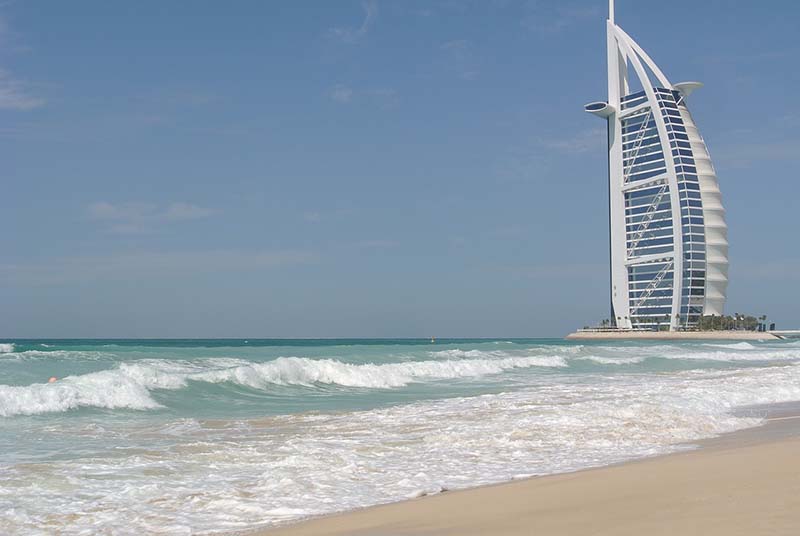 JBR Beach
4.JBR Beach:
JBR Beach is the best public beach in Dubai Marina, and surely one worth the visit if you want to relax and have a good time. While it is a great beach to just lounge and enjoy the surf, sun and the sand, it also offers some amazing water sports activities like wakeboarding, flyboarding and parasailing. You would find a beach volleyball court as well as a running track at this beach. Apart from these, JBR Beach also has some unique attractions that are quite uncommon for beaches like outdoor yoga, outdoor gym and even an outdoor movie theatre. However, the major highlight of this beach is that you also get to ride a camel here.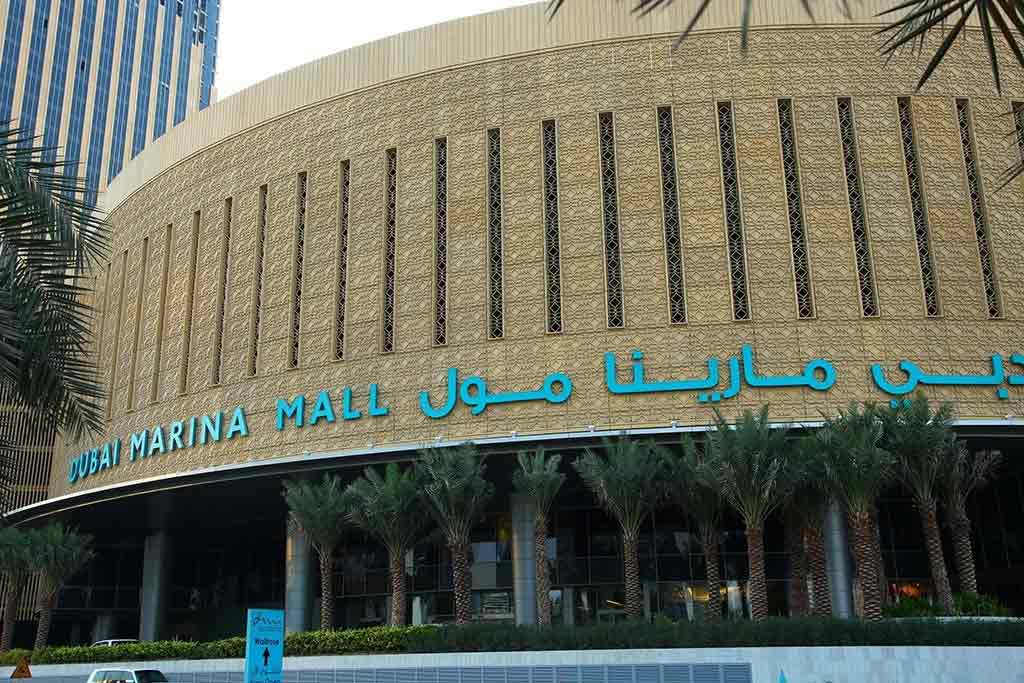 5.Dubai Marina Mall:
Apart from the Mall of Emirates, Dubai Marina is also home to The Dubai Marina Mall. This mall provides everything that you need to spend an entertaining and fun day. With almost 160 stores that are dedicated to fashion, furnishing and other specialty products, it is a great place to get your shopping done. There are also entertainment options for kids and adults alike. For lovers of food, there is an eight-storey gourmet tower which would satisfy your palette like nothing else.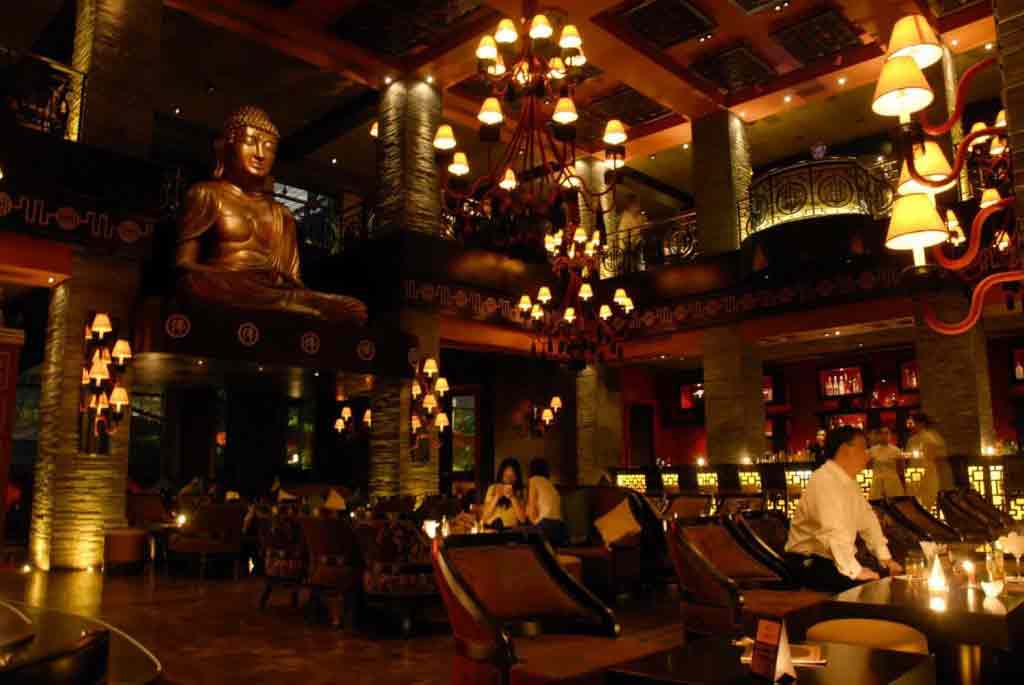 6.Buddha Bar:
The Dubai Marina is a place where people frequent to for a night out with friends as the place has some of the best bars and restaurants. One of the most amazing bars in Dubai is the Buddha Bar. Located in the Grosvenor Hotel, this is one of the most sophisticated and stylish bar and restaurants in Dubai. Complete with an amazing bar and an elegant dining area, the huge statue of Buddha is what stands out here. This is the best place to be at if you want to have cocktails before you head out for dinner. If you love Japanese and Chinese cuisines, the Buddha Bar serves the best of both.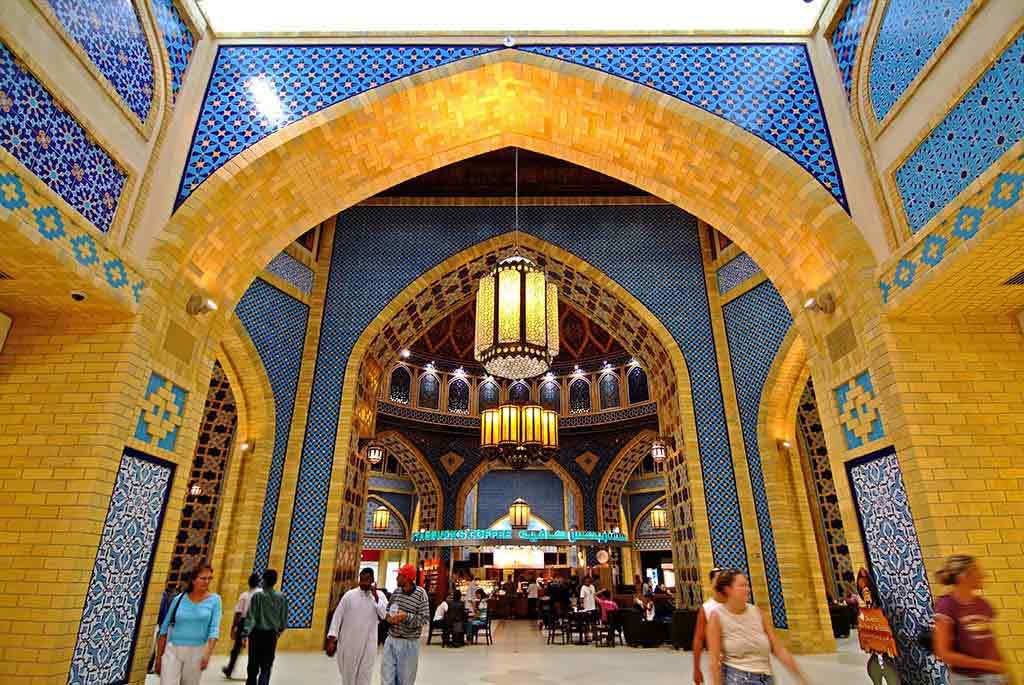 7.Ibn Batuta Mall:
Another mall that you must visit is the Ibn Batuta Mall which is a large mall that depicts countries visited by Ibn Battuta, the Moroccan explorer. You will find six courts representing different countries including Egypt, Persia, China, India, Tunisia and Andalusia. Even if you do not want to do any shopping, do take the opportunity of visiting this mall to experience the sheer brilliance of its architecture, design, concept and idea.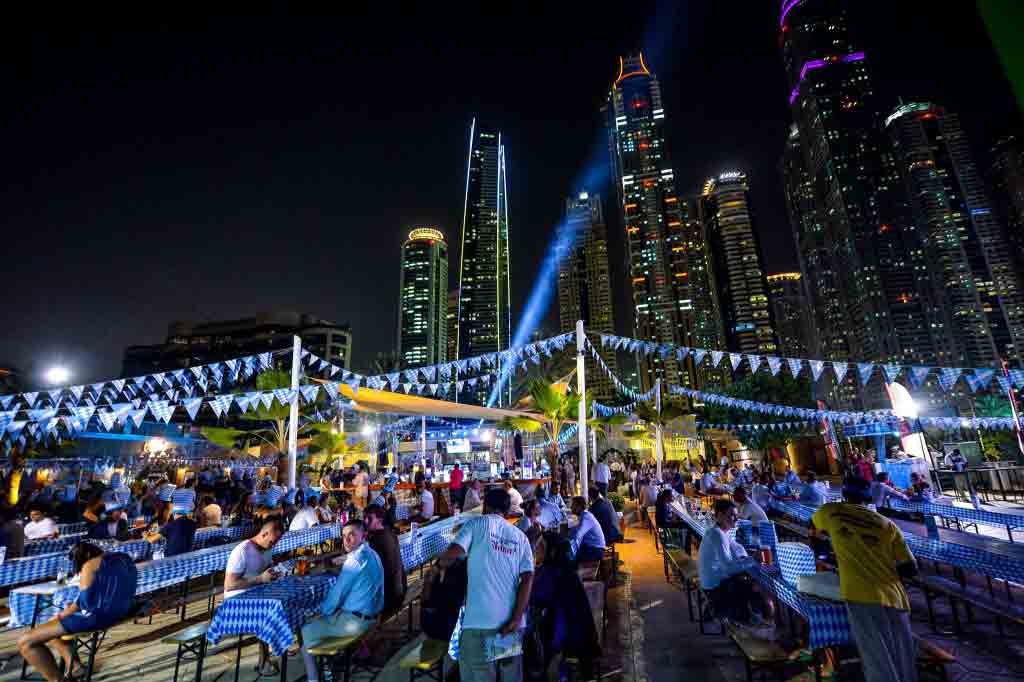 8.Barsati:
Dubai is a place that celebrates world cuisine. It has restaurants that serve food from almost all places around the world. Each of these restaurants also tries to integrate the essence of the place they are representing. One such place is the Barsati Bar. Complete with delicious Italian cuisine and a beach bar where you can party all night, this is the perfect place to visit if you want to enjoy the vibe of Italy without actually going there. Although the place does not offer fine dining, the prices are slightly on the expensive side. But a visit to this place is a must if you want to let your hair down after a tiring day at work.
9.Zero Gravity Beach Club:
If you are looking for a place where you can chill out for the entire day and the night as well, you would not find a better place than Zero Gravity Beach Club. A relaxing spot to swim, sunbathe and sip your cocktails by the day while viewing the amazing skyline of the city, while lounging in their plush sun beds, Zero Gravity Beach Club transforms into the most happening outdoor club after sunset. If you hang out at night at the club, you would be rewarded by some amazing drinks as well as heart-thumping music by well-known musicians and DJs. A day spent at the Zero Gravity Beach Club is definitely one worth remembering.
10.XLine Dubai:
Those interested in adventurous activities would also find something thrilling in Dubai Marina. The relatively latest addition to Dubai Marina is the XLine Dubai, which is the longest urban zipline in the world. At 170 meters above ground, this zipline stretches 1 km and gives you the perfect aerial view of the glamorous Dubai Marina. The best part is that two ziplines run consecutively, giving you the chance to enjoy this activity with your loved one. It is surely a great activity for adventure-loving couples on a romantic holiday. As a Go-Pro is attached to your helmet, your entire flight would be filmed, and you can watch the video later and even post it on Instagram.
Apart from this, the Dubai Marina is home to some of the best bars and best restaurants in Dubai. Visit Le Classique for its delicious French dishes, the Pachanga in Hilton Dubai Jumeirah for its amazing Latin-American food and the Mezzanine (Grosvenor House Hotel) for its English foods. Other than the food, the ambience, architecture and interiors of these restaurants are also amazing.
Although Dubai Marina is still under construction, it already is an iconic part of the city of Dubai. An evening walk on the Dubai Marina Walk or promenade is enough to experience the vibrant air of the place. If you are in Dubai for a visit, you must definitely visit this place to enjoy the beauty, architecture and atmosphere of this incredible place.
If you are visiting Dubai after the pandemic, learn about the new rules and safety measures for riding a dhow cruise.