When you wish to savor moments from your travel endeavor, finding destinations that titillate your senses is always important. Then comes the aspect of who is accompanying you on this planned tour. If it is a family outing, searching places accordingly is necessary.
However, when it comes to going out with friends, every destination becomes pleasurable.
Amongst the most visited destinations across the world, Dubai has its own special charm. There are various interesting things to do with friends in Dubai. One thing is guaranteed; your time here with friends will be one that will be remarkably wonderful and enjoyable.
The land of magic, Dubai, calls upon you to bask in its evergreen warmth that interests all and sundry. Following are some of the most interesting things that you can expect in Dubai and these are a few free things to expect in Dubai.
1. Dubai Tour in a Helicopter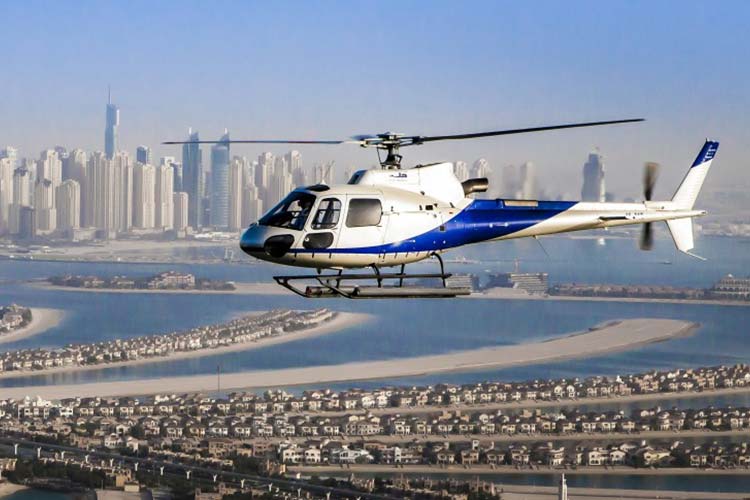 The bird's eye view, also known as the Aerial view, provides the most superior experience of viewing. The mere idea of looking at the vast sweep of a skilfully designed city is enough to take the plunge.
There are various plans and options to choose from in order to enjoy this viewing experience hassle-free. There are some pre-decided duration flights that first brief you about the do's and don'ts of sky viewing, followed by an extraordinary glide across the landmarks of the city making you sway in the arena of the cloudless skies. The expert pilot guides you through the trip giving away details of the various buildings and important spots of the city.
Being high up in the sky, gazing at the tallest of buildings and the wonderful landscape is a supreme feeling. But, as they say, all good things come in small packages, and this helicopter trip comes only in two-time slots of 15 and 25 minutes respectively.
So, the hard fact is, the best experience of your life doesn't last for even half an hour. But who cares? This mini aerial tour gives you an unbeatable feeling that is sure to last a lifetime! For hardcore adventurers, there is skydiving in Dubai, where you plunge from the helicopter at a heart-pulsating speed.
2. Safari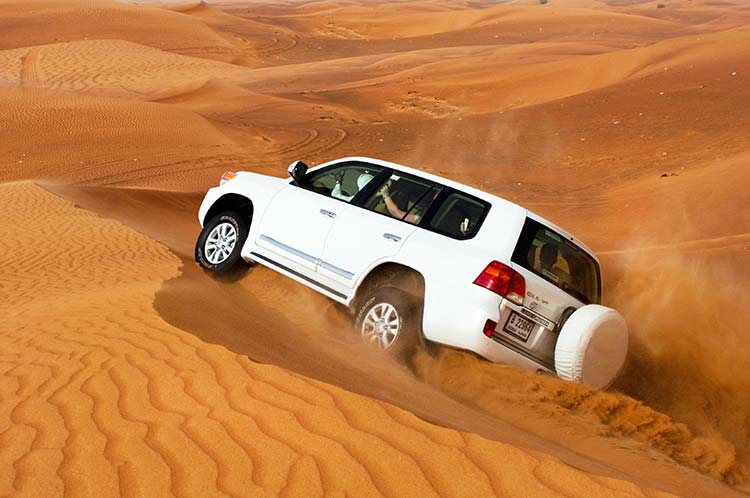 When in Rome behave like a Roman goes a popular saying. Perhaps the adage suits best when holidaying in a far-off land that is unique and distinct in its own way.
Now that you have already planned to be here in Dubai, you must feel Dubai, and not merely see Dubai. One guaranteed way to feel truly like an Arab nomad of the desert is to experience Desert Safari in Dubai. It unlocks a totally different world of amusement. You can experience everything here, ranging from sightseeing, photography, camel riding, camping, an Arabic buffet, henna painting, and hookah smoking. As per your budget, time of day, and interests in sports, you can choose the desert safari Dubai and make the most of the moment in your style.
3. Jet Skiing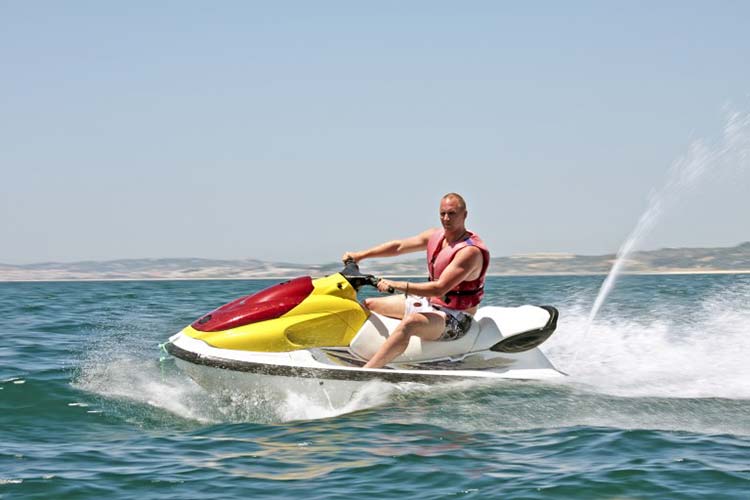 A frothy ride on the Dubai waters makes for yet another recommended holiday activity in Dubai. The watery encounter with this land of artificial islands gives you another reason to visit this place. The warm sun and the soothing Gulf waters will relax you from the core.
Skiing is a popular activity. Considering this, the Dubai Water Sports Association calls for contestants from Europe and the US each year to participate in the water sports competition conducted for a week. The view of the shoreline from the surf is spell bounding. There are many organizations that provide you with skiing, and take care of the pickup and drop facilities too.
4. Dhow Cruise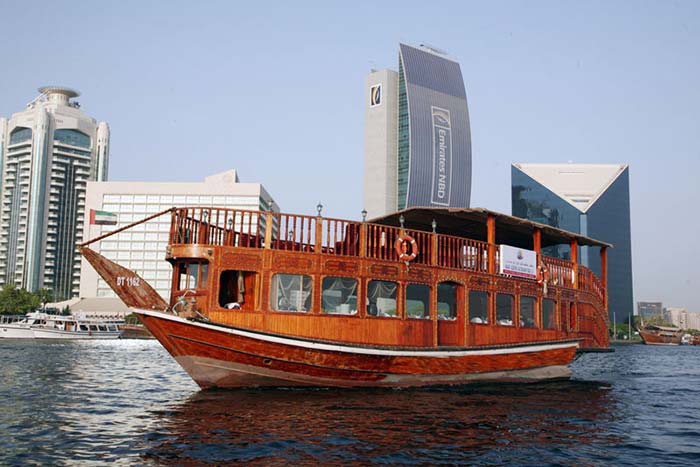 All good things cannot be obtained on a single platter. Each one of us has at one time or the other been told such things that it is just impossible to get all the best things together. But when we talk about Dubai, the belief really needs some serious amendment.
It is here that one could thrill one's vision at the sight of the stunning landscape. Simultaneously, one can also savor the traditional and international cuisines on the Dubai waters on a cruise. Yes, you got it right. The mention here is about the cruise dinner in Dubai that seems too good to be true!
5. A Visit to the Souk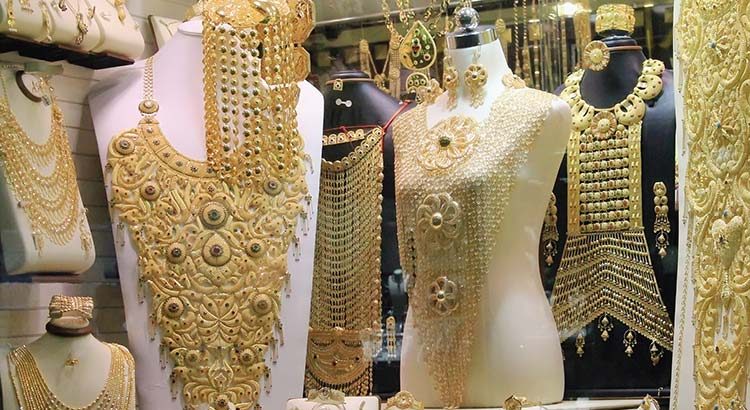 Before attempting to step into the souks of Dubai, it is primary to know that the city is immensely renowned for its gold, sold at tremendously low rates, and aromatic spice that commands world acclaim.
Whether you are a shopaholic or not, you wouldn't be able to resist the desire of owning a handful of spices or some biscuits of gold. One of the best flea & street markets in Dubai, Burdubai Souk is also popularly known as the Old Souk.
There are an ample number of stores on the Old Souk that sell textiles, footwear, artifacts, decorative, jewelry etc., and the additional perk is the abra ride from Dubai creek to the souk. This water route will set your mood to hop into your shopping shoes.
The area not only interests tourists but is also a World Heritage Site. The Souk not only facilitates a good shopping spree but also exhibits great architectural splendor.
Whether or not you wish to buy spices from the spice souk of Dubai, a single visit to the spice market is certainly a good bid. The shops are multifarious; including that small stalls at the alleys or the bigger shops; all selling herbs and spices, some even selling medicinal herbs too. And can you overlook the perfume shops? Well, perhaps picking some bottles would not be a cause of regret though.
On a closing note
The above-mentioned destinations rank amongst the most visited and recommended ones to be with your friends. Though Dubai has a lot on offer apart from these places, being here is a must!
The sheer brilliance that these places ooze out is sure to make a strong mark on your mind. Your social pages will be full of memorable snaps with friends, and a revisit will be planned soon.
Finally, remember that a trip to Dubai can always be planned confidently, and the above piece of information will come in handy to plan your trip. So what are you thinking about? Get you and your friends, on board and visit these amazing places in Dubai soon.