Dubai is a gleaming metropolis that has been on every traveler's bucket list for a very long time. Due to the COVID-19 pandemic, we all had to put our travel plans on the back burner. The travel industry was one of the worst affected sectors. But in recent months, many countries have been slowly gearing up to resume a normal life. Dubai is one of the destinations that had started welcoming visitors again. So, if you are one of those who are planning to visit this stunning Emirate, then this travel guide is perfect to learn more about the dhow cruise which is a must-do activity in Dubai.
What is a dhow cruise?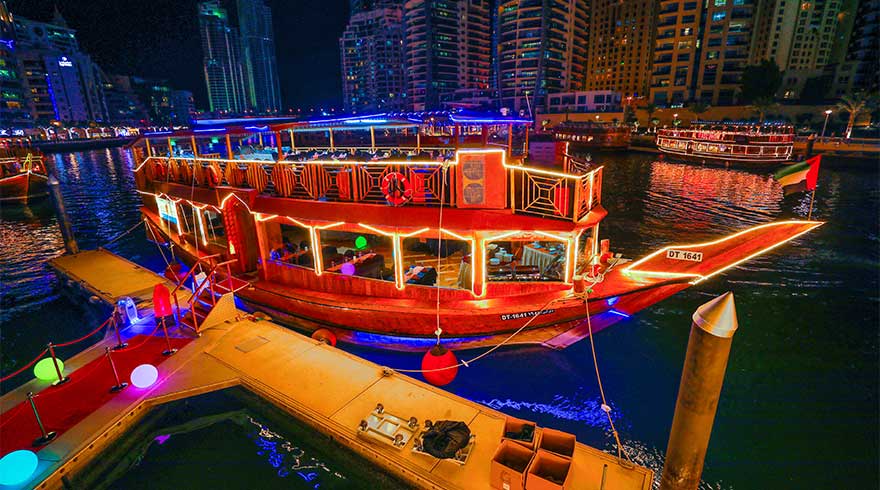 Dhows are traditional wooden boats that have been a vital part of Arabian life and the city's past. These vessels were used to transport merchandise and other commodities on the Red Sea and Indian Ocean. They have been given a makeover in recent times to include an ultimate Emirati experience for travelers. They sail the glorious waters of Dubai Marina or Dubai Creek. You get to see a different landscape and several monuments based on the type of cruise you select. Dubai Creek takes you through the charming old areas of Deira and Bur Dubai which is a truly delightful experience. While a cruise on Dubai Marina allows you to experience the glitz and glamour that Dubai is known for.
You can sign up for a dhow cruise dubai that includes welcome drinks, Arabian snacks, and scrumptious BBQ dinner. You can also enjoy live cultural performances such as Belly dancing, Tanura dance show, and Fire show among others. Relax and witness the magnificent Dubai skyline beautifully illuminated from the comfort of your seats.
Post pandemic precautions for the dhow dinner cruise
The cruises in Dubai were temporarily paused due to the ongoing pandemic. Now, the dhow cruises have been opened to visitors with many safety precautions in place. All the safety rules are followed as per the Standard Operating Procedures (SOP). You need to keep the following points in mind before booking a dhow cruise:
To avoid queues and physical contact, it is advisable to book the dhow cruise online
Travelers and guides have to compulsorily wear a face mask and ensure that the mouth and nose are properly covered during the cruise
Maintaining social distancing is extremely essential whether it is at the port while boarding the cruise or inside the dhow
The seating capacity of guests on the cruise have been reduced to half the earlier authorized numbers so there may be limited seats available for reservations
The equipment and other gear on board is sanitized at regular intervals or between use
Mandatory temperature checks and thermal screening for guests upon arrival is a must
The temperature of the staff should also be checked at regular intervals
Ensure you check the cancellation policy of your cruise before booking it to avoid any refund related issues
The vehicles used for transportation also needs to be sanitized thoroughly after every use
Make sure that hand sanitizers are placed at strategic points aboard the dhow for the use of guests and staff
Passengers must also make sure that they sanitize their hands regularly, especially before and after the tour
Conclusion
A dhow cruise dinner in Dubai is a very fascinating and unique experience. Any trip to the fabulous city is incomplete without exploring the shimmering waters of Dubai on these traditional vessels.