Ask newly wed couples about their favorite honeymoon or vacation spot and most of them would happen to answer 'Singapore'. Yes, it's one of the hottest and most sought after tourist destinations today. People from around the world travel here for leisure, holiday, and business. Singapore bustles with hundreds of tourist attractions to see and hundreds of exciting things to do. People of all ages enjoy here because there's something special for everyone who visits Singapore. To make the most of your trip to Singapore, you first must know what the not-to-miss places. Choosing only a few attractions out of the whole lot is quite a difficult task because each place has its own charm and offers you a different set of memories.
We're thus here to offer you a quick list of the topmost tourist spots that you should include in your Singapore package. This list will help you prioritize things and enjoy the view of picturesque destinations and stunning architecture, feast on tasty food, shop till you drop, book your stay at a lavish hotel, and experience the exciting nightlife.
Here we go.
1.Singapore Flyer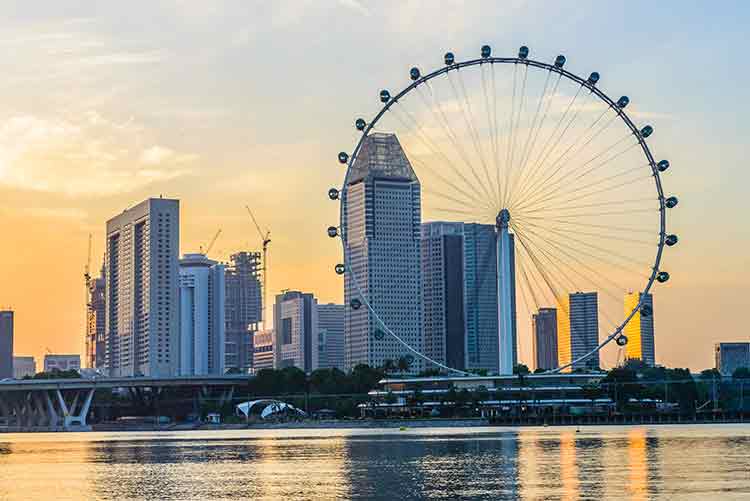 Known to be the largest observation wheel in the world, Singapore Flyer is around 165 meters high and travels at an astonishing speed of 0.21 meter each second. It is built over a terminal building and provides an extensive view of the city's splendid panorama. From the flyer, you can easily view the Raffle's Hotel, Singapore River, Marina Bay, and Padang. Take a fulfilled glance at the city space and collect a wonderful set of memories.
2.Marina Bay
If you ask which is the most spectacular, enjoyable, and pleasant side of Singapore, it's none else than the famous Marina Bay. The Marina Bay Sands Complex is the focal point of this area and it is home to a lot of interesting entertainment sites, including the Science Museum, Casino, dining joints and restaurants, nightlife entertainment spots, and shopping centers. People travel here especially for the eye-pleasing light show.
3.Clarke Quay
Want to spend a relaxing evening with your loved ones? Clarke Quay could be a perfect place then. It is a riverside development site, offering a bunch of good restaurants and bars. The food and drinks are excellent and you can enjoy here till late evening. Tourists also enjoy checking out a few boutique shops at the Clarke Quay. For plenty of relaxing time, the riverside place is ideal. However, the place also serves great to party animals, with some fantastic nightclubs. The Clarke Quay also offers multiple shopping options, and the best thing to experience here is the typical alfresco styled eateries and dining joints.
4.The Merlion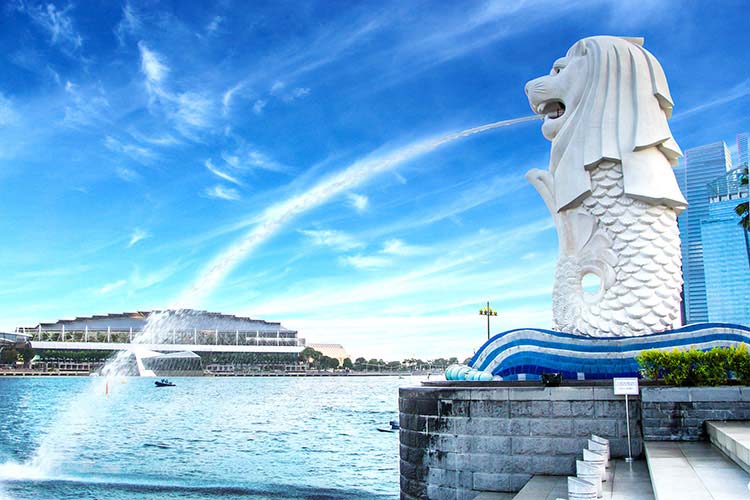 The famous Merlion in Singapore is not just an ordinary statue; it's one of the most popular mythical icons of Singapore. The statue is water spouting, weighs around 70 tons, and offers a lovely view of the Marina Bay Sands. Tourists travel here to see the Merlion and capture photographs with it, in various angles. This can be called as the signature spot of Singapore where tourists flock in millions every year.
5.Singapore Night Safari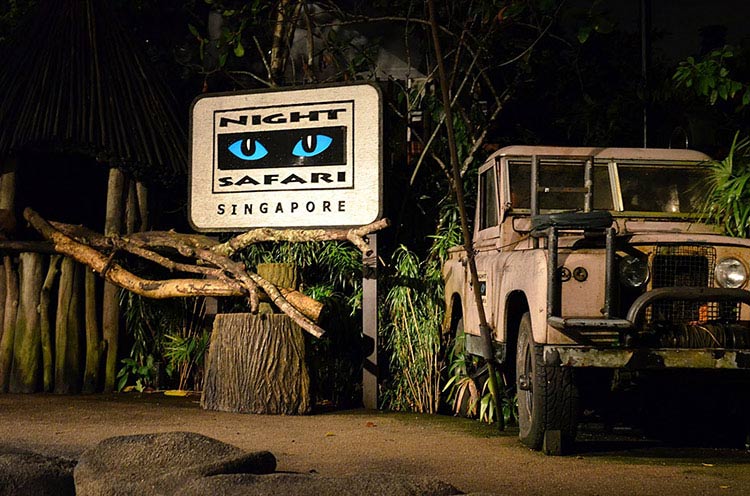 No vacation in Singapore will be complete till you visit the Singapore Night Safari! This wonderful tour takes you to the zoo that offers a golden opportunity to see a set of extraordinary nocturnal animals. Before you enter the zoo, you will get to watch a short, 20 minute show "Creatures of the Night". The show will give you an idea about what kind of animals you'd observe inside the zoo. There are about 1000 different animals, including gazelles, wildebeests, Himalayan griffon vultures, and greater one-horned rhinoceros.
6.Universal Studios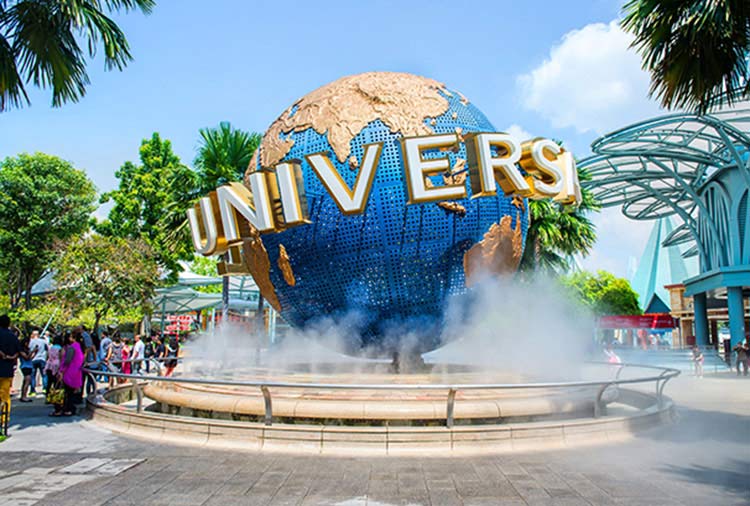 Among all the studios in the Southeast Asia, Singapore's Universal Studios offer a totally unique experience to its visitors. It is based on around 20 different themes, including Hollywood, the lost world, New York, Madagascar, the Shrek- fame Far Far Away, and Ancient Egypt. You can enjoy thrilling roller coaster rides and a few water rides. A day at the Universal Studios must be there on your checklist when you plan your Singapore trip!
7.Chinatown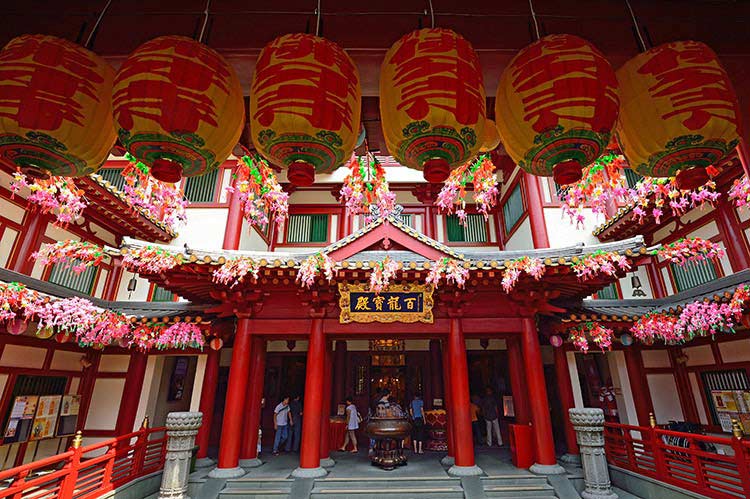 Want to buy a bagful of Singapore souvenirs to gift your loved ones at home? This is the place where you should go. Chinatown is a renowned icon in Singapore, especially for shopping of the cheapest souvenirs in Singapore. You can also enjoy great Chinese food served at hundreds of extremely good Chinese restaurants here. Street hawkers also serve excellent Chinese food to pamper your taste buds. What are the major attractions here? The Buddha Tooth Relic Temple, Thian Hock Keng Temple, Eu Yan Sang Chinese Medical Hall, the oldest temple in Singapore, and the Maxwell Road Food Centre!
8.Little India
Indian goods in Singapore? Yes, this Little India has hundreds of shops selling a range of Indian goods. Plus, a number of restaurants and family kitchens also serve fabulous exotic food to meet every visitor's food cravings. This is probably the most colourful place for Indians, in Singapore. The Mustafa Centre caters to all your shopping needs. Guess what, it is open 24x7x365!
9.Raffles Hotel
Raffles is a popular luxurious colonial-styled hotel with the glorious past tracing back to 1887. The hotel has 103 premier suits and almost 18 different restaurants and bars. There is an arcade of 40 stores and boutiques within the hotel, and if you want to make the best of Singapore's luxury, Raffles is the best option. For a memorable bar experience, this place is unmatched. The experience of more than 100 years in the industry can be seen at every moment.
10.Gardens by the Bay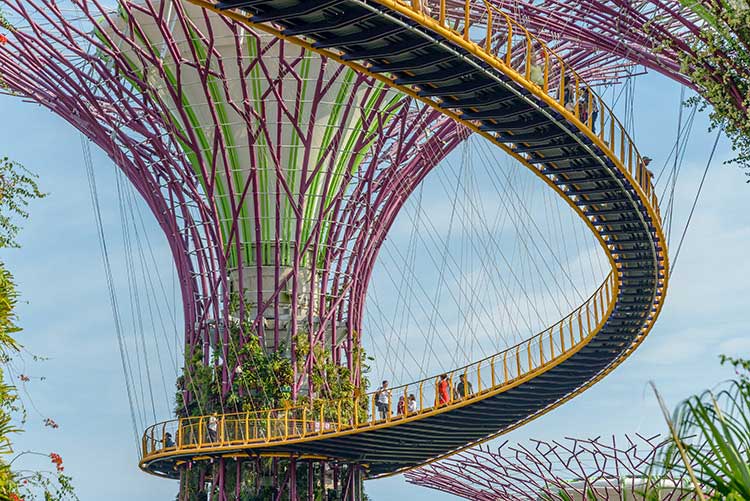 Within the Singapore Bay area, there's a huge, colorful park – Gardens by the Bay. This is a futuristic park that has been recognized as the World Building of the Year Award and is worth-a-visit. Our kids will love watching hundreds of large trees and small plants, the super-tree structures and the skywalk over the garden.
Do You Need Singapore Visa while on the Vacation?
Yes, do definitely need visa on the tour. All the foreign visitors must make sure that they meticulously check out the entry prerequisites set by the Singapore Immigrations and Checkpoints Authority. However, if you're the US passport holder traveling to Singapore for some business work or socially purposeful meeting, then you don't need visa to enter Singapore.