Souks are traditional street markets of Dubai that are a treasure-trove of many fabulous stuff. Be it gold jewellery, herbs and spices, clothes, footwear, or perfumes, you will find everything here under one roof. The awesome news is that prices here are not fixed so you can haggle with the vendors to get the best rates.
What to Shop in the Arabian Marketplace?
Gold Souk: All that glitters is gold here. Yes! You heard it right. The Gold Souk is not only the biggest gold market in Dubai, but also globally. As you walk through the narrow lanes, you will be stunned by the dazzling display of gold and diamond jewellery on the store windows. It consists of hundreds of stores selling unique gold jewellery and precious stones and is the only place where you can actually bargain for best prices to get this precious metal. It is important to understand how much you can haggle and tip in Dubai. 
Spice Souk: As soon you enter the Spice souk in Dubai, you will be hit by the aroma of exotic spices and condiments. You will find the best quality homegrown spices and herbs here like nutmeg, cinnamon, cardamom, pepper, dried fruits, nuts, saffron, vanilla, etc. at economical prices. It is a favourite haunt of the world's top chefs, and you may not even know the names of some of the spices. Whether it is herbs like rosemary, thyme, and basil or our very own Indian masalas, you will find everything here under one roof.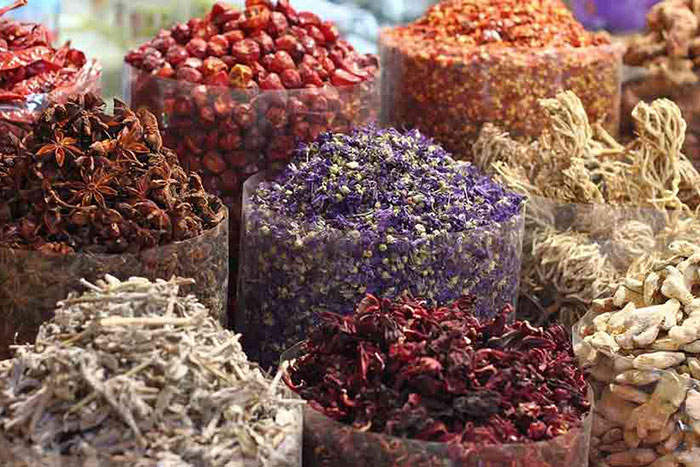 Textile Souk: The Textile souk is flooded with an endless collection of the best fabrics you can ever find. You will find every type of material like raw silk, wool, pashmina, cotton, embroidered cloth, and much more. You will also find other stuff to jazz u[ your outfit such as buttons, laces, sequins, stones, tassels, etc. Be it local tailors, top designers, or high-end boutiques, this is where they source their materials from. This is a great place to shop for readymade outfits and traditional Arabian garments too.
Perfume Souk: The enchanting whiff of perfumes will beckon you to the Perfume souk. Arabs have always been very fond of perfumes and essential oils and it has been an integral part of their lives. You can find thousands of shops selling an wide range of exotic perfumes right from the very mild notes to the extremely potent ones. It is also a fantastic place to shop for the traditional ittars that Dubai is known for. You can also but incense in the form of powders, sticks, crystals, wood, and also an array of essential oils that make for beautiful souvenirs for loved ones.
Conlusion
These souks are brilliant ways to take back memories from Dubai to home in the most reasonable ways. You can also check out free things to do in Dubai to plan the holiday under your budget.