Dubai is renowned for its glitzy and glamorous attractions that offer the best hospitality, culture, and modern experiences. But Dubai is much more than its glittering side; come and explore the amazing traditional side of Dubai that offers a unique experience in culture, hospitality, traditional markets, tradition, and authentic meals. We bring you the best experiences of old Dubai that you should look to explore the true legacy of Dubai.
Things to Do in Dubai For Cultural Experiences
Uncover the heart of Dubai's historic centre – the Al Fahidi Historical district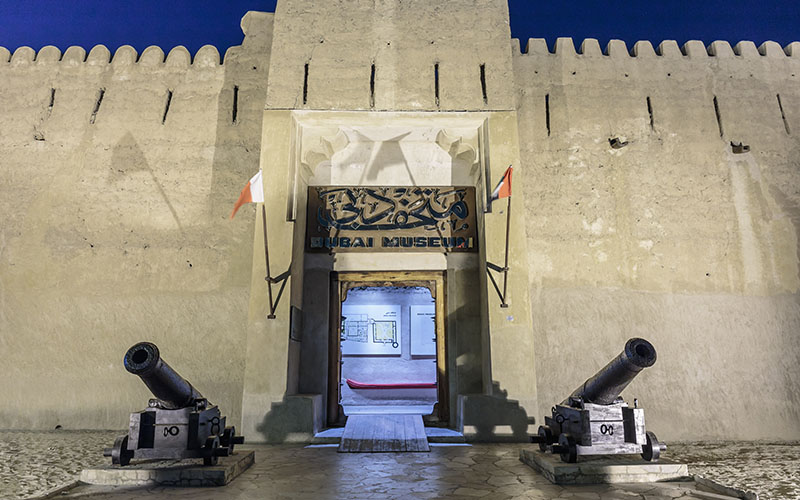 The prime residence of all the merchants who once traded in Dubai, this is one of the oldest residential quarters in the Dubai Emirate. The maze-like alleys and sand-coloured homes have paved the way for local boutiques, art galleries, and impressive cafes. The XVA gallery, a tourist hotspot, features the artwork of many regional and local artists and the Calligraphy House, a complete bible on the ancient art form.
The Dubai Museum, placed in the Al Fahidi Fort, the oldest building in the Dubai Emirate, is another great place to explore Dubai's fascinating, rich history. Some interactive displays and exhibits give you a sneak peek at what Dubai was and what it has become today. Get to know the real story and inspiration of the amazing transformation of the Dubai Emirate.
Shop at the traditional souks of old Dubai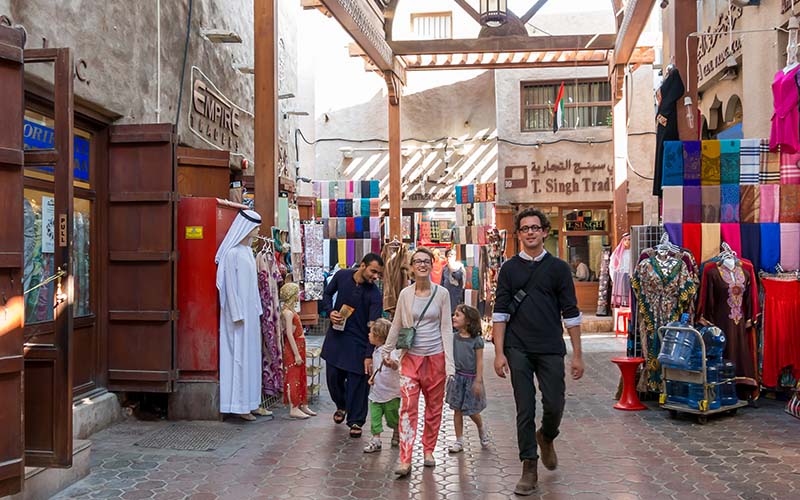 Dubai souks have become synonymous with the Arabic region. Several merchants who flock to Dubai used to source and procured goods like perfumes, spices, herbs, gold, textiles, flavoured bread & meat, and the popular Dubai dates. The best time to explore these souks is late afternoons or early evenings, as most of them have an extended lunch break to break from their busy routine days.
One of the traditional elements offers a unique experience for locals and tourists. Enjoy the flavour of rich spices, gorgeous yellow metals, fine textiles & carpets, and exotic perfumes at these souks. Each souk in the Deira district is known for its fragrant scents, variety, authenticity, and distinct flavours. Make sure you have practised your negotiation skills well as you can win a good deal. Whether you buy anything from these souks or not, you are bound to be elevated by these amazing outlets' tantalized aroma and charm. If you love bargaining, there are numerous street shopping and flea markets in Dubai.
Enrol on a cultural tour
This program is called "Meet the Locals", where visitors spend a day at the magnificent Sheikh Mohammed Centre for Cultural Understanding, offering a complete guided Creekside walking themed tour aimed at exploring the Dubai Creek banks on a traditional wooden boat named Abra. It offers deep insights into how Dubai was in the last century and the amazing cultural heritage as a package with Dubai.
Enjoying a local culinary Dubai experience
You will be able to find several Middle Eastern culinary experiences on either side of the Creek that will surely tantalize your taste buds. First, head to the Coffee Museum nestled in Bastakiya and try their signature Arabic coffee named gahwa as an appetizer before heading for a scrumptious Emirati-style lunch or afternoon tea at the Arabian Tea House. Next, Al Fanar is one of the most recommended cafes in Al Seef, and the Special Kebab at Al Ustad for a great Emirati culinary meaty experience coupled with magnificent Creekside views. Finally, Al Machboos is a traditional UAE special prepared from rice, meat, dried lemon, and onions. Other local delicacies that are quite popular in the tourist world are shawarma, camel burger, Al harees, kunafa, fatayer, luqaimat, manaeesh, and Karak tea.
The Camel Milk Ice cream is another popular delicacy in this region. With the intense popularity of Camel milk growing globally, UAE has also extended their camel milk offerings to give you a taste of the local flavour through their ice creams, flavoured milk, and other products. Enjoying camel milk ice cream on a hot day is the perfect recipe to beat the hot sun and soaring temperatures.
Stay at one of the antique hotels
You can get a deep sense of the local culture & heritage in your boutique hotel itself. Some of the most popular ones include XVA Art Hotel, which features fourteen themed rooms focused on the local cultural roots, Al Seef Heritage Hotel Dubai, Radisson Blu Dubai Deira Creek, and Curio Collection by Hilton. The architecture and interiors of these antique hotels offered a great sense of the Arabian culture through every feature offered in these hotels.
Go back time to Dubai's original heritage quarter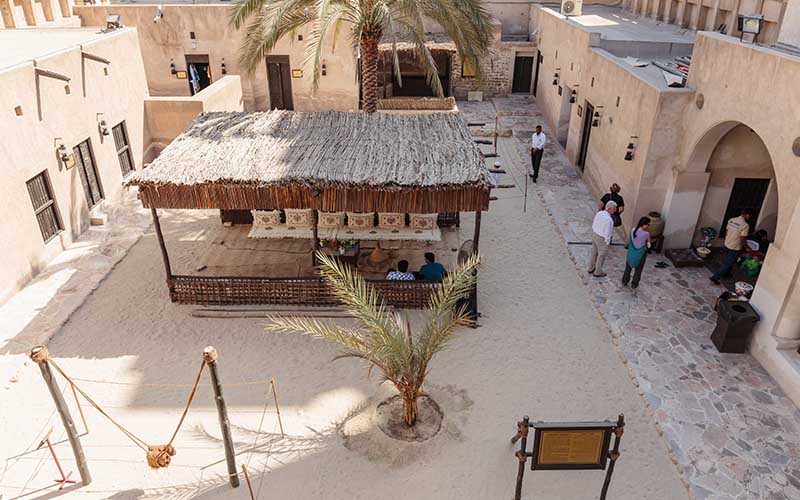 Dubai's traditional heritage quarter is located on the Dubai Creek banks and was one of the key pearl diving spots in the region. Many locals and visitors are looking to explore this traditional quarter's culture, aura, and elegance using a traditional Abra boat ride. You will also find many fishers and merchants even today pass through the calm Arabic waters for their business and occupations. Most of the Al Fahidi Historical District buildings feature a coral and gypsum coating on their building walls that offers an elegant look to the area. In addition, the iconic wind towers offer a contrasting ambience to the glittering ambience of modern Dubai.
The banks of Dubai Creek welcome the 1.8 km long Al Seef district that reminds us of the fascinating charm and elegance of Dubai's rich history and present. This district features a modern fusion of the recent past and the modern facades. Shop for some great souvenirs or fragrant Arabian perfumes for your loved ones at the traditional souks. If you want to enjoy a traditional-style Arabic lunch, head to the rooftop Mamikonyan restaurant to enjoy some great meat with stunning views of Dubai Creek and its neighbouring landmarks.
Discover local experiences at Al Shindagha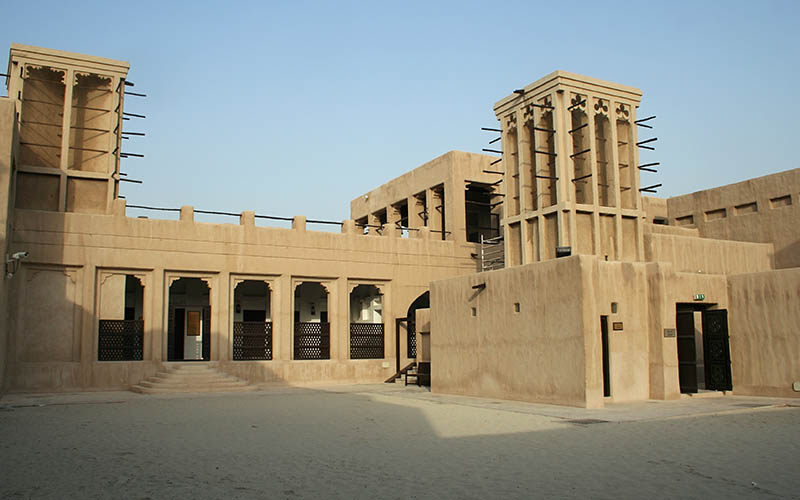 If you want to carry some souvenirs or gifts for your loved ones with an overdose of the local cultural heritage, then Al Shindagha is one of the antique Dubai neighbourhoods that welcomes visitors and tourists with open arms. Top historical highlights include Saruq Al-Hadid Archaeological Museum and the iconic Al Shindagha Museum, where you can explore old exhibits and interactive displays and excavated desert sites in Dubai Emirate. Get to witness the Dubai Emirate's glorious history, which was once heavily reliant on fishing and pearl for their economic survival. You will witness a lot of local surprises within the ancient district, especially in culinary, history, and heritage.
Get an overview of Dubai at the Global Village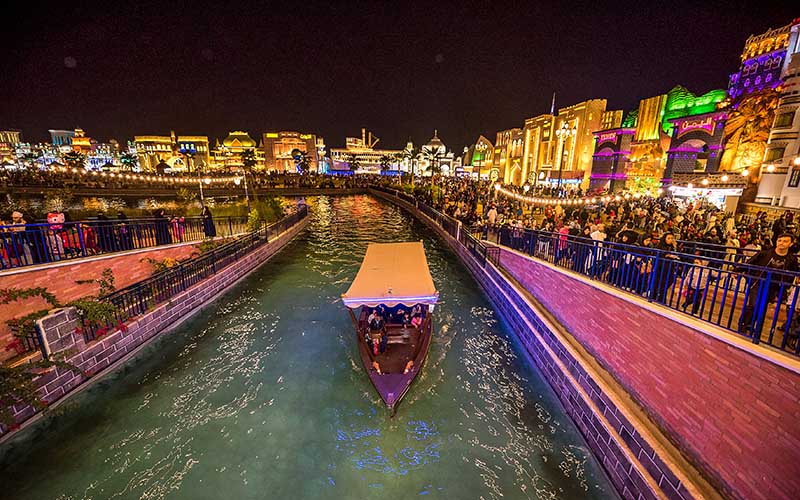 You need 5-6 hours to explore the fabulous Global Village, where you get a completely local experience of global destinations spread lavishly over 17,200,000 square feet. Get complete access to this spectacular destination for AED 15 per person from 4 pm onwards from Saturday to Thursday. This spectacular destination features several dedicated pavilions of various countries where you get to explore their respective local culture, taste local culinary delicacies, and purchase souvenirs specific to that country. Other entertainment factors include thrilling rides, street performances, and live music concerts by local and international artists.