Recent studies have stated that majority of the adults today are stressed and worked out. That is why Dubai stresses mixing some extreme fun with rejuvenating experiences that will act as a perfect mood refresher. We bring you the numerous activities that you can indulge in Dubai that will play a perfect foil for stress-buster indulgences at around a Dime.
A. Culinary Adventure in Dubai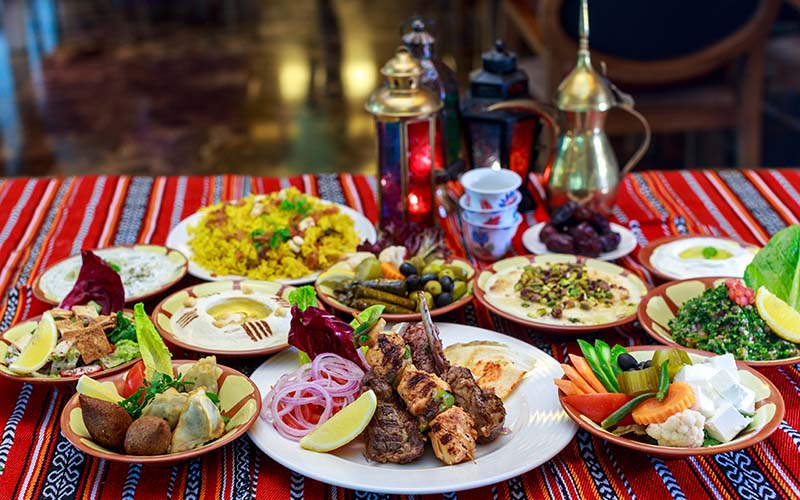 Food is always a great way to replenish yourself and recharge your batteries. So why not check out these modern culinary destinations that will de-stress you as you indulge in several new local and global delicacies?
Take a scenic trip on Dhow Cruise Dubai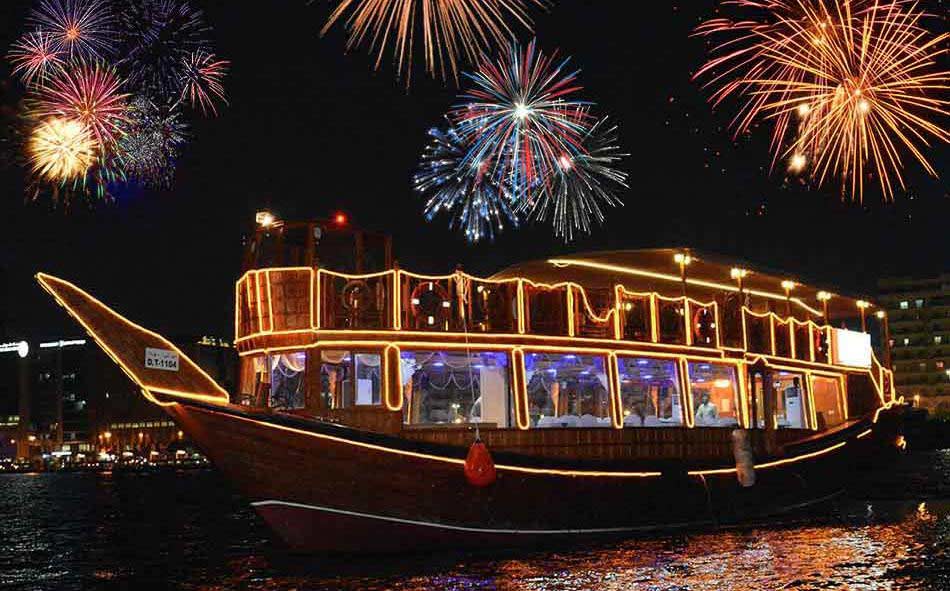 One of the best outdoor activities in Dubai, sailing on a dhow cruise gives you a moment of respite and thrill. It is a double-decked revamped cruise that combines gastronomical experiences with entertainment. Glide across the scenic landmarks of Dubai Marina and its neighborhoods, such as JBR, Cayan Tower, the Bluewater, Ain Dubai, and a lot more. Admire the breathtaking views from the upper open-air deck or tuck into the comfy restaurant at the lower deck. Watch the city sparkle under the moonlit sky as you devour your favorite dishes from a delicious spread of buffet, along with some welcome refreshments like tea, coffee, and packaged drinking water. So, book dhow cruise Dubai online and enjoy an unforgettable evening.
This latest addition to the fascinating set of restaurants in Dubai is popular for its wide variety of seafood, especially among locals residing in the posh JBR and Dubai Marina neighborhoods. Savour the fresh Italian flavor of seafood that will act as a perfect de-stress for you. Savour local and international cuisines in the afternoon from 12 pm to 3:30 pm and from 7 pm to 11:30 pm.
Themed on seven forbidden sins, this restaurant in Emerald Palace Kempinski Dubai offers a great immersive culinary experience for its visitors and tourists alike. Get the best of several worlds featuring dance, drama, music, and great food at this restaurant. Every Thursday and Friday, you witness the magical shows from 8 pm to 11 pm. Bookmark this restaurant in your Dubai itinerary.
Go for Sunset Barbeque and Night Desert Camping
If you want to go beyond the city buzz for a relaxing and scrumptious barbeque in the middle of a desert, you don't need to think beyond the Dubai Desert Safari Experience. A fun activity for people with different tastes and preferences, the Desert Safari Dubai is a fascinating way to explore the rich Bedouin culture and the wildlife in the desert. You can choose the best desert safari based on your interests. You can either club your adventure with a group through a tour agent or pack your equipment and camping essentials and drive to a desert camp with your family and friends for some ultimate fun. Witness the sun deep down into the red dunes and rise again the next morning after you spend a night under the starlit sky. You are loaded with special indulgences that you should not miss for a relaxing and rejuvenating experience.
B. Lounging Destinations in Dubai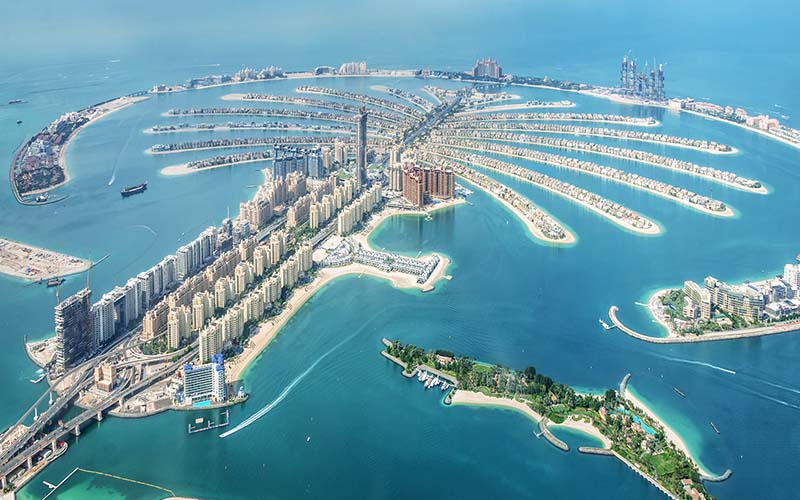 Visit La Mer South – a fun activity destination
If you want to visit a beach but with a lesser crowd and have fun simultaneously, you should not think even twice other than La Mer South Dubai. Both La Mer and Jumeirah are free to access. Not a desirable place in the hot afternoon, but a happening place post-sunset. The sunset is as mesmerizing as the sunrise, and this place is a perfect way to lounge and unwinds on the beach if you want to quench your thirst or hunger in between your beach lounge.
Watch a movie under the starlit sky
You could not have asked for more than enjoying a movie under an open sky decorated with a few stars with your friends, family, or partner. This innovative concept is getting quite popular in Dubai and has gained prominence among the tourist population over the last decade. An entertaining way to spend a relaxing evening in Dubai. Grab your popcorn and your favorite bean bag at the outdoor Cinema on the Bay in Dubai Festive City, hosting movie screenings on Sunday evenings between 7 pm and 9 pm. You can also check out the Monday shows at Dhow and Anchor at Jumeirah Beach Hotel is another option that gives you a wonderful feel with an alfresco terrace setting, some delicious popcorn, and the great company of your loved ones.
C. Adventure Fun in Dubai
Take your brain on a marathon at HintHunt Dubai
Fun activities can be challenging at times, and such thinking cap activities can act as a de-stress to unwind from our busy daily routine. One of the best activities for many people who want to think, interact, and resolve this creative problem. Five live games test your problem-solving skills, keeping calm nerves, and great presence of mind. You have one full hour to resolve the problem using various riddles and clues to unlock various doors in the game to escape. To start, you need a team of three people who think alike. You can book your tickets well in advance for AED 378 per team (3 members), AED 483 for a 4-member team, and AED 577 for a 5-member team.
Compete with friends at Challenge Chambers
Well! If you couldn't get tickets to the HintHunt, then Challenge Chambers won't disappoint you. Get a feel of a real-life escape that is timed to test and hone your gut, intelligence, and problem-solving skills to the core at the attractive destination in Jumeirah Beach Road, Dubai. Search for riddles, clues, and hidden objects to help you clear your way out—fun and entertaining acts that will give you complete laughter therapy and de-stress yourself. Try your luck for AED 250 onwards for a couple.
Spend a vibrant musical night at SKY 2.0
Music has always been a great de-stressing for all of us, and when you club it with a wonderful ambiance, you can't ask for more to refresh all moods. Choose from various available drinks, cocktails, and mocktails while pulling off your best dance moves on the floor. There are themed parties hosted a week thrice – Wednesday, Thursday, and Friday. Signature music is played on Thursdays, whereas Fridays are home to the "Boom Box". The party starts from 10 pm onwards till the wee hours of 4 am.
Smash everything around at the Smash Room
A fun and relaxing activity for adults in Dubai is the Smash Room. This de-stress activity has gained prominence in such a short period since its inception—a perfect recipe to vent out the anger within you by throwing and destroying things around. So choose the sledgehammer that can suit your rage and vent out your frustration for just AED 99 onwards per person. After this activity, you will feel relieved as it is the ultimate de-stress we all want in today's lives.
Conclusion
Dubai is a unique city with something for everyone. Whether you are a casual sightseer who would love to tick off the major landmarks in Dubai or an adrenaline junkie who wants to challenge your inner self, the city will help you fulfill your dreams.