The Palm Jumeirah, Dubai, is one of the most audacious artificial islands ever built and a popular tourist destination. Out in the Arabian Gulf, this artificial archipelago takes the form of a palm tree, complete with a three-mile-long trunk and a fan of fronds filled with high-end resorts and mansions. Here are ten fun things in Dubai's Palm Jumeirah: water parks, wildlife encounters, beach clubs, and boozy brunches.
The massiveness of the Palm Jumeirah is one of the first things that catches the eye of visitors. The outer crescent of this massive archipelago is longer than 10 miles. Each hotel is somewhat far from one another, making walking between them impractical. A monorail connects the Atlantis to the Palm Jumeirah's trunk, and its plentiful and reasonably priced taxis make it a great home base for visiting the island's many attractions.
Visit Palm Dubai for numerous attractions and grasp why it is a must-stay
Travel to the Palm of Atlantis and Make a Splash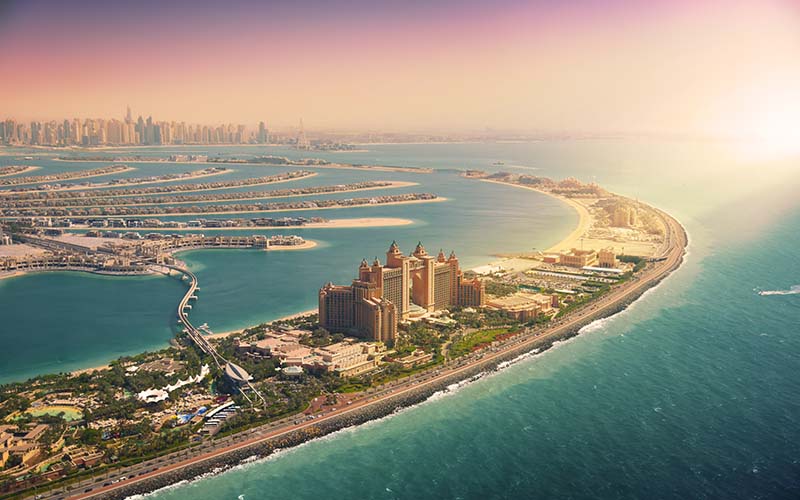 Address: Crescent Road, Palm Jumeirah, Dubai, U.A.E, PHONE +971 4 426 2000
The rose-colored Atlantis is one of Dubai's most iconic buildings because of its prominent position near the Palm. A five-star hotel and restaurants by well-known chefs are only the beginning of the exciting entertainment and relaxation opportunities available here. Aquaventure Waterpark is the place to let your inner child out with its record-breaking water rides, including one that allows you through a shark tank, pools, and a private beach where you can relax with a drink in hand.
Adventures in Which You Can Swim With Sharks, Dolphins, and Sea Lions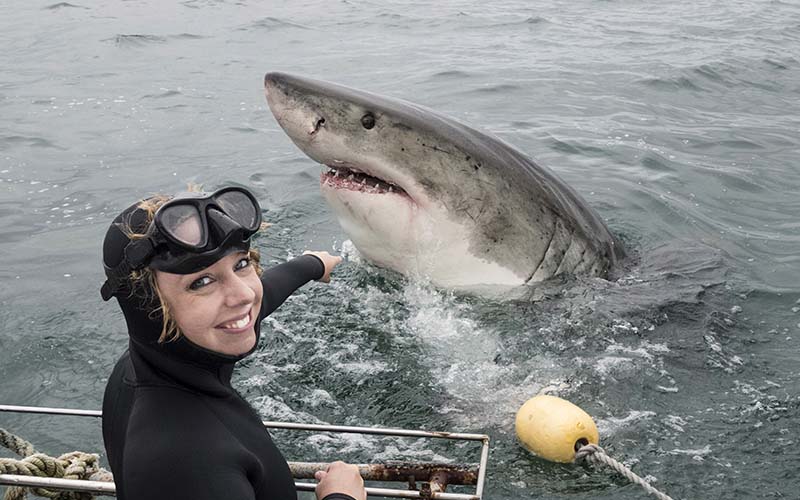 Address: The Palm Atlantis, also known as Palm Jumeirah, is in Dubai, U.A.E, PHONE +971 4 426 1040
In other words, the aquatic fun does not stop when you leave the waterpark. You may snorkel or scuba dives through live lagoons with 65,000 marine animals, including 14 sharks and rays, at The Lost Chambers Aquarium, where you can swim with dolphins in Dolphin Bay and get up personal with the resident sea lions. Sign up for some underwater yoga and experience what it is like to be underwater without getting wet.
Have a Drinkable Brunch to Start Your Weekend Off Right
Address: Atlantis, The Palm Jumeirah, Ground Floor, The Avenues, Dubai, U.A.E, PHONE +971 4 426 2626
In Dubai, the weekend is Friday and Saturday, and Friday brunch is a significant event. The Nobu High Brunch is a four-hour celebration of Nobu Matsuhisa's renowned modern Japanese delicacies, served alongside bottomless glasses of champagne and other libations. The Waldorf Astoria's Secret Garden Brunch welcomes families with children under the age of 6 with a designated children's area and complimentary meals. The Friday Fork & Cork at Crescendo at the Anantara Dubai The Palm Resort & Spa is another popular Palm brunch option due to the wide variety of cuisines available and the presence of live cooking stations.
Splash Tours: Guaranteed to Raise Your Heart Rate
Address: United Arab Emirates; Dubai; Al Seba St.; Dubai Marina; Dubai; Al Seba St, PHONE +971 4 362 6277
Put on your seatbelts because Splash Tours will take you on an exciting adventure. Exiting from Dubai Marina, the adrenaline-pumping speedboat journey lasts 90 minutes and includes a tour of the Palm Jumeirah and a photo op in front of the Atlantis. The time will next take you on a cruise past some of Dubai's most luxurious royal homes before you are whisked away to the Burj Al Arab.
Round-Palm Paddling
Address: The United Arab Emirates, Al Qouz Industrial 1 Building 17, Room B2, PHONE +971 50 554 784
If you want a less adrenaline-pumping experience, SeaYou can take you out on the tranquil waters around Palm Jumeirah. You can take in the sights of Dubai Marina, the Burj al-Arab, and the Burj Khalifa on a kayak tour around the crescent. Or, you may try your hand at yoga and pilates on a paddleboard in the tranquil seas surrounding the Palm, or you might go for a stand-up paddleboarding session. Take a spin in SeaYou's dragon boats if you go to a large party.
Enjoy a Spa Treatment Enhanced with Coffee to Refresh Your Senses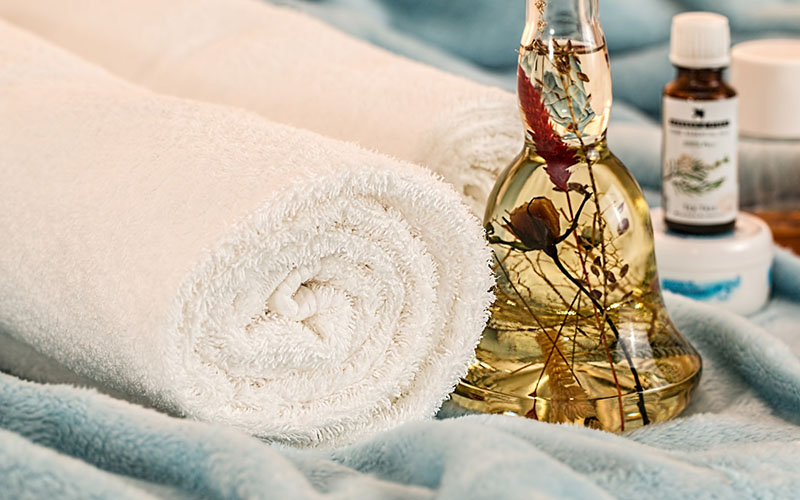 Address: Crescent Road (West), Palm Jumeirah, Jumeirah Zabeel Saray, Dubai, United Arab Emirates, PHONE +971 4 453 0456
The Talise Ottoman Spa at Jumeirah Zabeel Saray is among Dubai's most luxurious day spas, with various treatments and services available. The Coffee Peeling treatment is a scrub and buff in the hammam using Turkish coffee, stimulating the senses. Indulge in a 24-karat gold mask, a rose bath, and a diamond body routine during "The World's Most Luxurious Spa Experience," a full-day package. A champagne and caviar lunch for two, plus an overnight stay: that is what this ultra-luxe package includes.
Enjoy Some R&R at a Sophisticated Beach Club
Address: Unit 8 The Shoreline, Palm Jumeirah, Dubai, U.A.E, PHONE +971 4 430 9466
The staff at Riva Beach Club are experts at keeping you comfortable even when the temperature in Dubai soars. Located on the Palm's trunk, this stylish refuge features a secluded stretch of sugar-white sand, a Mediterranean restaurant, an open gazebo bar serving ice cocktails, and a swimming pool chilled in the summer and heated in the winter, making it perfect for year-round swimming. Relax in a cabana or on a sun lounger at Paradise Beach in Rixos, The Palm Dubai.
Fly Over Dubai and Snoop on Its Famous Attractions
Address: Crescent Road, Palm Jumeirah, Dubai, U.A.E, PHONE +971 4 426 2000
Time-pressed but financially secure? Experience a helicopter ride around Dubai's most famous landmarks from the comfort of Atlantis, The Palm, on a City Circuit trip. In just 25 minutes, you can see Dubai from above, including the Palm and the World Islands, the Burj Khalifa and the Burj al Arab, the towers of Sheikh Zayed Road, and the historic buildings along Dubai Creek and in Dubai's old town.
Falling Through the Sky Above Palm Jumeirah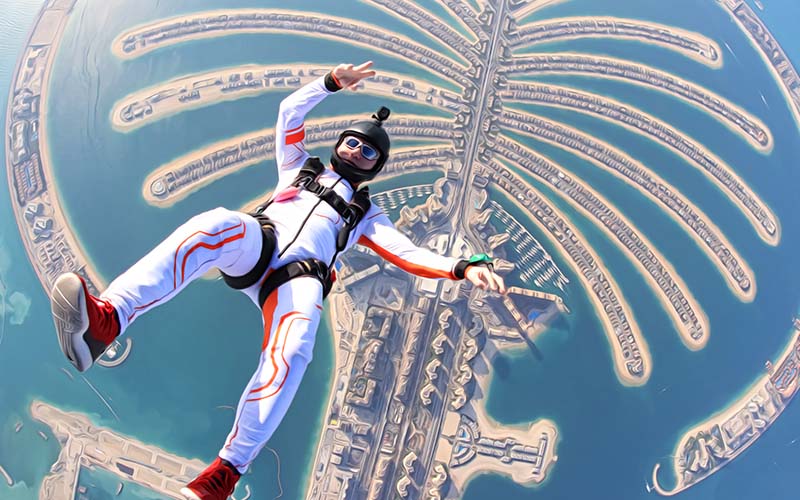 Address:  Al Seyahi Street, Dubai Marina, Dubai, United Arab Emirates, PHONE +971 4 377 8888
The ultimate adrenaline thrill is jumping out of a plane while flying over Palm Jumeirah. Offering tandem skydives in the Palm Dropzone, where you can reach speeds of up to 120 mph and take in breathtaking vistas of the Palm, the Dubai Marina, and the turquoise waters of the Arabian Gulf, Skydive Dubai is a must-do for any visitor to Dubai.
Are you fond of such adrenaline-rush adventures? Do plan a 1-day getaway to Ras Al Khaimah with our complete guide on what to do here.
The Penthouse is the Perfect Spot for Sunset Drinks
Address: First and Only Palm Jumeirah, Dubai, UAE, PHONE +971 52 900 4868
Leave work early and head to the newest and chicest club in town, The Penthouse. This adults-only retreat offers breathtaking views of the Dubai Marina skyline from the 16th story of the ultra-luxurious Five hotels. Ladies, mark your calendars for Tuesdays at The Penthouse when you can enjoy three complimentary cocktails on Ladies' Night. Alternatively, the Spa, Dine, and Pool package is available midweek and includes a 45-minute massage, access to the Penthouse pools, and coupons for food and drink.
Conclusion
Dubai the Palm is a monumental landmark in the world of engineering. With abundant things to do here, you can spend a fantastic time with your loved ones doing what you have always wanted to do. So, for your next holiday do add Dubai to your bucket list of one of the best places to visit in the world.