Roaming around Dubai city gives you the chance to see and admire striking architecture and skyscrapers. But, if you want to experience something different, then head towards Deira. There, you will come across Al Seef Dubai Creek, an amalgamation of old versus new. Al Seef Dubai is one of the most beautiful and exciting destinations located by the Dubai Creekside area of the Al Fahidi neighborhood. This 1.8 kilometers of waterfront promenade, developed by Meraas and designed by Gordon Affleck and Paul Rodgers, was launched at the end of 2017. This Creekside area combines the modernity of high-end amenities, services, and buildings with the traditional and historical Emirati culture, thanks to to its classic structures that recreate the city's past so that the tourists feel like they have gone back in time to the mid-1900s.
Al Seef area is a tribute to the incredible heritage and culture of Dubai that welcomes tourists to explore the Emirati Heritage via its gorgeous walkways (that appear straight out from an Arabian Night's fairy tale), cute mud and stone buildings, winding sikkas (alleys), restaurants, wharfs, ancient wind towers, and souks (where you can haggle for a good rate). Everything here is constructed with a rustic and faded look. Even the signage of brands like Dunkin Donuts and Baskin Robbins reminds you of bygone days. The Al Seef area offers many dining, shopping, and leisure experiences. There are two Jumeirah hotels branded as Zabeel House.
Things to do in Al Seef
1) Walk Around its Alley and the Al Seef Promenade
Al Seef is almost two kilometers long, and the old site offers plenty of alleyways, stalls, and narrow corridors for you to wander and explore the area. Make sure you carry your phones or cameras because you will come across many picturesque sights. Al Seef Promenade overlooking the Creek offers fantastic views to enjoy as you roam around. The place looks gorgeous in the evening when Deira lights up across the water. Admire the mish mash of most modern buildings and timeless traditional structures all exuberant and illuminated at night, making the area appear more magical.
2) Enjoy a Cup of Coffee at the Old Architectural Starbucks
The Starbucks at Al Seef Dubai is possibly the most popular shop in this area. This coffee shop is located inside an old-fashioned yet charming building wherein the logo stands out prominently. Enjoy an Iced Caramel Macchiato in this place. The building's exterior looks very rustic and makes for a great setting for snapping a picture for your Instagram post.
3) Have Fun at the Museum of Illusions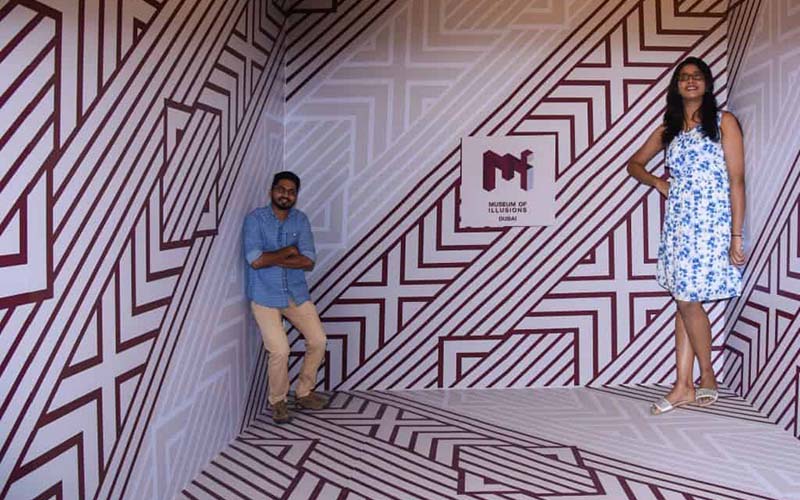 Enter the Museum of Illusions, a location filled with brainteasers including riddles, optical illusions, and mental games. In the Infinity Room, you would be gazing at your numerous reflections; you will appear to be a dwarf, a giant, or suspended from a ceiling. Grand illusions, optical illusions, and master illusions are the three categories of exhibitions. As there is no age limit for enjoyment, the Museum of Illusions thrills both adults and children.
4) Take an Abra to Deira and the Gold Souk
Ride on an abra, a traditional boat cross the Creek to Deira, the district where you will find the famous Dubai Gold Souk (market), along with the Spice Souk and Perfume Souk. Once you have reached Deira, be sure to visit the iconic Gold Souk, one of the largest markets in the world that is home to more than 300 gold stalls. After you are done shopping for these shiny metals, head to the Spice Souk to shop for some rare and authentic spices used in Arabic dishes or visit the Textile Souk to shop for good quality silk or cotton fabrics.
5) Shop at the Al Seef Heritage Souk
The Heritage Souk is an excellent spot to pick up souvenirs, get a tattoo, or purchase traditional and one-of-a-kind jewelry, handicrafts, and home décor. A stroll through the souk will teach you about the area's history and traditions. Take your time to explore all of the souk's stores, which offer everything from apparel (both contemporary and traditional) to the work of craftsmen as well as lots of alternatives for gifts for family and friends.
6) Visit Al Fahidi Neighborhood
A trip back in time is possible by visiting the early 1900s-era neighborhood of Al Fahidi. One of the greatest spots in Dubai to learn about the origin, culture, and history of the city is Al Fahidi. It is home to the city's oldest fort, Al Fahidi Fort. Built in 1787, it now houses the Dubai Museum. The museum has replicas of houses and mosques from an era that depicts life in the UAE before the oil boom. Another significant attraction at Al Fahidi is Sheikh Mohammed Centre for Cultural Understanding, a location where visitors, expats, and people from other countries may learn about the religion, traditions, and history of the United Arab Emirates.
7) Enjoy Shopping at Al Seef Mall
In Dubai, the Al Seef Mall is the ideal location for shopping. This mall is home to a wide variety of shops, including a beauty salon, a perfume shop, gift and souvenir shops, and other stores selling apparel, jewelry etc. There are several eateries where you may get something quick or sit down to a meal with your loved ones.
8) Try Unique Tastes at Al Seef Restaurants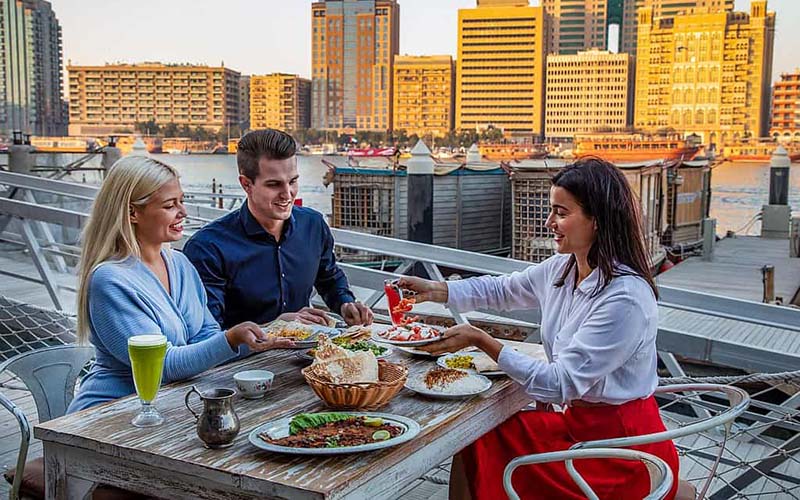 If you are tired and hungry after a day of shopping and exploring the area, then visit one of the many restaurants here. Al Seef is a food lover's paradise, where you can try different dishes like Chinese, Lebanese, Egyptian, and Belgium cuisines from the many options available to delight your tummy. Dessert enthusiasts have several options like Jelly Belly, Baskin Robbins, Bellamia, and Hello Fruits. If you want to try authentic Emirati dishes, then a visit to the Al Mangal Express and Al Fanar Seafood Market or ILA is a must. You will definitely want to try more delicious options, so check out the list of best restaurants in Dubai for a complete gourmet experience.
9) Go on a Dhow Cruise
One of the most exciting things to do in Al Seef is a Dhow Cruise at Dubai Creek. A dhow is a classic sailing vessel constructed of wood and was once the basic mode of water transportation in the region. Going on the cruise is a leisure journey throughout the Creek that offers many sightseeing, entertainment and dining options. Relish on the dinner buffet while you enjoy Tanoura dance and music onboard. Taking the cruise during the evening provides you with fantastic views of the area while you glide along the creek waters. Not sure where to begin? Check out the difference between dhow cruise Creek and Marina.
How To Reach Al Seef
Al Seef is located in Bur Dubai by Dubai Creek. It is convenient to reach Al Seef by metro, take the green or red line to the Burjuman stop, and walk for 15 minutes.
Al Seef Timings
Al Seef is open 24 hours a day, seven days a week. The retail stores are open from 10 a.m. to 10 p.m. on Sundays through Wednesdays, and from 10 a.m. to 11 p.m. on Thursdays through Saturdays, while most Al Seef restaurants are open from 10 a.m. to 11 p.m. on Mondays through Thursdays, and from 10 a.m. to 12 a.m. from Fridays to Sundays.
Al Seef Tickets
You do not have to purchase any tickets for entry into this beautiful neighborhood. However, if you want to visit any hotel, museum, or attraction, then charges are applied as per their terms and conditions.
Best Time to Visit Al Seef Creek Dubai
If you consider the weather in Dubai, then the best time to visit Al Seef is during the winter. As it is an open-spaced area, one can enjoy its charm during the evenings. The streets look beautiful with glittering lights, the interiors of restaurants look stunning at night, and simply strolling along the boardwalk is delightful.
Al Seef, on the whole, offers visitors a unique and fascinating experience while taking them on a cultural trip. It gives you the rare chance to know what Dubai was and what Dubai is in a single place. Visiting the Creekside and Al Seef, therefore, should be top on your Dubai itinerary.
Image Credit: www.dubai.de