With its unique location on the Persian Gulf, it should come as no amazement that Dubai plays home to some of the world's glamorous beaches. Planning for an ultimate beach escape in the emirate? Here is our hand-picked list of the six best beach resorts in Dubai.
1. Burj Al Arab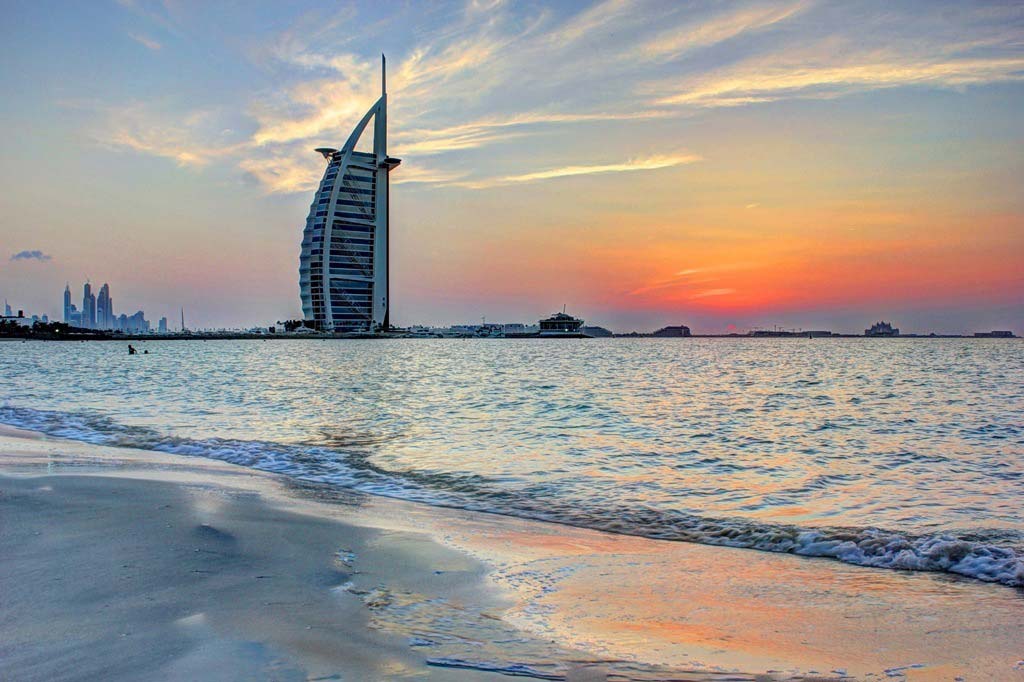 This imposing sail-shaped hotel – sitting on an artificial island – is a highly favored retreat for well-heeled, dignitaries and celebrities. Such is the grandeur and elegance of this hotel is that it's often distinguished as the world's only seven-star hotel.
Suites
Strikingly designed to blend comfort and style, the hotel has 202 suites, each of them offering outstanding views of the surroundings.
Facilities
From its generously appointed Assawan Spa and Health Club and inviting infinity pool to its iconic helipad, this prestigious hotel perfectly holds Dubai's crème de la crèmes.
Dining
The hotel is known for its exceptional culinary lifestyle, with a variety of restaurants to satiate your taste buds.
2. Jumeirah Beach Hotel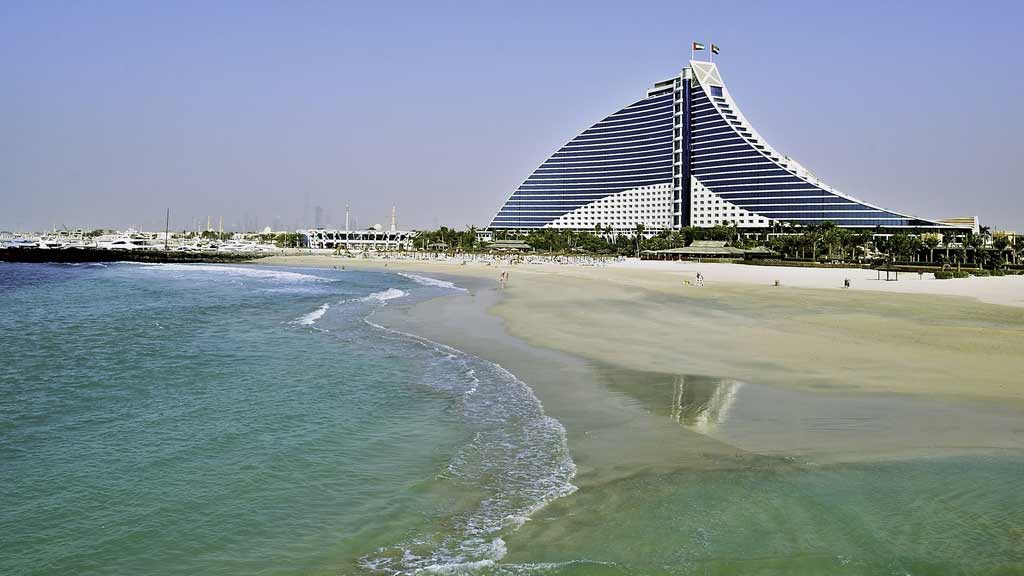 Combining a spellbinding location with splendid architecture that resembles a breaking wave, the Jumeirah Beach Hotel is a place to discover Dubai's refined luxury and tranquility.
Rooms & Suites
While each of its 598 rooms and suites offer lavish amenities complemented by beautiful ocean views, its exclusive beachside villas with private pools and verdant areas stay true to the traditional Emirati hospitality.
Facilities
The hotel has a fully equipped business centre and a fitness centre, making it an ideal escape for all kinds of travelers. Not only these, guests can enjoy complimentary access to the nearby Wild Wadi Park or explore a world of mysterious marine life and shipwrecks as you go for a scuba diving expedition at The Pavilion Dive Centre.
Dining
More than 20 diverse dining venues within the hotel promise you a sumptuous spread of culinary delights.
3. Le Royal Meridian Beach Resort & Spa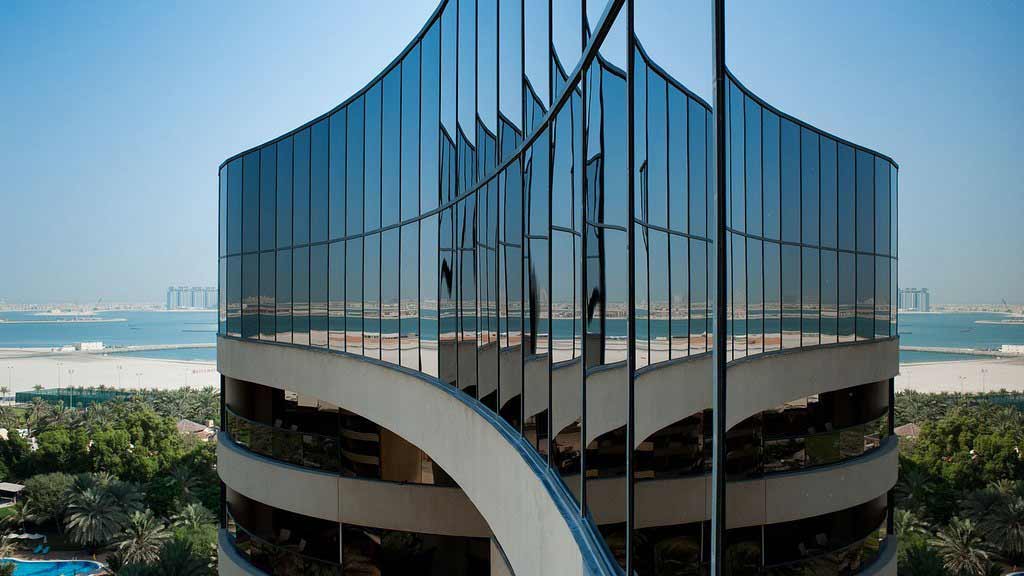 Lying on an immaculate stretch of beach, Le Royal Meridian Beach Resort & Spa offers the intimate views of the stunning Arabian Gulf.
Rooms & Suites
500 rooms and suites – classified into Deluxe Rooms, Superior Deluxe Room, Club Tower Room, and Deluxe Suits – provide guests with a string of modern comforts.
Facilities
Relax at Caracalla Spa & Health Club or make yourself to the pristine waters to enjoy a haven of water sport activities. Guests can also take delight in its facilities including Penguin Kids Club, tennis and squash courts, aside from three temperature-adjusted pools.
Dining
Delectable authentic Arabic, Thai, Japanese, European, and Mexican specialties, among others, can be tasted at its 13 restaurants and bars.
4. Hilton Dubai Jumeirah Resort & Residences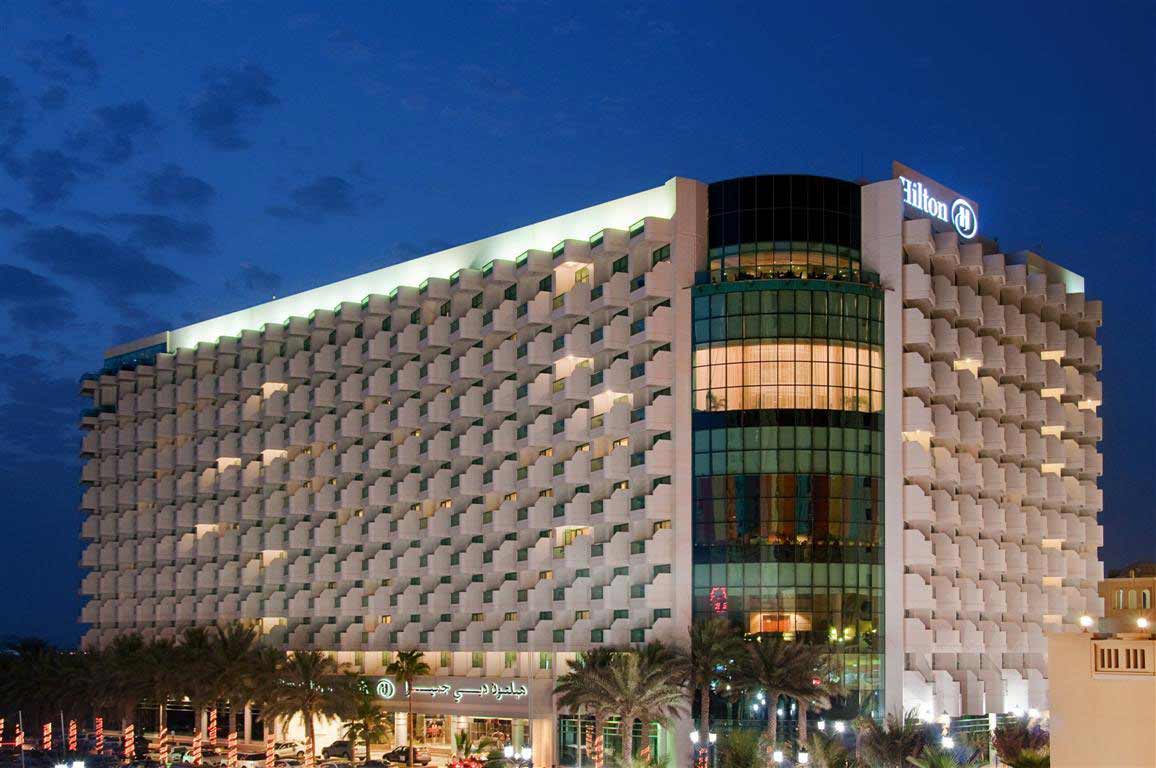 Set in the midst of all vibrancy and joie de vivre that Jumeirah and Dubai Marina has to offer, this stylish beachfront resort offers consummate levels of services, along with the beautiful views of the Persian Gulf.
Rooms & Suites
Offering the latest in comforts and indulgences, the hotel offers Deluxe Executive Rooms and Luxurious Suites. An extension of the hotel is the Residences, situated along The Walk. It presents magnificent accommodation choices ranging from loft apartments and deluxe studious to three and four bedroom apartments.
Facilities
Guest can work out in its modern gym or unwind at its private beach or undergo a lavish body treatment at its spa. An outdoor pool and baby sitting area add to the list of hotel's facilities.
Dining
Featuring tranquil and comfortable ambience, the hotel's culinary retreats serve everything from traditional Cuban delights to Italian dishes. A sure-must to include on your agenda while your stay here is dining at its Bice Sky Bar, offering exquisite views of the Persian Gulf and The Palm.
5. Marine Beach Resort & Spa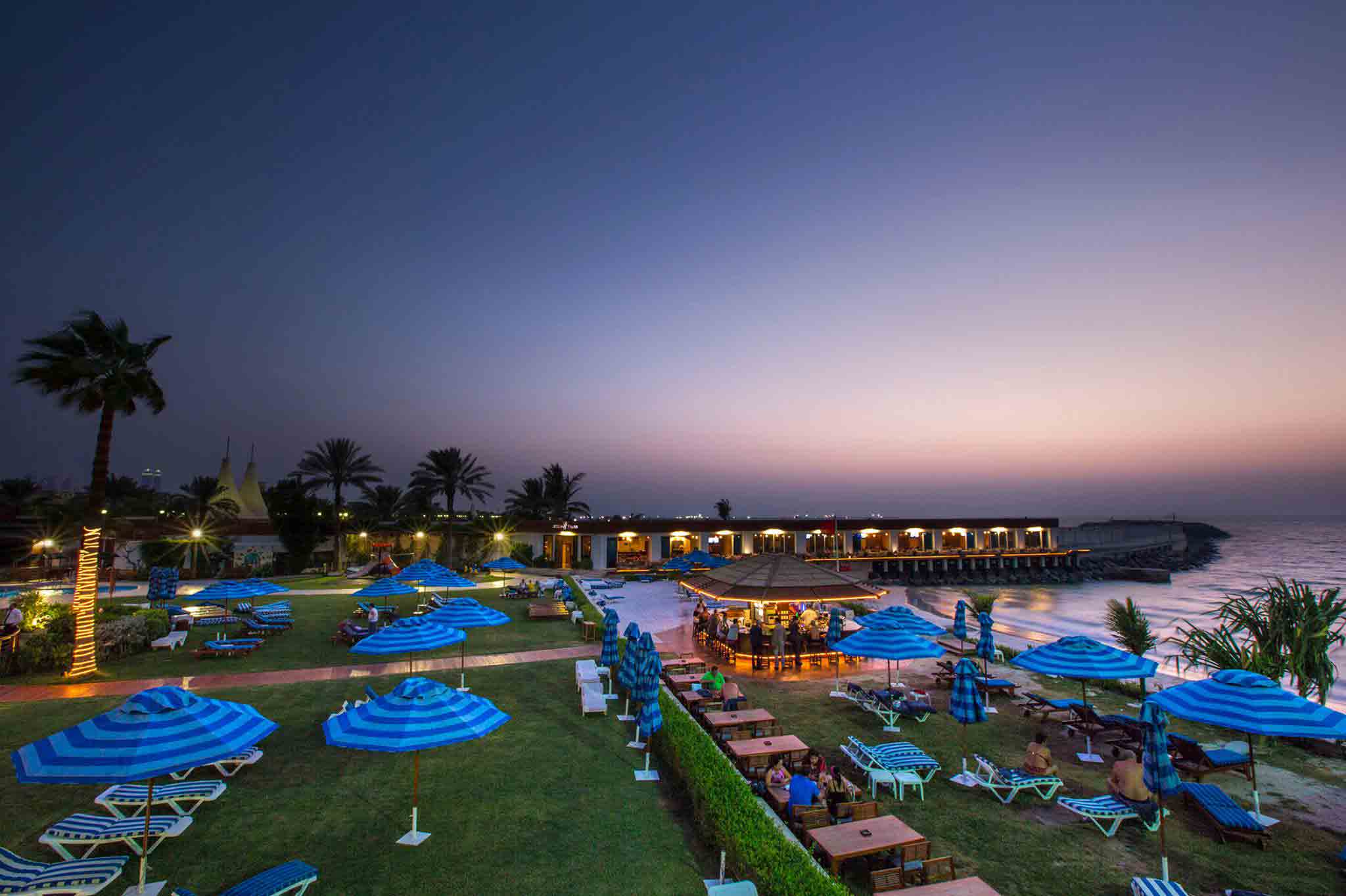 Situated on the prestigious Jumeirah Beach Road, Marine Beach Resort & Spa is in close proximity to Dubai's prime attractions including Burj Khalifa.
Rooms & Suites
All of its accommodation choices, from Standard, Balcony, and Family Rooms to Executive and Junior Suites, are stylishly furnished and come with a plethora of superior amenities.
Facilities
Energize yourself at its fitness centre with cutting-edge equipment or spend soothing moments at Aroma Spa providing enriched Moroccan bath experience, besides massages and facial treatments. A range of other facilities is also incorporated, such as floodlit tennis courts and kids' corner. What's more, the beach resort boasts its very own private beach.
Dining
Guests can explore an array of delights at the hotel's 14 unique dining areas.
6. Atlantis, The Palm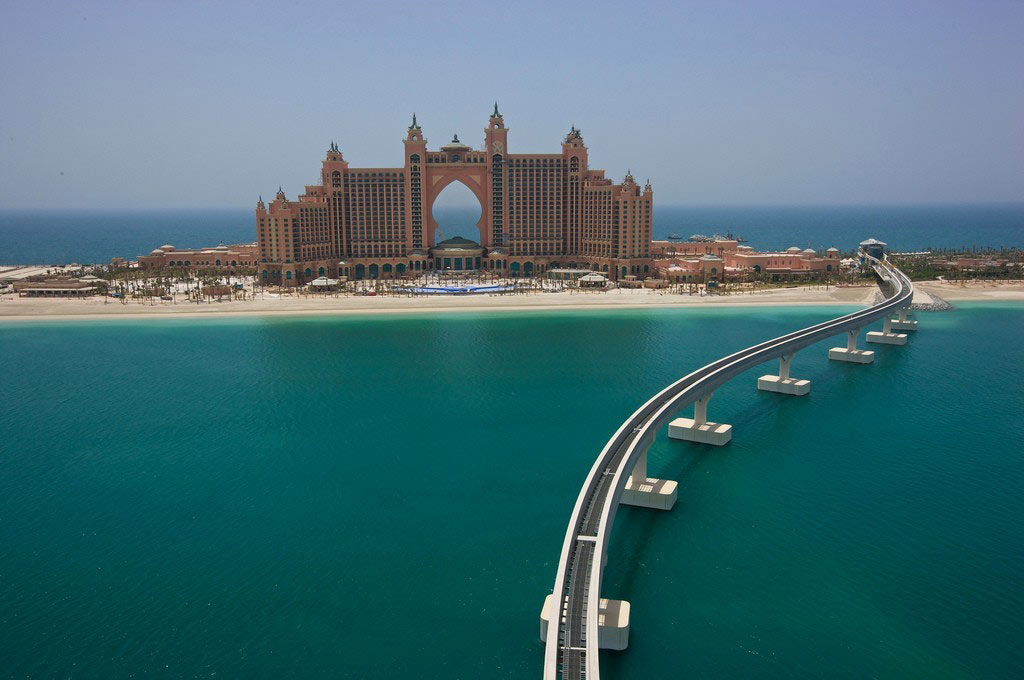 A 45-minute drive from the Dubai International Airport, Atlantis is an occult beach retreat, perfectly placed on the coastlines of the stunning Palm Island.
Rooms & Suites
It offers 1,500 plus rooms including 166 suites with ultra-indulgent touches and direct clear views of the Palm or the Arabian Gulf. For an experience like no other, choose to stay in its Underwater Suites offering unmatched sea views.
Facilities
Atlantis provides guests access to its world-class facilities like Dolphin Bay, Dive Centre, Aquaventure, and Lost Chamber Aquarium, boasting displays that depict mysterious Atlantean civilization. Besides a kids' club and an exclusive hangout place for teens, the hotel also houses N'Dulge Nightclub – an exclusive venue designed for night owls and party animals.
Dining
There are 20 varied dining venues showcasing culinary talents by Michelin-starred celebrity chefs.