A shopping mall is a place that most people visit to shop, catch up on new movies, meet friends for coffee, or enjoy lunch or dinner during weekends. Although Dubai Mall is one of the must-visit sights in Dubai, it offers much more than the things mentioned here. Known as one of the largest malls in the world, the Dubai Mall is a favorite amongst locals and tourists to spend some fun time. Adding to the already exhaustive list of attractions at the Dubai Mall is Hysteria, a haunted attraction like the world has ever seen. Hysteria at Dubai Mall is one of the extreme things that you will get to do in Dubai. Here is everything you need to know about Hysteria Dubai Mall.
The Story Behind Hysteria
Haunted houses are not a novelty. These attractions are part of several shopping malls around the world. But what sets Hysteria apart is that it is not a random haunted attraction with a couple of ghosts and scary sounds and setups. In fact, Hysteria is based on a story that will not fail to creep you out.
As you enter Hysteria, you will get to watch a video that tells the story of the couple whose children disappear from the manor mysteriously at night. Although the couple are dead, they still are looking out for their children and believe that the people visiting the manor are responsible for their children's disappearance. The entire time you are inside the house, you will have to try get away from the clutches of this ghost couple.
What to Expect at Hysteria Dubai Mall?
Hysteria, one of the most daring haunted places in the UAE,  is made up of 15 rooms, each with creepy settings, including dim-lit corridors, disconcerting lights, eerie noises, and not to forget, spooky characters. As you maneuver through the maze of doors and rooms, you will encounter characters and situations that can leave you from panicky to petrified in a matter of seconds. In short, Hysteria is not for the faint-hearted. Be prepared for enclosed spaces, sudden scares, and everything else that you would have seen only in your nightmares. Hysteria is best to be experienced with your friends (a group of 4 can be inside the place at one time).
Apart from this regular experience, Hysteria also offers special experiences twice a year. One is Blackout, which happens during the Halloween Week and includes visitors venturing into the manor that is shrouded in complete darkness, only with the help of a glow stick. If this is not scary enough, you can test your bravery by visiting the place during Christmas, when you may come face-to-face with Krampus, the half-goat, half-demon monster.
Once you have completed your horror experience inside Hysteria, do visit the retail or gift shop inside the premises to get your hands at branded merchandise and gory or horror gift items and souvenirs.
Where is it Located?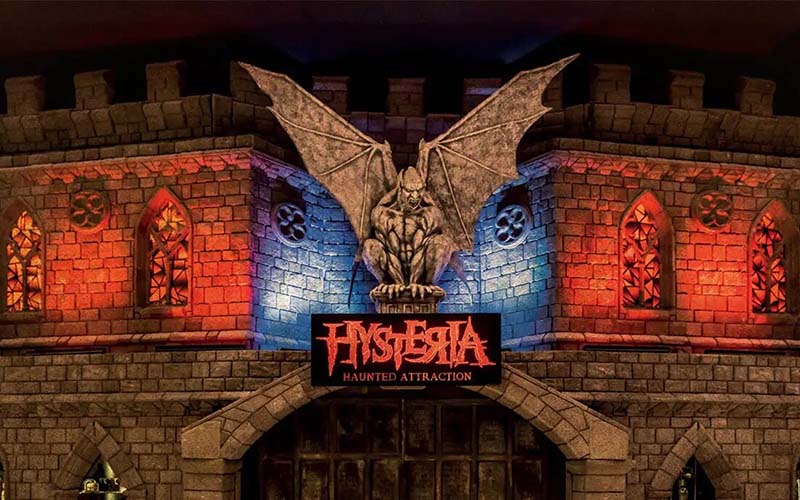 Image Credit: www.visitdubai.com
As mentioned before, Hysteria is located inside Dubai Mall. You will find it on the 2nd floor, right next to KidZania and The Lego Store. Reel Cinemas is located right opposite this haunted attraction.
What are the Timings?
Hysteria is open from 10 AM to midnight on weekdays, i.e. from Saturday to Wednesday and from 10 AM to 1 AM on weekends, i.e. Thursday and Friday.
Things to Remember
Hysteria Dubai Mall is for those who love horror movies and are up for an adventure. Before you get ready for this experience, you need to know about the following things:
The Hysteria experience can be enjoyed by anyone who is above the age of 16 years. Children under the age of 13 years can attempt this experience along with their parents, but only at the risk and responsibility of their parents. Hysteria would not take any responsibility of the physical or psychological trauma that children may experience. Hence, it is best for children to stay away from this place.
Even adults who have certain medical conditions like heart problems, back or knee ache, diabetes, high blood pressure, epilepsy, claustrophobia, etc. should avoid this. The enclosed spaces, eerie lights, sudden movements, and spooky noises can be a trigger for any of these underlying conditions. Hysteria Dubai Mall is a complete no-no for pregnant women.
The amount of time you spend inside Hysteria totally depends on you. There are no limitations about the duration a person can spend inside. However, the place is so scary that no one spends more than 10 minutes inside.
In case you experience any distress while inside Hysteria, you can alert the nearest staff member, and you will be escorted outside the place. Alternatively, the management at Hysteria constantly monitors each person's experience through the security cameras placed in every corner. They are equipped to handle any kind of abnormal or unusual situations.
If at any point you feel that you cannot complete the experience and want to discontinue, you should raise your hands facing the security camera and shout EXIT. On doing so, the staff at Hysteria would reach you and help you to exit the place.
Hysteria Dubai Mall is one of the unique experiences you can enjoy in the city. So, if you want something more than sightseeing, shopping, and lounging at the beaches of the city, do visit Dubai Mall and give Hysteria a chance to scare the wits out of you.
Image Credit: www.flickr.com