Dubai is amid the world's most vibrant and dynamic cities. The city is brimming with clubs, hotels, and other tourist attractions, which also includes the spectacular Burj Khalifa. During the summer, however, Dubai may become quite hot, with temperatures reaching 41° C. This makes going outside very tough. So, what are you going to do? Check out Dubai's indoor activities! There are numerous attractions in Dubai city to appeal to people of all ages and all interests.
Top Indoor Activities
Below is a comprehensive list of some of the top indoor activities to do in Dubai to ensure you have the greatest experience possible. This comprehensive list of the finest indoor activities will keep you entertained during your visit to Dubai.
Kidzania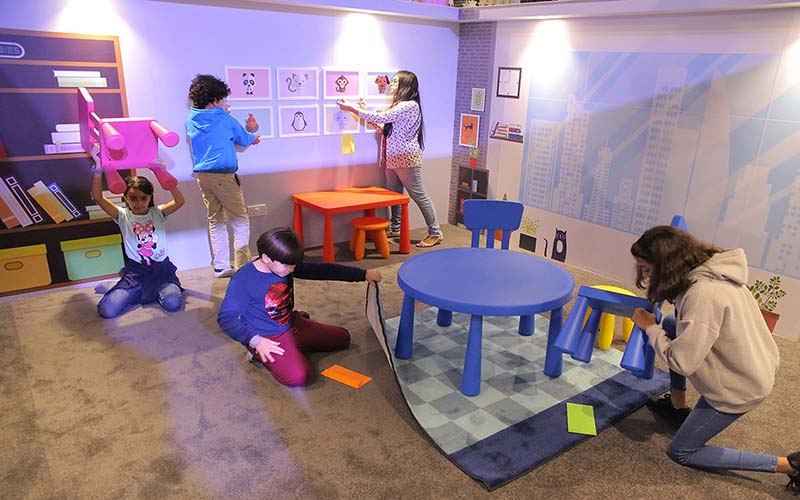 Kidzania is the ideal destination for children's activities in Dubai. It is one of Dubai's most popular children's amusement centres. It is again an educational and interactive environment that will keep your children entertained for hours. Kidzania has more than 60 activities for children aged between 4-16 years. Children can engage in role-playing or mimicking various vocations and activities in real-life circumstances. There is also a separate parent's area with free Wi-Fi, as well as café and a TV lounge.
In case you are looking for open-air activities, do refer to our guide on outdoor activities in Dubai.
Timings – Sat to Wed: 10am-10pm
Thu to Fri: 10am-12am
Dubai Ice Rink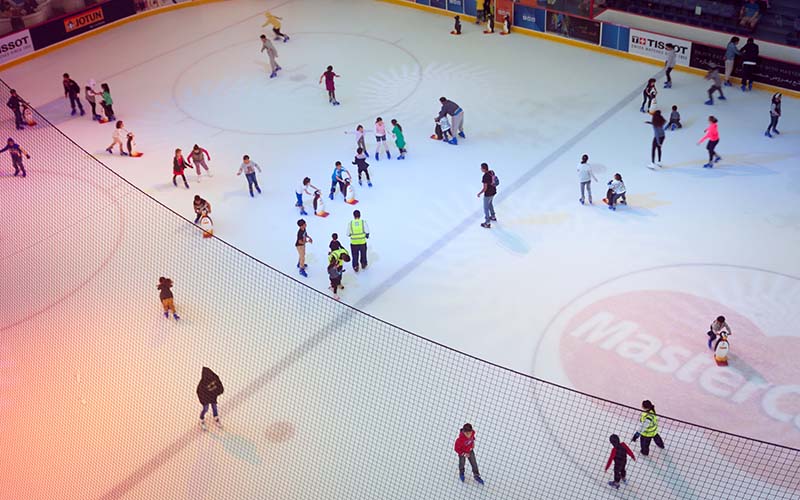 Image Credit: live.staticflickr.com
This is a highly popular place to enjoy fun, especially during Dubai's blistering summer. It is again one of the most interesting destinations in the UAE. This makes it an ideal location for both adult and child indoor activities in Dubai. The Dubai Ice Rink has an Olympic-size skating rink. No matter you are a seasoned skater or a beginner, you will have a good time at this rink. This location provides skate lessons for both adults and children, as well as the ability to hold birthday parties. The latest addition to Dubai Ice Rink makes the facility even more thrilling — a miniature golf course that too on ice!
Timings – Sun to Mon: 10am-11:45pm
Dubai Autodrome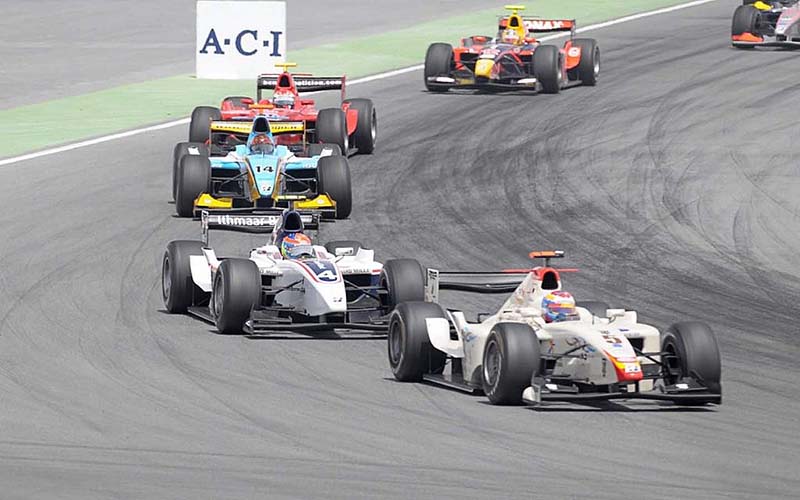 Image Credit: d2hucwwplm5rxi.cloudfront.net
This is ideal for those who fantasize about fast automobiles and quick racing. A trip to the Autodrome is a thrilling day out for a family because it has something for everyone. Dubai Autodrome, located in the Dubai Motor City, features both indoor and outdoor circuits for children aged seven and up. The Autodrome has a 1.2km track having 17 turns, thus making it ideal for go-karting enthusiasts. Their indoor circuit is ideal for summer days when it is extremely hot to stay outside. Kids can also try go-karting here which offers specially developed karting sessions for children aged 7-12 that are closely supervised by professionals.
Timings – Sun to Mon: 9am-5pm
Museum of Illusions
Most of us have seen the carnival version of the House of Mirrors. Dubai's Museum of Illusions is a far better version of the original. However, this is more than simply an optical illusion house which is a must-do thing in Dubai. The Museum of Illusions is packed with illusions that will thoroughly perplex your senses of hearing, sight, and even equilibrium. Illusions cause you to see & experience things that would otherwise be impossible. Similar museums can be found all around the world, but this is the largest, with over 80 exhibits. Among the displays in the Museum of Illusions are clone tables, anti-gravity rooms, and the infinity tunnel. This is an excellent location for a social gathering with friends. You may devote an entire day to visiting this Museum of Illusions. It is not merely entertaining but also educational. Visit this museum for a unique and entertaining trip.
Timings – Sun to Thu: 10am-10pm
Fri to Sat: 10am-11pm
iFly Skydive Dubai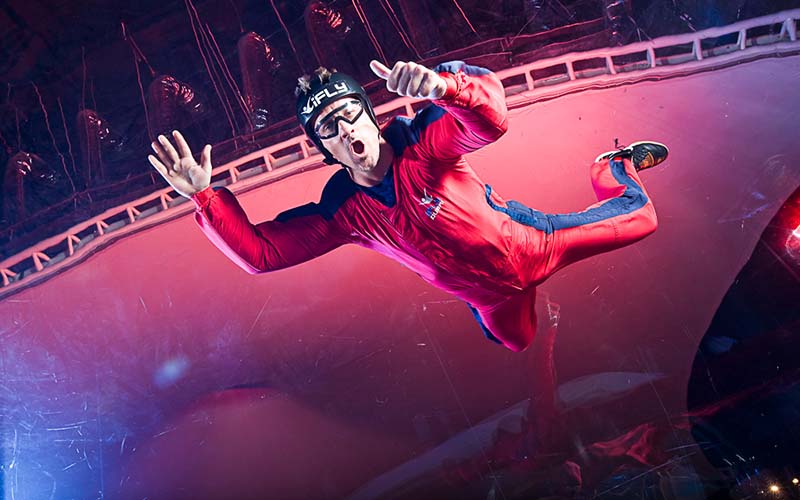 In Dubai, there is never a shortage of enjoyable activities. Another famous adventure zone is iFly. It is undoubtedly the ideal destination for thrill seekers to fly. Don't be concerned. They will not force you to jump off of a plane. A key attraction in Dubai is the iFly skydiving simulator. You must first put on that special suit. Then you step into a glass tunnel & are propelled into the air by powerful wind jets. As a result, iFly is great for anyone who wishes to try skydiving but is afraid of heights or leaping out of an aeroplane. You can also try heart-thumping skydiving from a helicopter in Dubai.
Timings – Sun to Thu: 12am-10pm
Fri to Sat: 10am-11pm
Dubai Aquarium & Underwater Zoo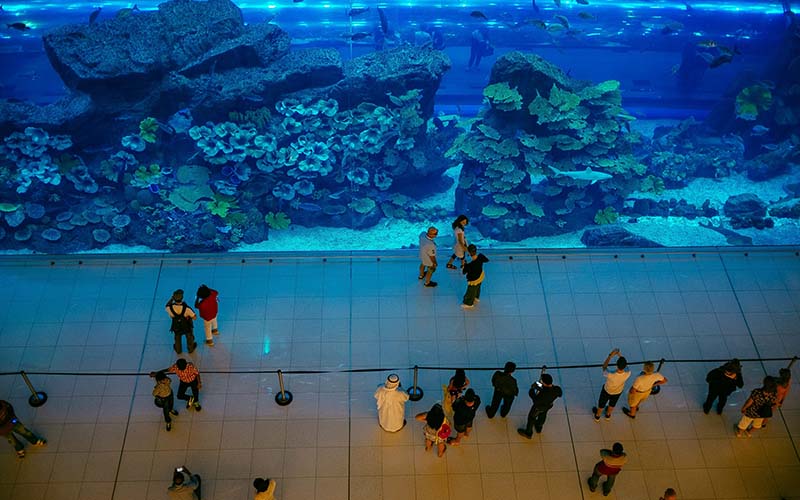 One of the most popular indoor attractions in Dubai is the Dubai Aquarium & Underwater Zoo. This aquarium is a 10-million-liter tank with approximately 30,000 sea species. You may also have an interactive experience with marine residents at Dubai Aquarium. You can swim with sharks or feed stingrays. You may also get up and personal with the aquarium's resident crocodile. If the huge guy is a bit too much, you can take your time admiring the crabs, piranhas, and numerous fish species.
Timings – Sun to Thu: 12am-10pm
Fri to Sat: 10am-12pm
Green Planet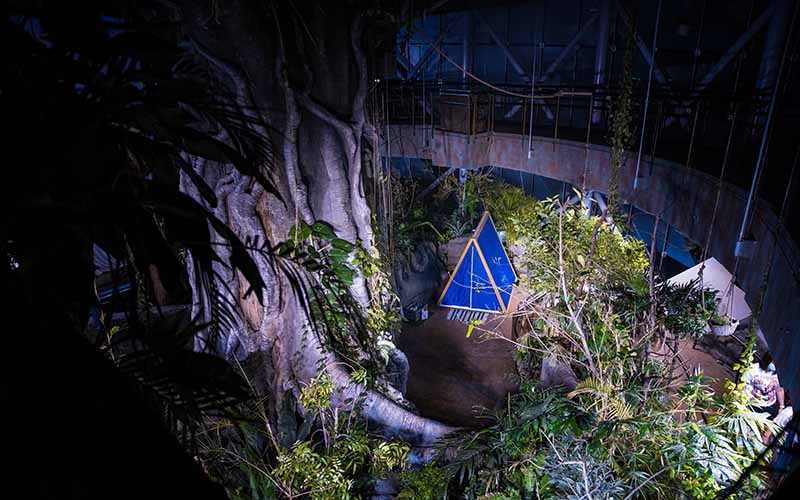 Imagine a lush rainforest in the midst of the desert. If you reside in Dubai, you can. Green Planet is a Dubai indoor theme park themed after tropical rainforests. The indoor rainforest is abode to over 3,000 different varieties of vegetation and fauna. This stunning biodome is undoubtedly one of Dubai's most spectacular attractions. It is an ideal recreational and educational environment for both children and adults. As soon as you enter the biodome, you will be captivated by the lush greenery, vibrant plants, and mild dampness. The interior environment transports you to the Amazon. Green Planet has a wide range of activities for youngsters. Some of the activities that interest and educate children include the Sloth Encounter, the Bat Cave, & the Sugar Glider Encounter. You may observe and get close to rainforest wildlife such as squirrel monkeys, Amazonian fishes, and sugar gliders. Sloths can also be interacted with and held. You can even hold a python if you are fearless and do not squirm at the view of a snake!
Timings – Sun to Wed: 10am-7pm
Thu to Sat: 10am-8pm
Conclusion
Hold on, the list of indoor activities in Dubai is not over yet. You can explore a lot more in places such as the Dubai Mall, VR Park, Bounce, Jumble, The Smash Room, Ski Dubai, La Perle, Sky Zone, Dubai Butterfly Garden, Dubai Dolphinarium, Dubai Sports World, Flip Out, Aqua Play, Adventure Zone by Adventure HQ, OliOli, Ekart Zabeel Dubai, IMG Worlds of Adventure, Escape Rooms, Hub Zero, and lots more. There are also free things to do in Dubai that will help you enjoy more without breaking the bank.