Dubai is an awe inspiring city. The city has been home to some of the most amazing manmade wonders and continues to do so. Right from the tallest building in the world to the largest indoor amusement park in the world, the city is dotted with record-breaking constructions. Joining the group is the newest Deep Dive Dubai, an indoor diving pool center, which has the Guinness World Records for being the deepest swimming pool in the world for diving. If you are a diving enthusiast or a beginner, Deep Dive Dubai would offer you a thrilling adventure. Here is everything you need to know about Deep Dive Dubai.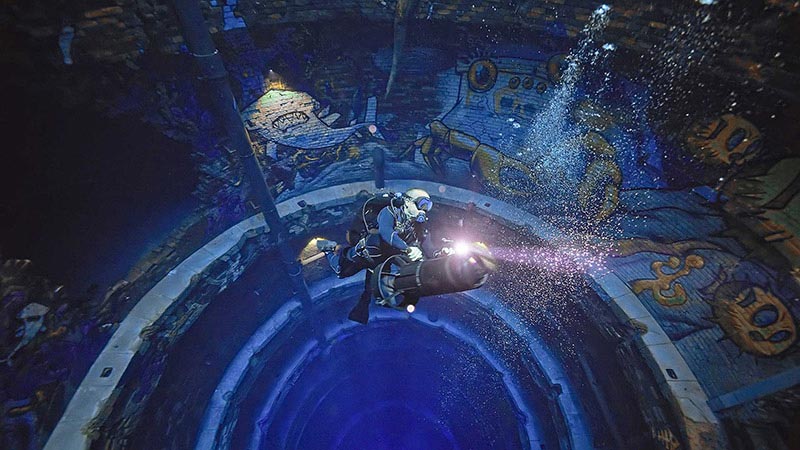 Deep Dive Dubai: Facts
The pool at Deep Dive Dubai is 60 meters deep, which is times bigger than any other diving pool on earth.
The pool contains 14 million liters of freshwater, and it is filtered every 6 hours using state-of-the-art water purification systems.
The temperature of the water is kept at 30 degrees Celsius, to provide divers the perfect environment for diving.
There is no marine life at the Deep Dive Dubai. Yes, it is not an aquarium. Rather, an abandoned sunken city has been recreated underwater.
There are around 56 cameras inside the pool, through which the activities of the pool are carefully monitored at all times, making it completely safe.
The Deep Dive Dubai building is designed to look like an oyster, in order to commemorate UAE's pearl diving heritage.
There is a 12-person hyperbaric facility to provide treatment in an unlikely case of any accidents.
There are 27 speakers inside the pool that can create underwater soundscapes. This is used to send messages to the divers.
You would find 164 mood, ambient, and wayfinding lights inside the pool. There is also a large light at the center of the pool that brightens the surface.
There are large windows and screens through which visitors who are not interested in diving can take a look at the activities that are happening inside the diving pool.
There are also restaurants inside the facility, where you can dine while enjoying the activities happening inside the pool.
Apart from a restaurant, the facility also has a retail store.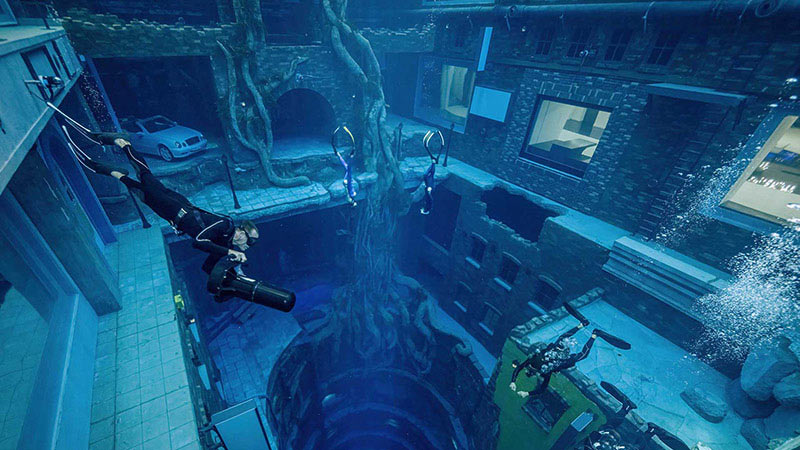 Deep Dive Dubai:
Experiences
Deep Dive Dubai offers three experiences. You can choose one of them as per your expertise and experience as a diver.
Discover:
If you are a beginner, Discover would be the perfect package for you to start your scuba diving journey. This dive, assisted by professional scuba divers, would take you 12 meters under the water, and give you a slice of the underwater experience. Before the experience begins, you would be given instructions on the basics of scuba diving. Moreover, you would be accompanied by professionals at all times, making it extremely safe.
Dive:
If you are a certified scuba diver, Dive is the right package for you, and you get to explore the different layers of the underground city. Certified open water divers can go up to 20 meters, while advanced divers can go up to 30 meters. If you are a trimix-trained technical diver, you can go up to 60 meters. Even in this case, you would be accompanied by a professional dive guide, who would take you around the place and ensure that you make the most of it.
Develop:
If scuba diving is a deep passion for you, Develop is where you can become a certified scuba diver. In the Develop program, beginners can train to become certified scuba divers, while professionals can upgrade their skills and certifications. You can aim to become a professional scuba diver in a fun and relaxed underwater classroom. The place also offers freediving courses for those who are interested in diving on a single breath.
Deep Dive Dubai: What to Expect
There are no fishes inside the pool at the Deep Dive Dubai. However, there are plenty of interesting things awaiting you underneath. Dive into the pool to see how a sunken city would look under the water. Here, you would find an apartment hidden behind cracks of the wall as well as a car and motorcycle. As you dive deeper, you would see the urban landscape taken over by nature. You also get the chance to enjoy some entertaining games at the chess board, foosball, and pool table inside the diving pool.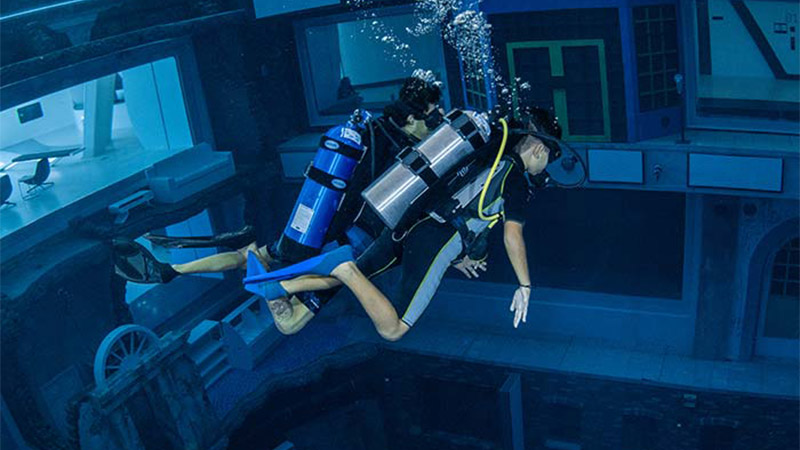 Deep Dive Dubai: Things to Know
If you are excited to go scuba diving at Deep Dive Dubai, here are some important things that you need to know:
While going on a dive at Deep Dive Dubai, you only need to carry a swimsuit and slippers. All other things needed for the dive, i.e. the scuba diving equipment is included in the cost of the tickets.
Every dive session lasts for an hour.
Deep Dive Dubai does not allow you to bring your own equipment to avoid the risk of contamination.
The in-house equipment is cleaned and sterilized after every use to avoid any kind of contamination.
It is best to avoid taking a flight before completing 18-24 hours after going scuba diving. You should not go anywhere higher than 300 meters immediately after your scuba diving session. Similarly, it is best to avoid visiting the Burj Khalifa after scuba diving. You can visit the tallest building before going to Deep Dive Dubai.
You need to have basic swimming skills to go diving here, although non-swimmers can enjoy snorkeling at this indoor diving facility.
Anyone above the age of 10 years can go scuba diving here, although minors should be accompanied by their parents or guardians.
If you have normal fitness level and good heart health, you can go scuba diving at this center. However, people above the age of 50 years should get a medical certificate for their doctors.
It is important to book in advance for taking up a diving course or indulging in a diving experience at this facility.
The Deep Dive Dubai is a haven for adventure enthusiasts, especially those who love water sports. So, the next time you visit Dubai, do try scuba diving at Deep Dive Dubai, along with the other popular experiences like Dinner Boat Cruise and Yacht Charters.