We all consider Dubai and Abu Dhabi as prime destinations when we think about a UAE holiday. But we rarely realize that there are plenty of hidden gems in this Middle Eastern country. The United Arab Emirates is made up of 7 stunning emirates and each has something to offer. Ras Al Khaimah for instance may not be popular destination among international tourists but a day spent at Jebel Jais is definitely one of the best moments you will experience on a Middle Eastern getaway. While Dubai and Abu Dhabi are no doubt the most prominent places to visit in UAE, a trip to Ras Al Khaimah offers a refreshing change from the contemporary urban cities. Jebel Jais is a spot where you could be bold and carefree to enjoy an exhilarating time laced with adventure experiences. Read on to know more about Jebel Jais
Jebel Jais – One of UAE's Best-Kept Secret
Jebel Jais is the tallest mountain peak in the mountainous terrain of Hajar and dominates the scenic vistas of Northern Ras Al Khaimah. Standing proudly at 2000 meters, Jebel Jais' rugged terrain and canyons are ideal for outdoor adventures, and it is fast becoming the adventure zone of UAE. In winter, its stellar peaks occasionally get powdery snowcaps, which are amazing sights worth viewing. It has become one of the best weekend getaways from Dubai and Abu Dhabi as it is just a few hours away from both these emirates.
Adventures and Experiences to do in Jebel Jais
Here are some of the amazing adventures and experiences that you would get to enjoy in Ras Al Khaimah's Jebel Jais.
1.Take a serene road trip journey to Jebel Jais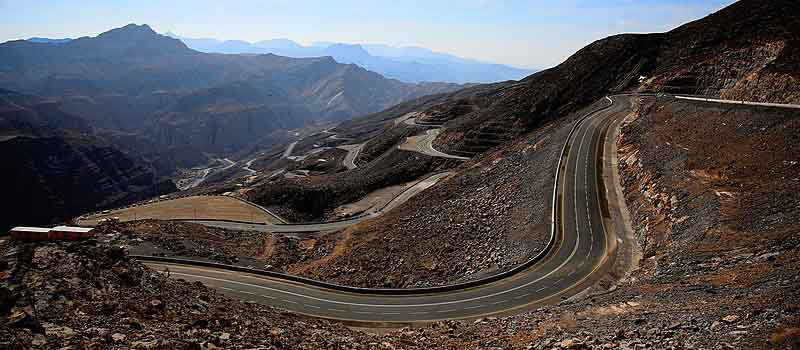 Venture out with a long drive to Jebel Jais. Leave the city behind and watch how the scenery changes from clusters of buildings to breathtaking routes flanked by jagged cliffs and mountains. The zigzagging road is smooth for driving and offers undulating sceneries of the mountain terrain. If you are driving from Dubai, it would take around 2 and a half hours' drive to reach Jebel Jais via Sheikh Mohammed Bin Zayed Road. It would take an additional hour from Abu Dhabi. Nevertheless, the road trip to Jebel Jais sets the mood right and would be one of the most fun-filled and enticing moments of your journey.
2.Enjoy spectacular panoramas from Jebel Jais Viewing Deck Park
Head to Jebel Jais Viewing Deck Park for gorgeous natural scenic views. The Jebel Jais viewing deck offers seven viewpoints from different levels and angles so that you get the best possible panoramas of the golden-rust-hued terrains and canyons of Jebel Jais and Hajar mountains.
3.Feel the adrenaline rush with a bungee jumping experience
If you are looking for some extreme adventures, then gear up for a heart-thumping bungee jumping experience at Jebel Jais. It is an upcoming adventure activity that will open by the end of 2020. Adventure junkies, keep a tab on when this adventure zone inaugurates so that you can add an additional thrill to your UAE adventure holiday.
4.Take the Jebel Jais Flight – the world's longest ziplining adventure

There is also Jebel Sky Tour which has a cluster of seven ziplining activities and a 15-meters long sky bridge. Glide across the canyons and valleys at 150 kmph and enjoy an adventure filled with awe. For a dose of an adrenaline kick, the longest ziplining adventure is the best experience for thrill-seekers visiting Jebel Jais.
5. Gear up for some outdoor activity at Jais Sky Maze
Challenge yourself with a series of obstacle courses that are suspended mid-air on UAE's highest mountain. Feel your heart pulsating as you try some daring adventures on rope bridges and swinging ropes 10 meters above the ground level.
6. Enjoy Ice Skating in the arid climate
Yes, you read that right! There is an outdoor ice rink located on top of Jebel Jais Mountain. A part of Jebel Jais Viewing Deck Park is converted into an ice-skating rink, which stands 1300 meters above sea level, perched on the edge of Jebel Jais stunning mountain terrain. However, the rink is made out of synthetic material and not real snow but the experience it offers is similar to skating on real ice. Another vantage point of the ice rink is that it is presumed to be the highest ice-skating rink in UAE and offers spectacular panoramas of Hajar Mountains. For those visiting Jebel Jais, this is one of the must-see attractions on your trip.
7. Explore nature with hiking and mountain camping expeditions
Enjoy the stellar sights of eroded cliffs and barren deep canyons with hiking or mountain trekking expeditions. The mountain terrains have trails of varying difficulty levels and are perfect to experience nature's rugged beauty. You can also settle down at camping spots and enjoy some sublime moments and barbeque meals. An overnight stay camping at Jebel Jais is an ideal way to spend the night under starry skies and wake up to a gorgeous sunrise view.
Conclusion
Hiking Jebel Jais is one of the best things to do in Ras Al Khaimah. It offers you the perfect excuse to take a break from the hubbub of the city and breathe in the fresh air of the mountains. Moreover, the fact that the place is blessed with unparalleled beauty makes your trip to Jebel Jais even more worthwhile.