Travelling is not just for sightseeing and indulging in adventurous activities. It is also for learning about a new culture and traditions. When you are in a new place, you need to follow its law and order. In the same way, it is important to follow the culture and moral codes of the place, at least for a few days, as a sign of respect for the place you are visiting and its people. This applies to Dubai too.
Dubai is part of the United Arab Emirates or UAE which is a Muslim country. Although the city of Dubai looks as modern as New York, London, etc. it is deeply rooted in its culture, religion and traditions. Nevertheless, Dubai is quite modern when it comes to dress code when compared to other Arab nations. Still, there are some rules that you need to keep in mind while dressing up in this Emirate city.
1.What to Wear in Dubai?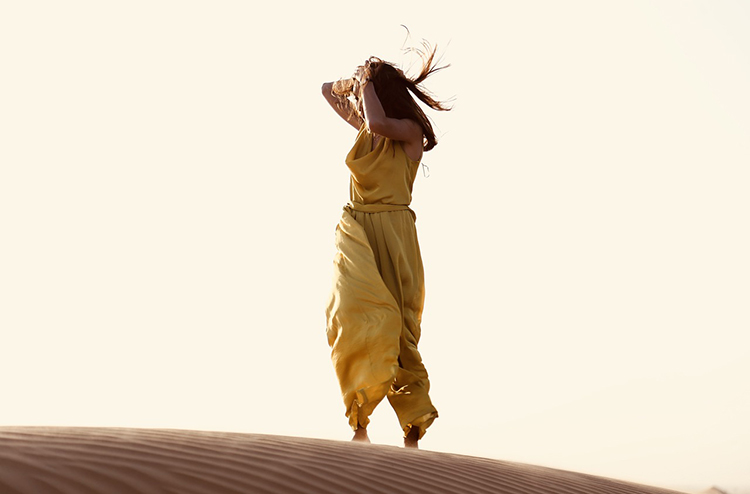 The Emiratis generally dress conservatively. Women are known to wear abaya (long black gown) and men wear kandora (long white gown). Both Arab women and men cover their head too. However, this is not a compulsory outfit in Dubai or anywhere in UAE. Neither locals nor tourists have to follow this Dubai dress code. But here are a few things that you need to keep in mind.
2.Dress Code for Public Places and Markets
While there is no particular dress code for public areas, it is always best to dress modestly. One must avoid shorts that are too short and tops that show shoulders and mid-riff. This not only applies to women but also to men. It would be best to stick to long pants (capri pants are acceptable) and t-shirts and tops with sleeves. If you are wearing shorts, make sure that they are not too short. Booty shorts, hot pants, miniskirts, etc. are really not acceptable in public places.
Women should avoid wearing tops or dresses with plunging necklines as showing cleavage is considered to be disrespectful. Also, one should avoid sheer dresses in which lingerie is visible. Low-waist jeans where one can see the underwear should also be avoided under all circumstances. While body-fitting clothes are acceptable, you must not wear dresses that are too tight. Even men should steer clear of showing off their knees and their bare chest (unless in beaches or pool areas).
3.Dress Code for Desert Safari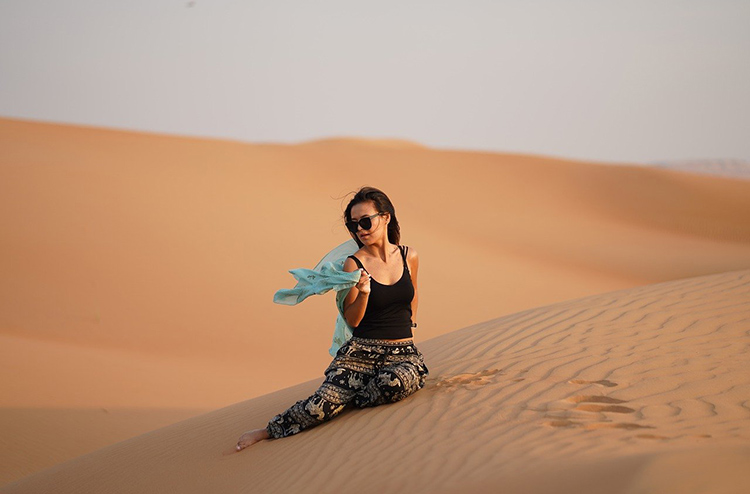 Going on a desert safari is a fun experience that you should not miss when in Dubai. Although there is no Dubai dress code for desert safari, dressing up in a particular way can make your experience more comfortable. As you would be indulging in various adventurous activities, wearing jeans, linen trousers, light joggers with shirt or t-shirt would be ideal. While wearing shorts may seem ideal, especially as the weather can be warm during the day in the desert, it is really not a good idea. As the sun sets, the temperature also dips, making the desert a bit chilly. Hence, it is best to cover your legs. Also, carry a light sweater or cardigan to cover your shoulders in the evening. For footwear, sneakers, covered shoes or flip-flops would be best.
4.Dress Code for Dhow Cruise and Restaurants
You do not have to follow any strict Dubai dress code while dining at a dhow cruise or most of the restaurants. Nevertheless, as it is a public place, you must dress modestly. To be on the safer side, dress in semi-formal clothes. Also, make sure that your arms, legs and cleavage are hidden. However, some restaurants (especially the ones in five star hotels) may have a dress code. If the restaurant insists on formal clothing, you must dress accordingly to avoid not getting entry. Most of the fine dining restaurants require men to wear long pants, dressy shirts, polo t-shirts, dark wash jeans (not ripped ones) and closed (formal or semi-formal) shoes, while women can wear gowns, rompers, skirts or dresses and sandals or high heels.
5.Dress Code for Beaches and Pool Areas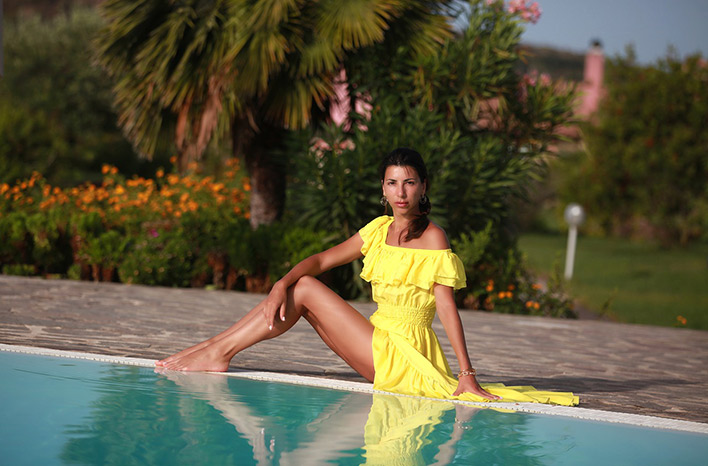 It is perfectly alright to dress in beachwear at the beach and at the pool area of the hotel. Bikini, swim suit, hot pants, etc. could be worn in these areas. However, it would be best not to wear skimpy thongs to the beach. Moreover, swimwear should not be worn anywhere else other than the beach and pool areas. While walking to the pool area from your hotel room or while travelling to the beach, make sure you wear modest clothes over your beachwear. You can cover your swimwear by wearing a maxi dress or a skirt and top. This applies to men too. Men can go bare-chested at the beach or pool area. However, while travelling to your hotel, you must wear a t-shirt along with shorts. Also, remember that nudity and sun bathing are illegal in Dubai.
6.Dress Code for Nightclubs and Party Places
If you visit a nightclub or party in Dubai, you may not really know that you are in a conservative city. Partygoers wear all types of clothes while clubbing and bar hopping. Women are free to wear short dresses, skirts, tops with plunging neckline, etc. While there is no particular rule about the type of footwear, some clubs provide entry to women only if they are wearing high heels. So, it would be a good idea to carry your favourite pair of heels while travelling to Dubai, especially if you are planning to check out the party scene.
On the other hand, while all kinds of clothes are acceptable at clubs and bars, it would be best not to be seen wearing them while travelling to the place. Always carry a shawl, cardigan or light jacket if you are wearing revealing clothes. Men also need to dress up for partying, i.e. you cannot wear shorts and sneakers if you want to go clubbing. Full length trousers, jackets, dress shoes, etc. are what you should wear at nightclubs and parties.
7.Dress Code for Mosques
Although the rest of Dubai may not be too bothered about dress code, it is quite strict when it comes to mosques. Not all mosques in Dubai offer entry to non-Muslims. However, three of them do and if you want to visit these places, you have to adhere to their dress codes. All of these mosques require the visitors to be covered from head to toe, especially women. Abayas and kandoras are usually provided by the mosque which you have to wear before stepping into the holy shrine.
8.Clothing in Dubai as a Tourist
Dubai is not too strict when it comes to dress code, knowing how to dress in Dubai would make your holiday comfortable and easy. Apart from the Dubai clothing rules at various places, you must choose pack Dubai outfit as per the time of the year.
(a) Summer in Dubai (April to October):
The climate in Dubai from April to October is of intense heat. The temperature can go up to 45o C during the day. While most people do not prefer to visit the city or UAE during this time of the month, some may have to for business or personal reasons. During this time of the year, wear comfortable loose-fitting clothes. Always cover your hands and legs and also use a good sunscreen to avoid the harsh effects of the sun. Still, you should carry a light jacket, scarf or a stole if you are spending time in enclosed places like a mall as it can get really cold in such places. Wearing a hat or a cap is also ideal during the day, if you are spending time outdoors.
(b) Winter in Dubai (November to March):
Dubai enjoys a cooler climate between the months of November and March. While it is still warm in the day during these months, the evenings and nights are colder. If you are visiting Dubai during this time of the year, do not forget to carry jeans, jackets and sweaters in your luggage.
Apart the above mentioned things, here are some more tips that you should keep in mind while choosing Dubai outfit as a tourist:
While scanty or revealing clothes may not cause you to be caught in legal trouble (at least most of the times), it may cause people to stare at you unnecessarily.
People (especially locals or security at the mall) may approach or reprimand you about your choice of clothes. To avoid unpleasant situations, it is best to dress wisely in Dubai.
Wear comfortable footwear. Sneakers or sport shoes are best for sightseeing. For shopping in malls and markets, you can wear sandals. However, if you are going to a restaurant, it is better to wear closed shoes (for men) and sandals or high heels (for women).
There are no restrictions when it comes to wearing jewellery or any other accessories.
Wear sunglasses during the day, be it summer or winter.
You must strictly follow the Dubai clothing rules throughout the year and especially during the holy month of Ramadan.
The list for what to wear in Dubai may seem exhaustive and sometimes conservative too. However, you need to remember that Dubai is quite liberal when it comes to cities of other Arab countries. With just a few adjustments, you can still enjoy dressing up without compromising on your style.