Dubai is not the ultimate romantic destination like Paris. However, not many know that Dubai is perfect to spend some romantic time with your partner. Whatever be your reason for your romantic getaway, be it for proposing to your partner or spending some quality time with each other, there are several romantic things to as a couple in Dubai. Here we have come up with 14 things that you can do in Dubai for some romantic experiences with the special someone in your life.
Romantic Places In Dubai
1.Dhow Cruise Dinner: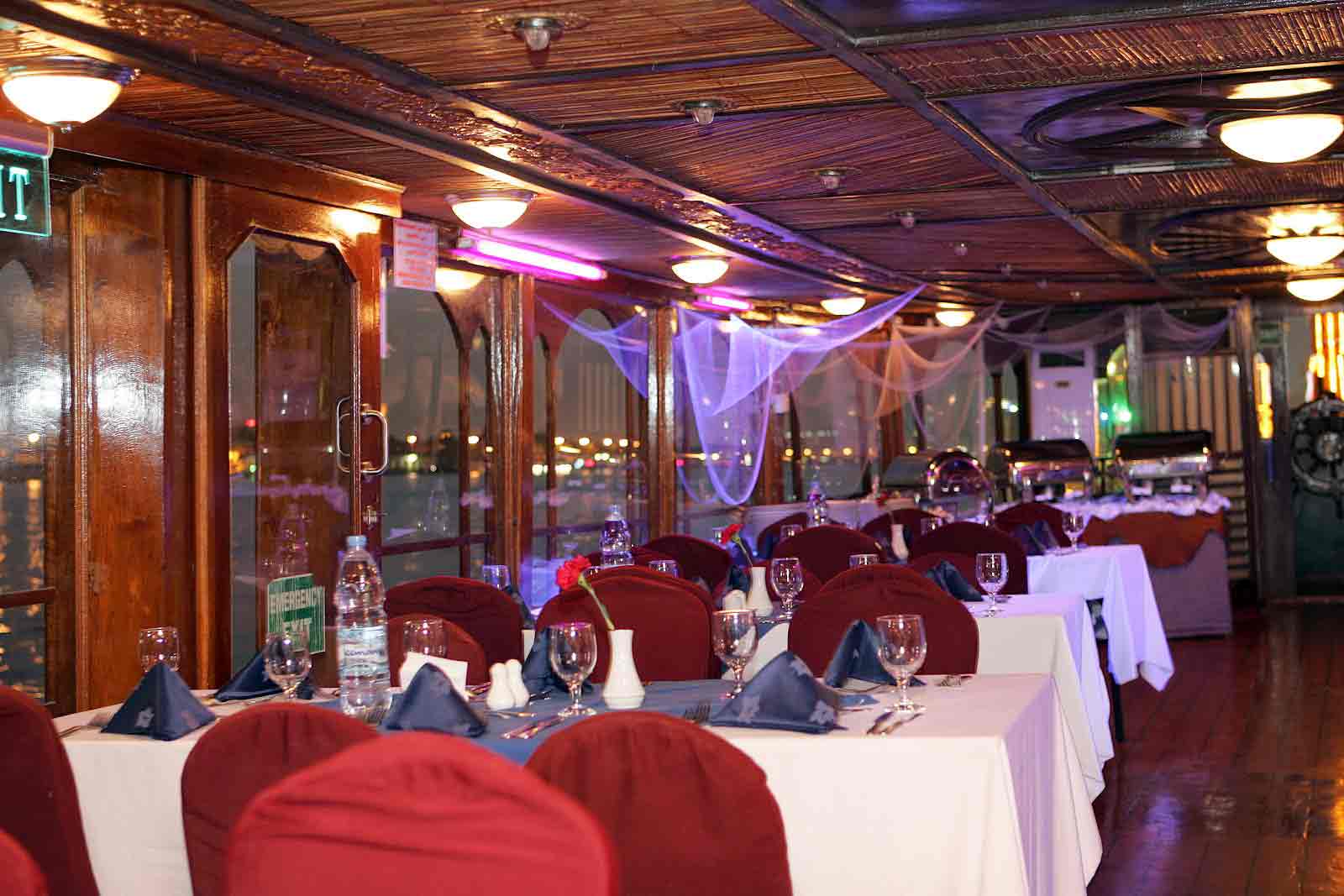 Dubai has an array of restaurants that are stylish and serve the best food in the world. However, if you want to make your dinner date more romantic, going on a dhow cruise would be absolutely perfect. A dhow is a Bedouin-styled boat that is redecorated in the form of a restaurant. You can have a candlelit dinner while the dhow sails around the Dubai Creek or the Dubai Marina. Both the places provide you with an amazing view of the amazing skylines of Dubai. The gleaming reflection of the city lights, the glow of the candle light, the soft splashes of the water, everything would make your dinner night the most romantic one in your lifetime.
2.Overnight Desert Safari: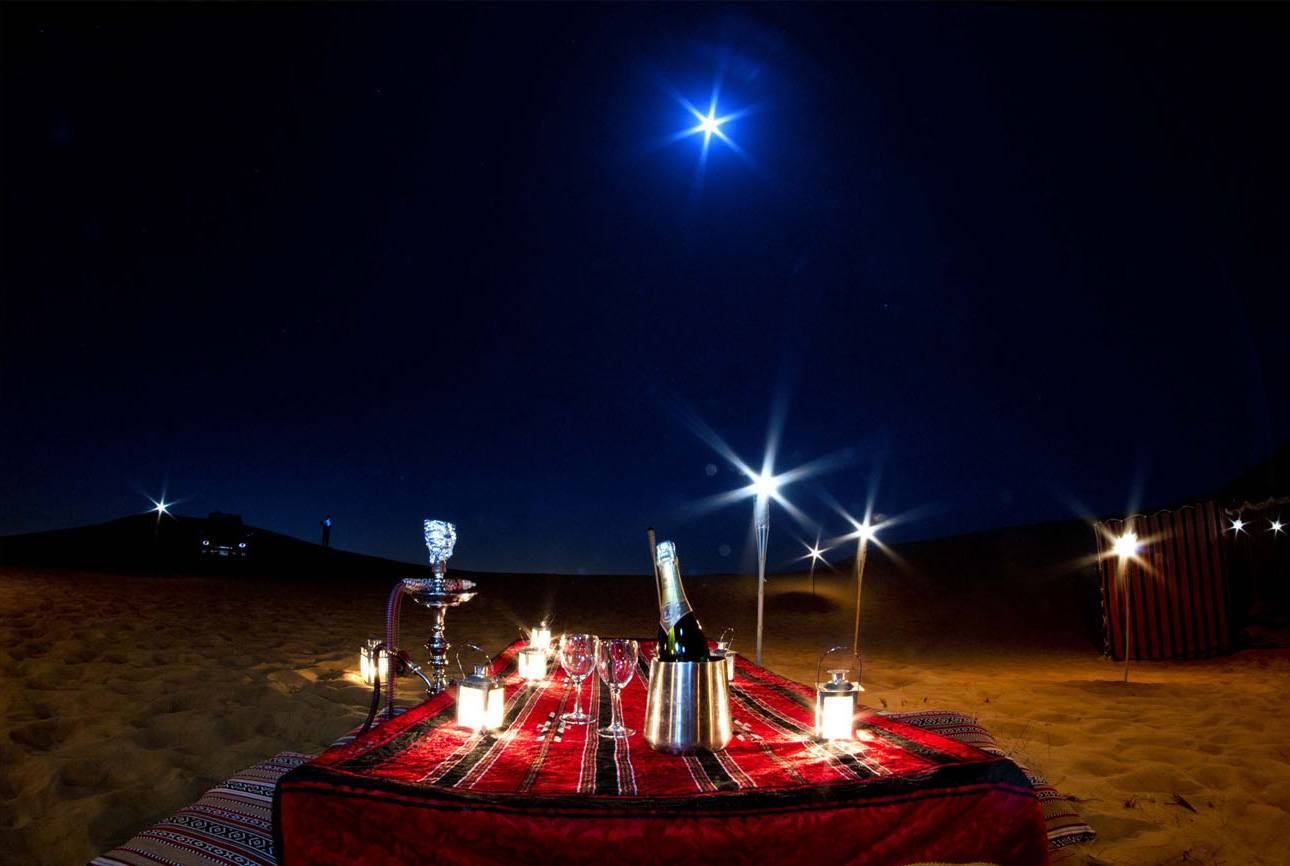 Desert safaris are an integral part of Dubai's tourism. However, most of these tours do not last for more than a few hours. Nevertheless, if you want to spend some special time in the desert with your wife or girlfriend, go for the overnight desert safari tour   , as it is one of the most recommended fun things to do for a couple. The Dubai desert offers everything that you would wish for when on a holiday with your partner, be it entertainment, good food and even a romantic setting. You can ride on a camel with your loved one, try your hand at belly dancing with professionals and spend your night looking up at the star-filled sky. Calmness, peace and silence envelop the desert like no place else and hence is one of the best romantic places on earth.
3.Luxury Dinner in Desert: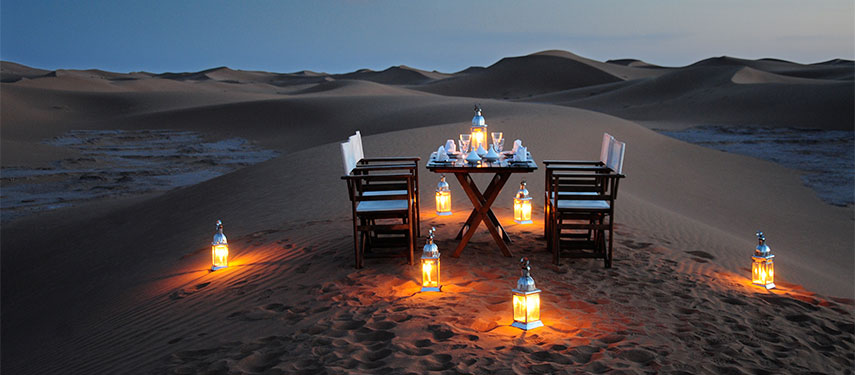 Dine together surrounded by the desert
Living a life king size is what everyone dreams of, and luxury dining in Dubai's desert is probably the best stuff for couples to do. This activity starts in legendary vehicles such as Mercedes or Land Rover which uplifts your luxury experience. During the drive, couples can stop in between the deserts to click some memorable pictures. A professional guide is provided during this activity to ensure couple's safety and comfort. Before you reach the main camp site, you will be witnessing Dubai Desert Conservation Reserve to experience the exotic wildlife Dubai's desert has to offer. At the end, you'll be heading to your private set-up of the royal desert where you'll be served with delicious BBQ delicacies, and alcoholic & non-alcoholic drinks. Couples can also watch private belly dancing shows, try henna designs, shisha (traditional hookahs) with exotic flavours along with gazing at the stars with the help of night-vision binoculars. This definitely is the one of the best stuff for couples to do to improve their romance and learn more about their partner.
4.Dubai Fountains: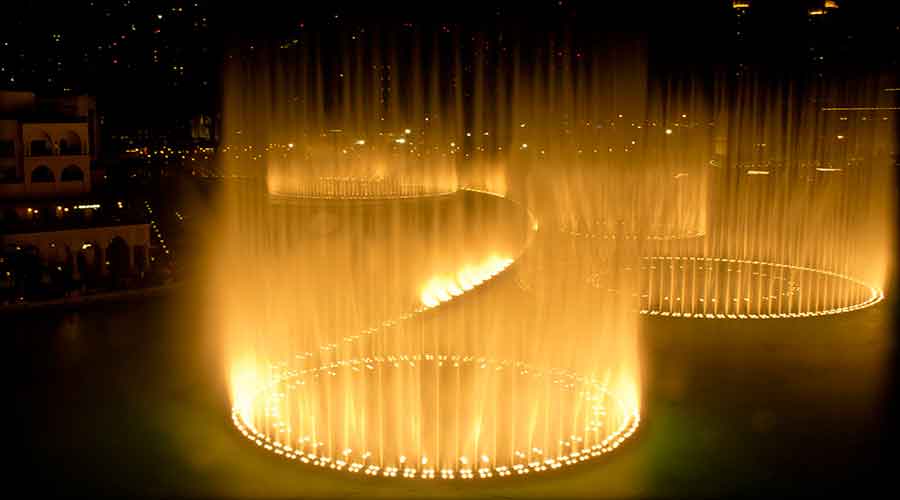 Be mesmerized by the water, lights and music
A visit to the Dubai Fountains really is mesmerizing and is one of the best things to do as a couple together. No matter how many times people visit this place, it always sparks the romance between couples. Located outside the Dubai Mall, The Dubai Fountain offers a romantic time in the evening time. You can witness spectacular views of the fountains with water being splashed and sprayed around in the well-choreographed fountain system. These live shows are on a daily basis and you'll see the fountain's water dancing with glowing lights along with contemporary world and Arabic music. One tip for all, especially for couples is that this to get the best place, do come a little early in the evening as the best spots are quickly filled. Enjoy this romantic activity and feel closer as a couple.
5.Hot Air Balloon Ride: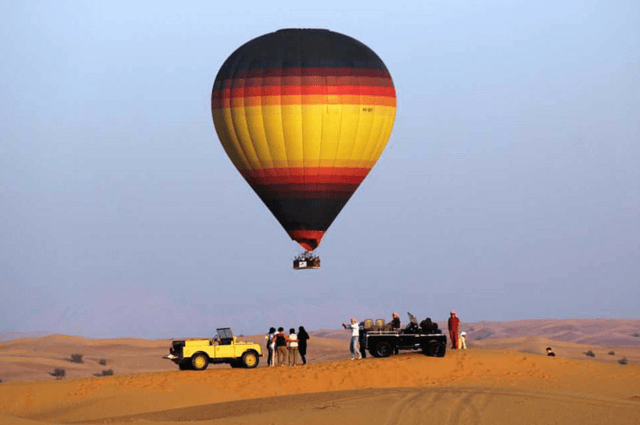 6.Go for a Run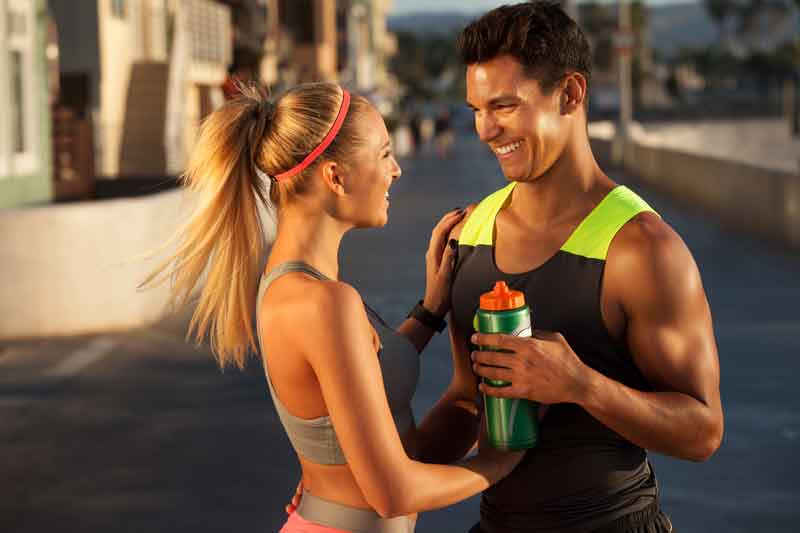 Get fit together!
Exercising regularly has become an essential ingredient in our daily lives. Running together with your partner is in fact one of the fun things for couples to do not only for the benefits of the workout but also for intimacy purposes and fun. Dubai offers couples to put their running skills to the test at events like Standard Chartered Marathon, Desert Warrior Challenge, Triathlon, The Color Run, Dubai Women's Run and Electric Run. All these events offer between long or short runs. The main advantage of working out together as couples is that, the physical and emotional connection becomes stronger. And this allows couples to encourage each other, spend more time and motivate one another. So, set a time either in the morning or evening and grab your pairs of running shoes and go for a run together, as running in Dubai is quite a lot of fun.
7.The Burj Khalifa: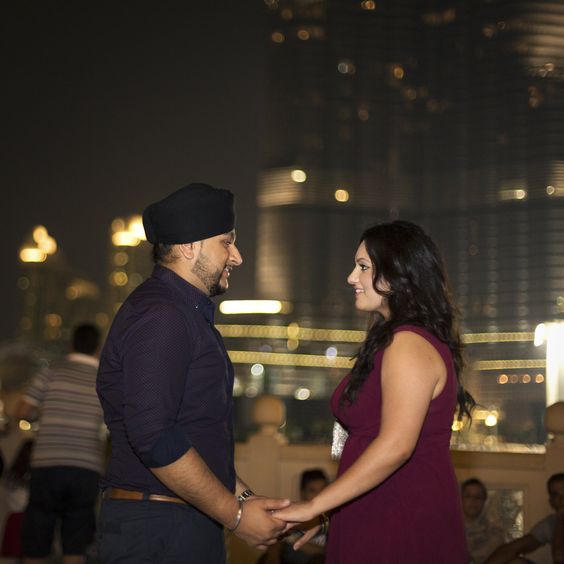 If you are looking for a unique way to propose your girlfriend, we have the perfect location for you: the tallest building in the world, the Burj Khalifa. You are definitely going to get a yes from your lady love if you propose her while on the 124th (the highest viewing deck of the building called as At The top) floor of this building. On the other hand, if you just want to go on a romantic date, make your reservations at the restaurant on the 122nd floor. You would get to see an awesome view of the whole of Dubai while sipping some delicious wine!
8.Walk on the Beaches:
Dubai has some of the best beaches and shorelines in the world and what would be more romantic than walking on the beaches hand-in-hand with the love of your life? Most beaches are private properties of hotels, and you need to be a guest to get access to the beach although you can go to some of the beaches by paying an entry fee. However, you really do not have to pay money to go to a beach. There are several public beaches in Dubai where you can go anytime in the day. While the beach is a romantic destination, make sure you do not indulge in too much public display of affection on the beaches of Dubai as you may offend the sentiments of the citizens of the place.
9.Skate at Dubai Ice Rink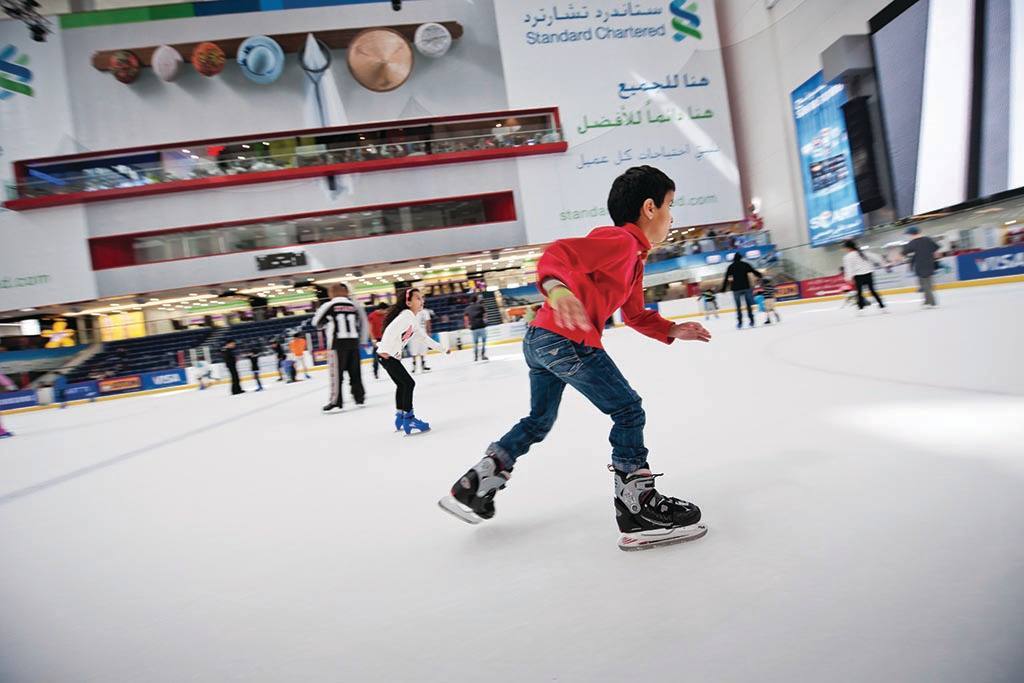 Dubai's heat can kill the romance if you are roaming around the streets during day time. Instead, head to Snow World and Ice Rink at the Mall of Emirates. The Ice Rink is quite huge where you can practice skating on the ice. If you have time and are up to it, you can take up a skating course together. Trying to support each other while balancing the skates on a floor of ice is probably a great way of spending time with each other.
10. Date on a Yacht: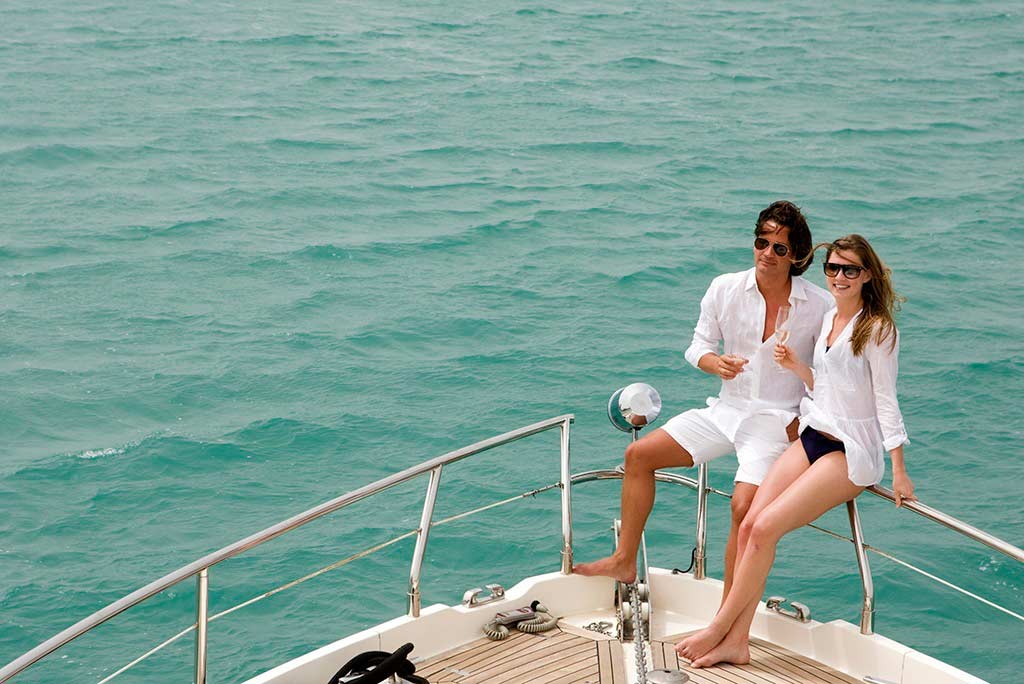 Although dining on a dhow cruise is very romantic, you may not get the privacy that you need as the floating restaurant can hold a lot of people. So, to make your date even more romantic, you can rent a yacht and have a private dinner date. Any travel company can arrange a dinner for you on a yacht. Do your research so that you choose only the best.
11.Picnic in Hatta: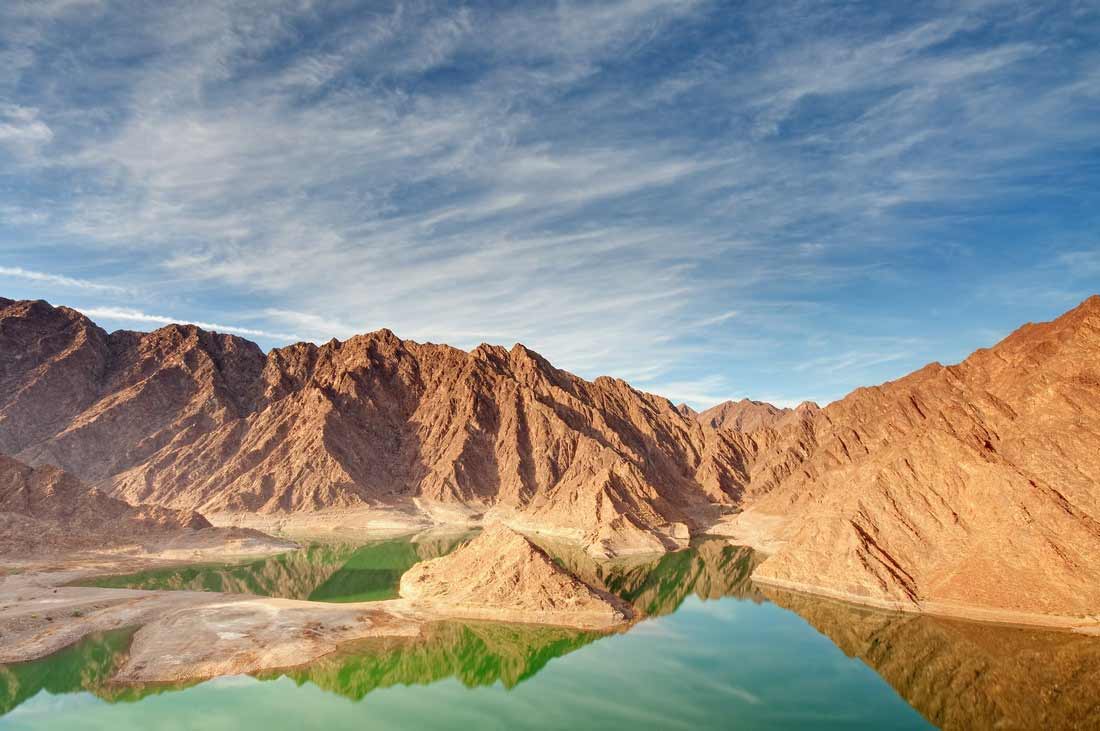 If you are bored of the huge buildings and malls of the city, take a break and make a trip to the Hatta Mountains to spend a romantic time amidst the magic of nature. The Hatta Mountain Safari takes you to the Hajjar Mountains where you can view a Heritage Village as well as have loads of fun. The safari camp, the fresh water pools, the chance to go hiking, everything will make your romantic camp fun as well as memorable.
12.Horse Riding at Al Dhabi Stable: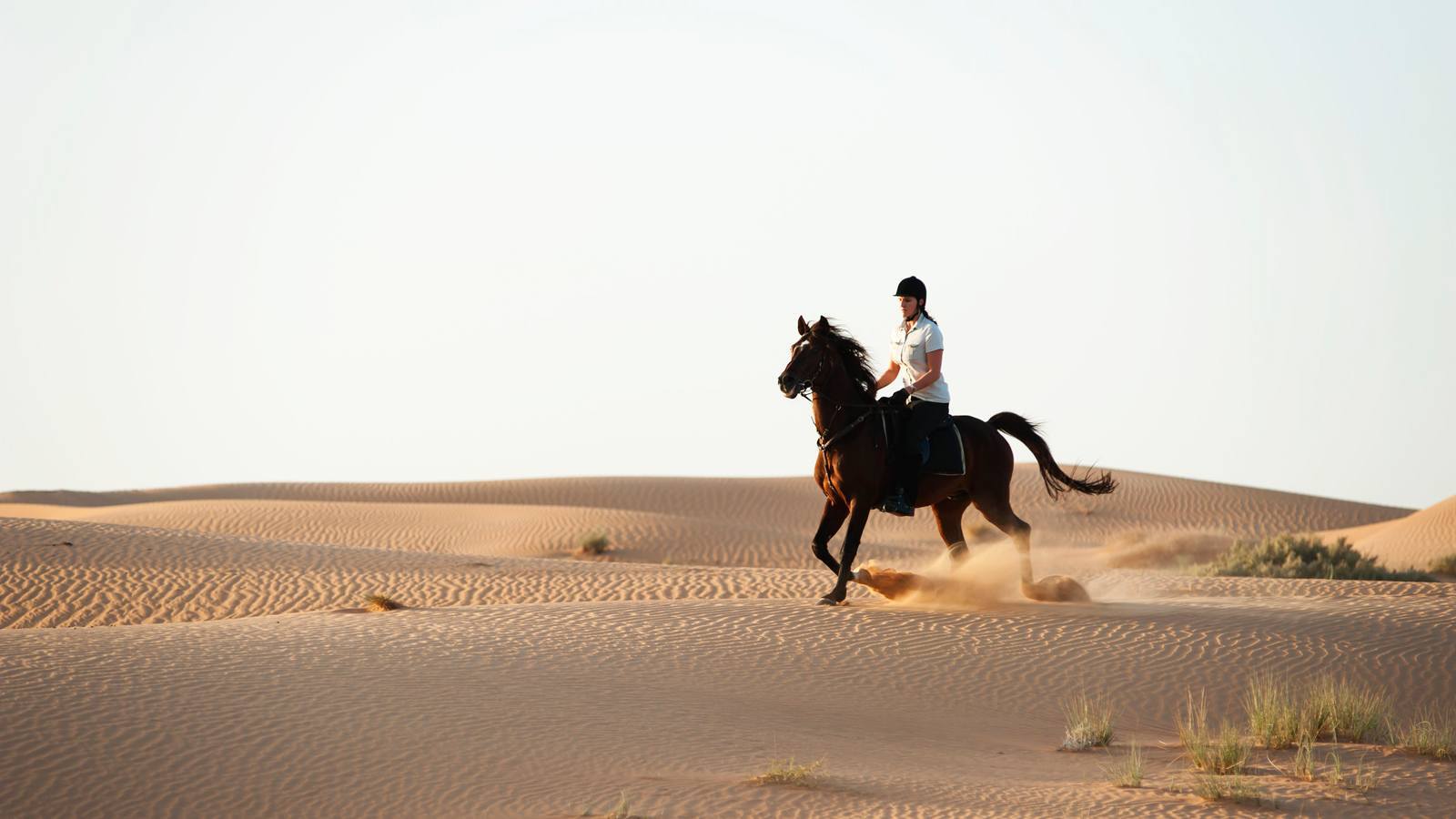 Yes, the camel is the ship of the desert. But roaming around the desert land on a horse would be unique and even a romantic idea if you are there with the one you love. The Al Dhabi stable houses numerous horses and different species of animals. You can take a ride on the horses with your partner and view the marvellous desert either during sunrise or at dusk when the sun sets. Whatever be the time you choose, this would undoubtedly be an unforgettable trip.
13.Go on a Spa Date: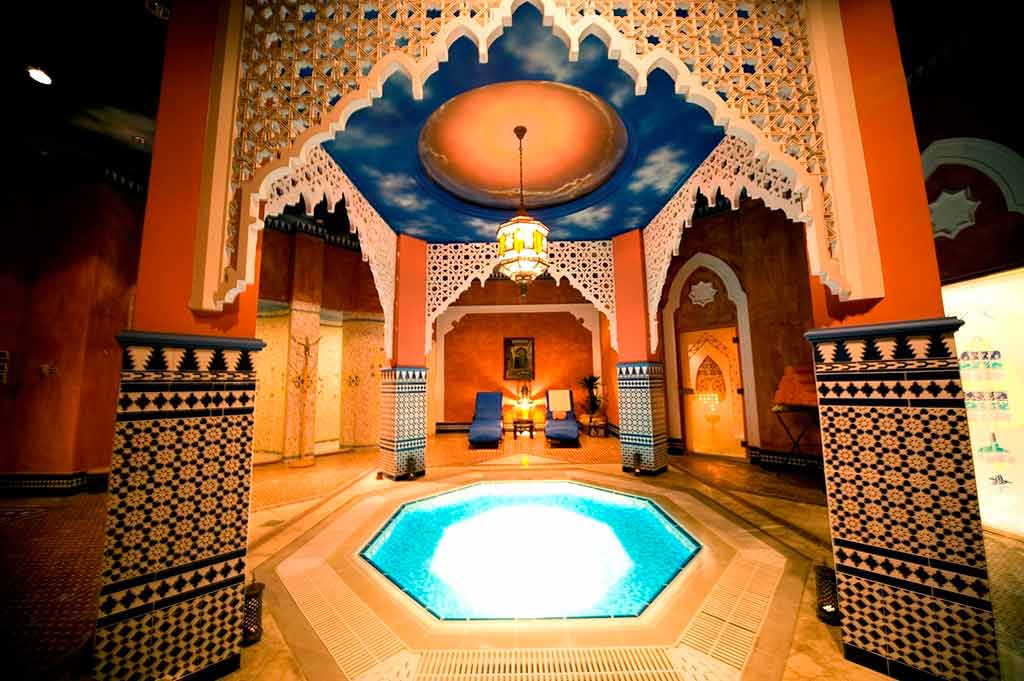 Dubai is home to many boutique spas and a great way to pamper your partner and yourself. Some of the hotels in Dubai offer spa services for couples in their room. This is a great way to spend some relaxing time with each other. Order some champagne too to create a romantic setting.
14.Dance Together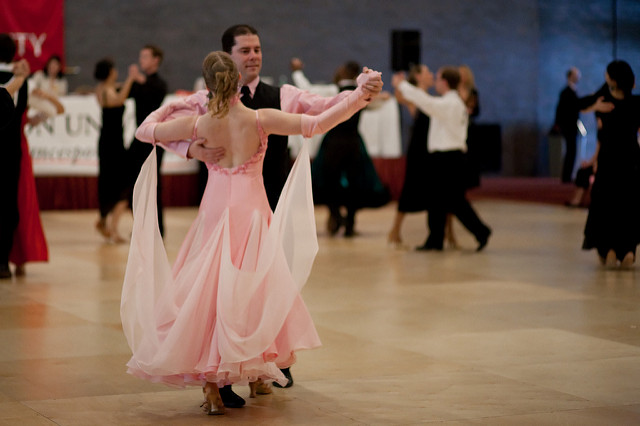 Learn some dance moves as a couple. 
Dancing is one of the fun things for couples to do in Dubai. You may be a beginner, moderate or even an expert in your dance moves, but learning a few new dance moves with your partner can be beneficial for both. Dubai has many dance studios which offer couples a chance to master their dance moves in forms like Salsa, Tango, Bollywood, Fox Trot, Jive, Rumba and many more. Some studios in the city also offer courses in mastering your dance skills. Dancing is one of the best stuff for couples to do in Dubai as it allows couples to motivate each other as well as brings out the inner creativity between both.
These are the 14 really romantic things to do as a couple in Dubai. So, what are you waiting for? Book your tickets today and get ready to sweep your lady love off to a holiday that she would never forget.