Warm evenings, cool sea breeze, clear twinkling skies, Dubai is a city that has a naturally romantic atmosphere. Therefore, it is no surprise that there are many romantic places to visit in Dubai. Thousands of tourists come to this international city to have a great time, as there are many fun things to do in Dubai. Many couples also come here to celebrate their love and make romantic memories worth a lifetime. Such is the beauty of Dubai that couples cannot get enough of it. There are many activities that are even more fun when enjoyed with your loved one. Let's take a close look at what all you can do that'll get you closer to your loved one.
1.Dhow Cruise Dubai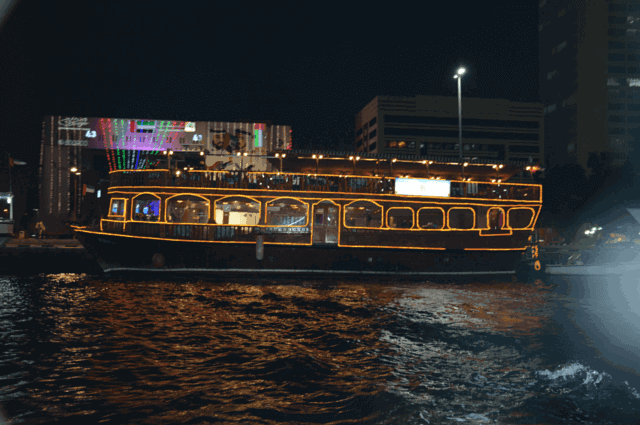 Looking for romantic places in Dubai to propose? Imagine being on a cruise in the calm Dubai Creek, enjoying the breeze, under innumerable stars. Wouldn't it be just the perfect location for a proposal? This is exactly what the Dhow Cruise in Dubai is all about. You board the dhow cruise from the Dubai Creek, and set off on a romantic journey. On the cruise, you are served a welcome drink after you are seated on table decorated with flowers. Soon, it is dinner time which is a buffet dinner containing delicious international and Emirati cuisine. After dinner, you can head to the roof of the Dhow and enjoy the nighttime views of Dubai and pop the question to your partner, under the stars and moonlight. The whole atmosphere will make you feel closer to your loved one.
2.Dinner in Desert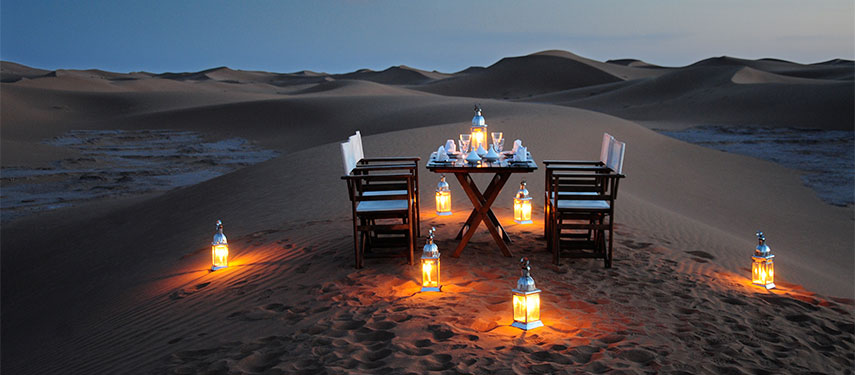 As the dusk crawl down and watching the sun goes down in the dessert. In the middle of sand dunes watching the live Arabian Belly Dancing performances with delightful barbeque makes your visit at Dubai a memorable journey. A Dinner in the dessert with your soul mate makes it really special adding more charm to the romantic experience. It is surely one of the most romantic places in Dubai for dinner.
3.Hot Air Balloon Ride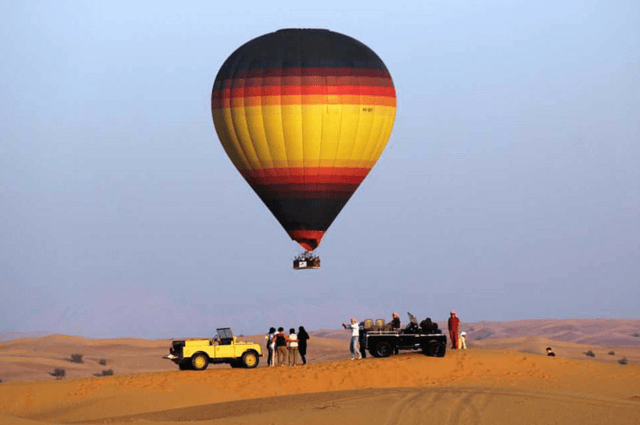 This is something couples should definitely try. Just imagine, floating hundreds of feet above the golden desert, cut away from noise, pollution, and population. It's a great way to relax. The balloon ride is quite popular with couples. It starts early in the morning. The ride takes you over the azure sands that seem to continue into infinity. Then you closely get to watch the orange sun rise and light up the skies. It is a great feeling being cut away from the world, calmly floating in the sky. This is a must-do activity for couples looking to have some alone time with each other.
4.Overnight Desert Safari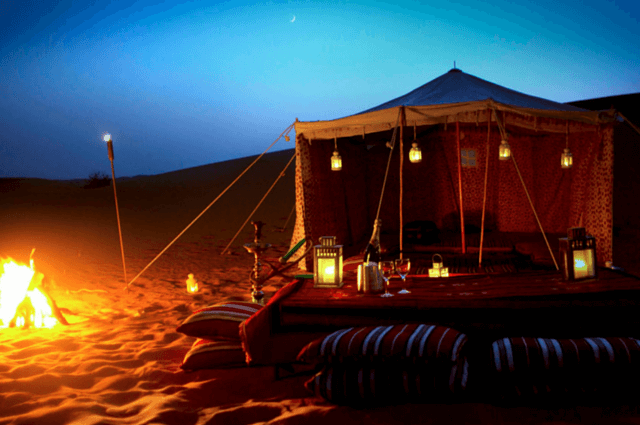 The desert safari is quite a popular activity. However, to make it romantic, you should take the Overnight Night desert safari. The safari starts with you being taken over treacherous sand dunes for some dune bashing. After this exciting activity, you are taken to the beautiful desert camp where you can take camel rides. You will feel like a Bedouin in the middle ages. Here, you are served a delicious BBQ dinner while you enjoy a bonfire, and belly dancing performances. Sleeping arrangements are in a tent in comfortable sleeping bags. However, you can enjoy the night near the fire talking with your special one under the stars. You have endless supply of coffee. In the morning, you are served a delicious breakfast before you get another exciting ride back to the city.
5.Dinner Date at Majlis Al Bahar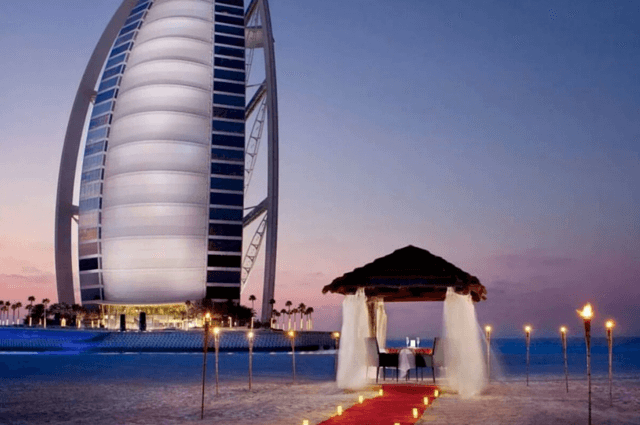 Being an international city, Dubai is home to some amazing restaurants worthy of michelin stars. Dubai has a beautiful coastline with a fabulous view. There are many restaurants located near the coast, owing to the amazing view and atmosphere. So, set up a date with your loved one in one of these restaurants. Get a table that has a fantastic view of the sea. One of the best places for a date in Dubai is the Majlis Al Bahar. This restaurant is located near the Burj Al Arab and ensures its guest have the experience of a lifetime. If you think this place is too pricey, you can check out other restaurants that have a sea view, and make reservations to have the best time.
6.Walk on the Beach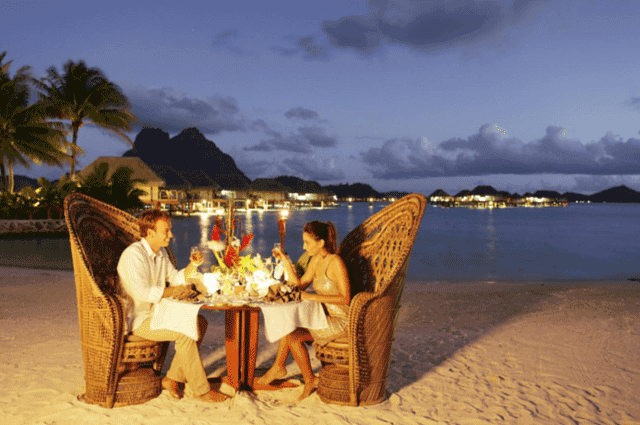 As we already know, Dubai has a wonderful beach. So, what can be better than a quiet walk on the beach. There are many luxurious beachside resorts in Dubai that give access to their private beaches for a small amount. However, they do give preference to guests who are staying with them. Instead, you can go pack you dinner in a picnic basket, and take your special someone to a public beach. There's nothing like sitting on the sand, eating food and enjoying the company of your loved one. Pick any beach in the city and it would be one of the best romantic places in Dubai for dinner.
7.Romantic Limo Drive in Dubai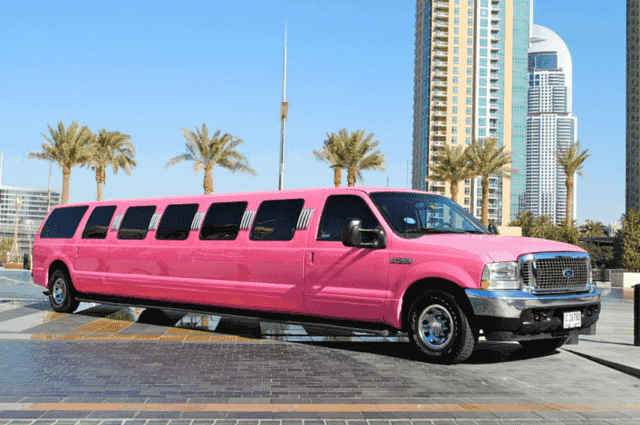 This is quite a popular activity among couples. You can book a limousine and take your loved one on a special ride of Dubai. Feel like royalty as the massive car pulls up and a chauffeur greets and opens the door for you. During the ride, you can check out the beautiful sights and sounds of the city. You can also stick your head out from the sunroof and enjoy the wind in your face. The limousines are luxurious and are packed with many amenities that will make the whole drive a romantic one.
8.Explore Dubai Miracle Garden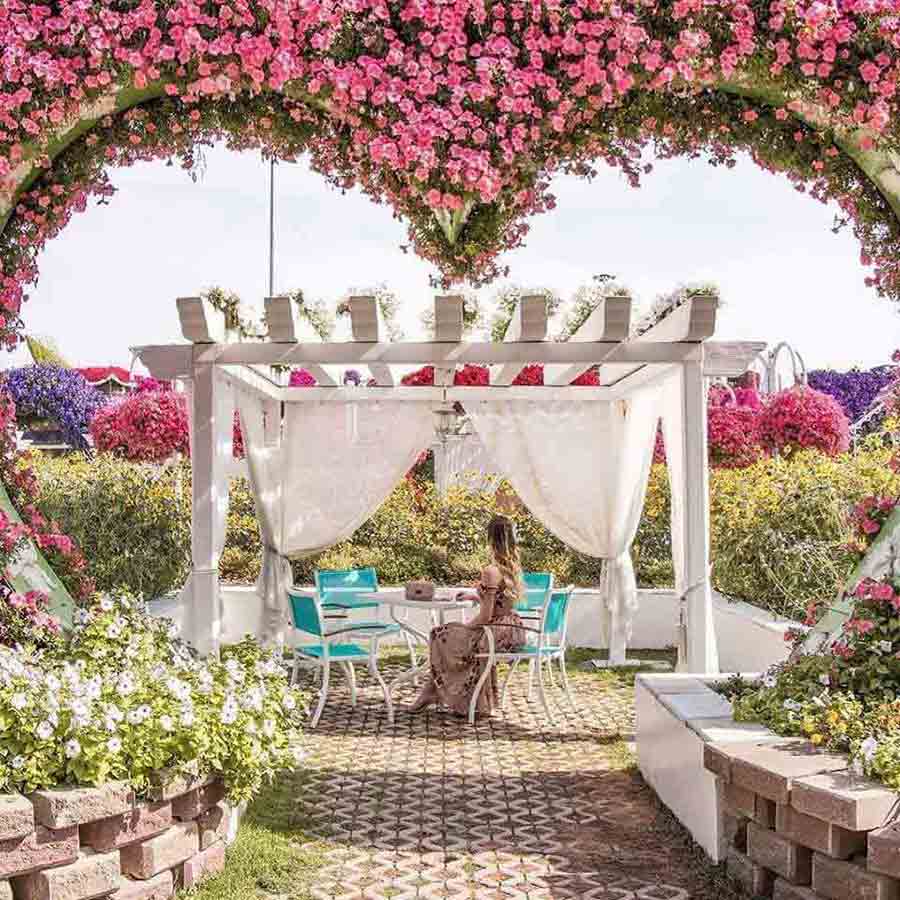 There is no better romantic destination than nature itself. So, when you are surrounded by 450 million beautiful flowers, there would surely be romance in the air. If this sounds really interesting, head to Dubai Miracle Garden for a walk amongst the gorgeous flower arrangements you have ever seen. With an area around 72,000 square meters and millions of amazing flower arrangements, it would be a treat to walk hand-in-hand with your partner while exploring the largest flower garden in the world. With so much natural beauty around you, you are likely to forget that you are in a city known for its steely structures and concrete buildings. The best thing about Dubai Miracle Garden is that every season showcases new flower arrangements. The only thing you need to remember while thinking of a romantic date at the Miracle Garden is that the place remains closed from May to September due to extreme summer heat.
9.Watch the Dubai Fountain Show while on a Lake Ride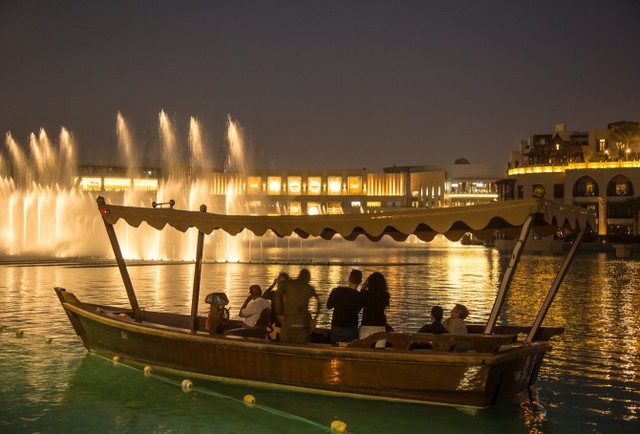 The Dubai Fountain Show is one of the most popular things to do in Dubai. The show can be watched from anywhere around the lake for free of cost. However, if watching this great show while waiting with hundreds of others does not count as romantic for you, the lake ride would be a great option for you. The boat ride on the lake gives you the chance to cruise on the lake and at the same time watch the spectacular Dubai Fountain show from a closer vantage point. The ride lasts for thirty minutes and the fountain show is definitely the highlight. If you want to impress or maybe even propose your girlfriend, there is one of the most romantic places in Dubai to propose.
10.Indulge in Relaxing Couples Massage at one of the Popular Spas in Dubai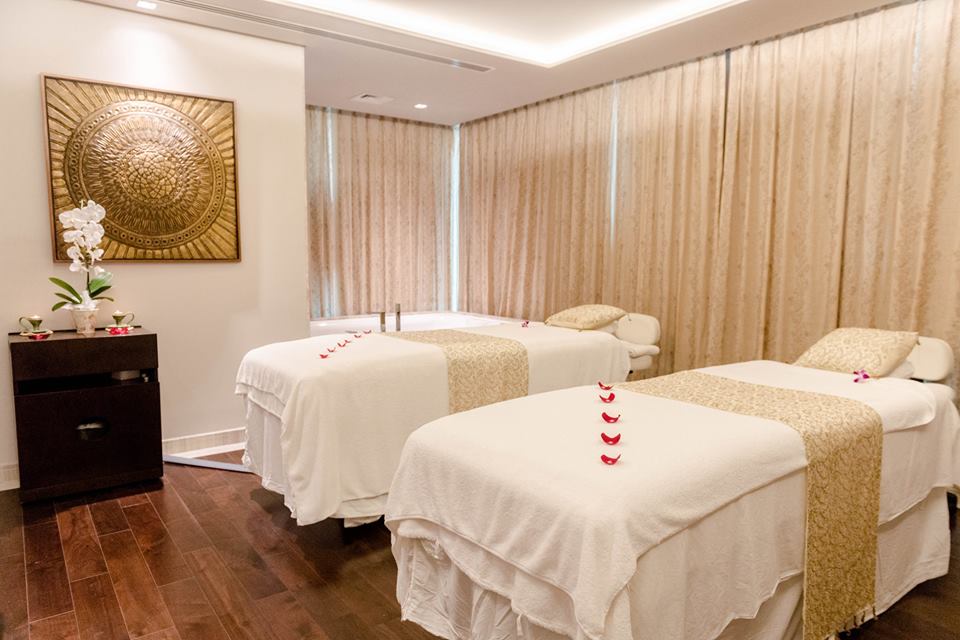 Romance is not just having a meal at one of the best restaurants in the city or going on a romantic cruise. Rather, the best way to rekindle romance and spend some quality time with your partner is going on a spa date. There are several spas in Dubai that cater to couples. While you would find spas at most hotels in Dubai, there are several independent ones too. Enquire about couple spa packages and pick one that fits your interests and requirements. If you want to have a luxurious spa experience, go for one that includes a private dinner apart from a relaxing massage. Spend some quality time with your partner while getting pampered at some of the finest places like Timeless Spa in Dubai. What would be a better romantic destination for couples in Dubai? Moreover, spas are one of the best private places for couples in Dubai.
11.Enjoy a Romantic Picnic at Hatta Mountain Safari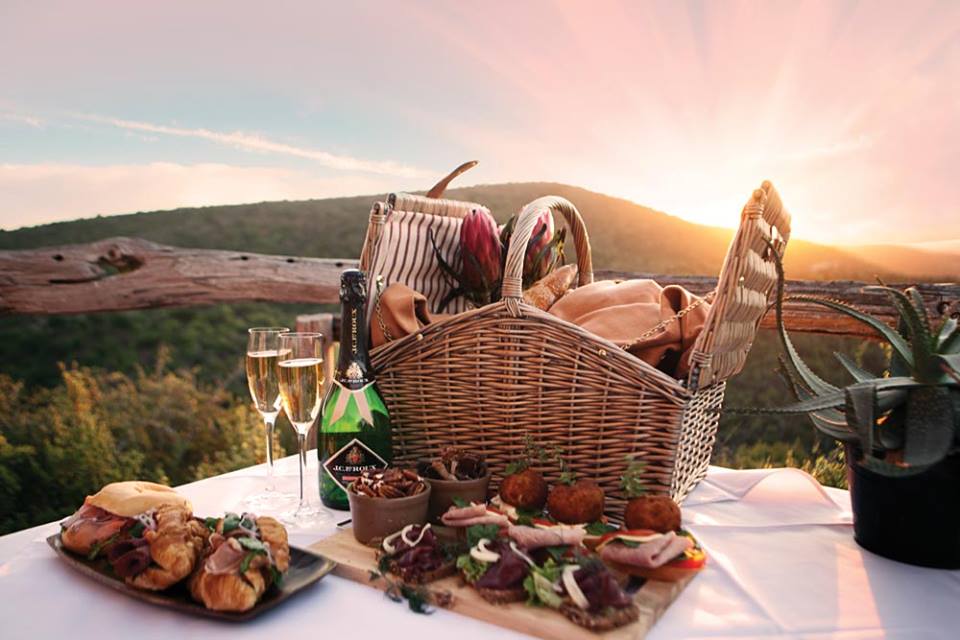 If you do not find the Dubai desert safari romantic enough, you would definitely love the Hatta Mountain Safari. The picturesque mountains, the natural springs and the lush green spaces would not fail to offer you the perfect romantic ambience. Explore the rugged mountain trails in a comfortable 4×4 vehicle and take the chance to visit the Hatta Heritage Village, complete with ancient fort, 200 year old mosque, monuments, mud houses and modest buildings that showcase the Emirati art and architecture of the 16th century. You would also get to take a dip at the natural mountain springs while visiting the Hatta Dam. But the best part is the picnic at the Hatta Hill Park where you would get to have a delicious buffet lunch in the company of greenery and mountain walkways. Love Lake Dubai is another popular spot for picnicking with your partner by the heart-shaped entwined lakes.
12.Shop till You Drop with your Partner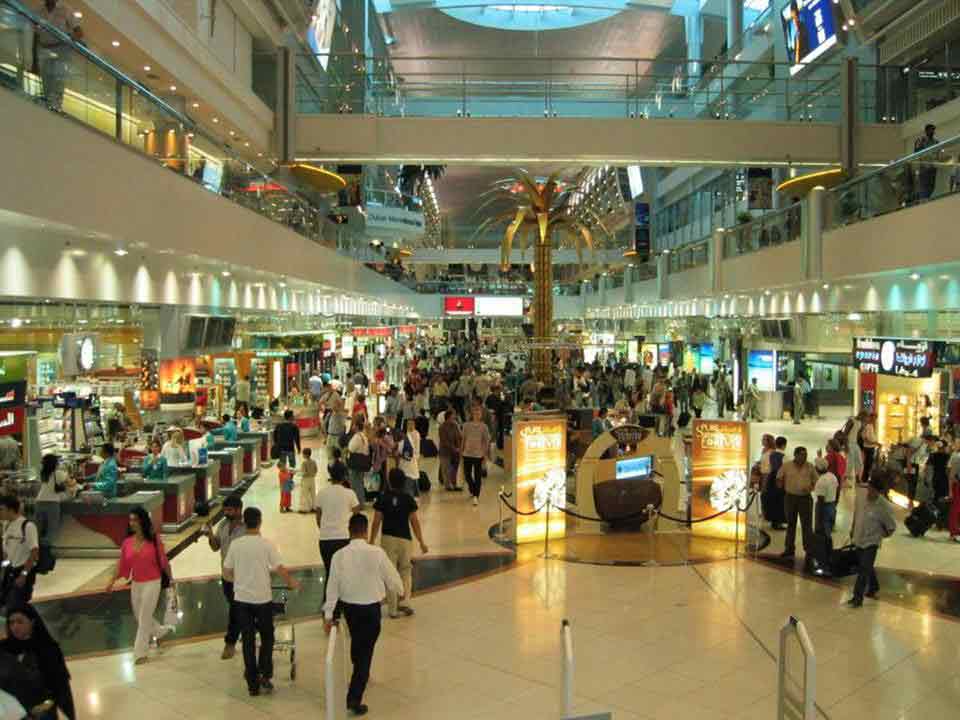 It may not be your ideal way of spending time with your partner, but if you want to impress and pamper her, take her shopping in Dubai. With so many modern malls and traditional souks in Dubai, shopping in Dubai is surely bliss. If you want to buy something precious for your lady love, take her to the gold souk where you can buy gold and diamond jewellery of every kind possible. The Dubai Mall with its 1200 stores would give you the chance to shop from almost all international brands from around the world.  Shopping at the Ibn Batuta Mall (the largest themed shopping mall) with its six themed courts is an experience in itself. Apart from all this, if you want to give your partner the ultimate shopping experience, take her to Dubai during the Dubai Shopping Festival which is the dream shopping destination for all shopaholics.
13.Try a New Adventure with your Partner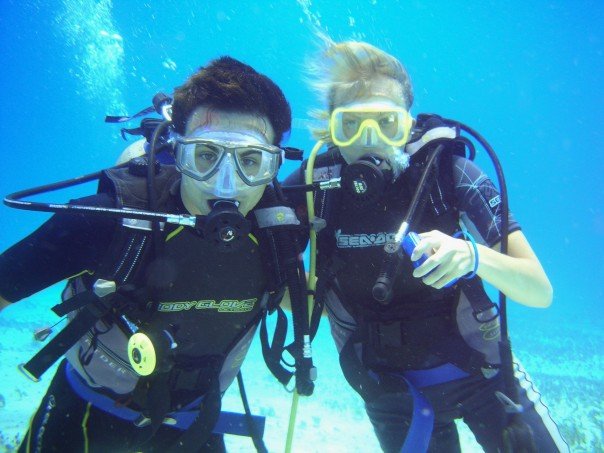 If your idea of romance is doing something different and indulging in some thrilling adventure, there is no better place than Dubai for you. The city offers a host of adventurous activities to people who are interested. You and your partner can go for bungee jumping, hiking and even sky diving in Dubai. For aqua sports lovers, this is the chance to indulge in scuba diving and snorkelling to explore the rich marine life of the place. A visit to any of the beaches of Dubai would also give you the opportunity to try some exciting water sports like banana boat ride, donut ride, jet skiing, wakeboarding, etc. Even if you are not a very adventurous couple, you can try few of these adventures to do something different together. A bungee jumping or skydiving site would definitely be one of the best romantic places for anniversaries.
Conclusion
There are many Dubai things to do that your partner will absolutely love. Whatever might be your interests as a couple, you would definitely find something interesting and engaging to do. This city is one of the most romantic cities in the world and couples will surely have an unforgettable time here.