Dubai is a great destination to have a lovely time as a solo traveller or with your family and friends. However, even if you have only a day in Dubai to spend, you have numerous options to explore. Therefore, we have come up with a short one day in Dubai itinerary that will be helpful for you while planning your stopover in Dubai.
Day 1: Morning
Early morning hot air balloon ride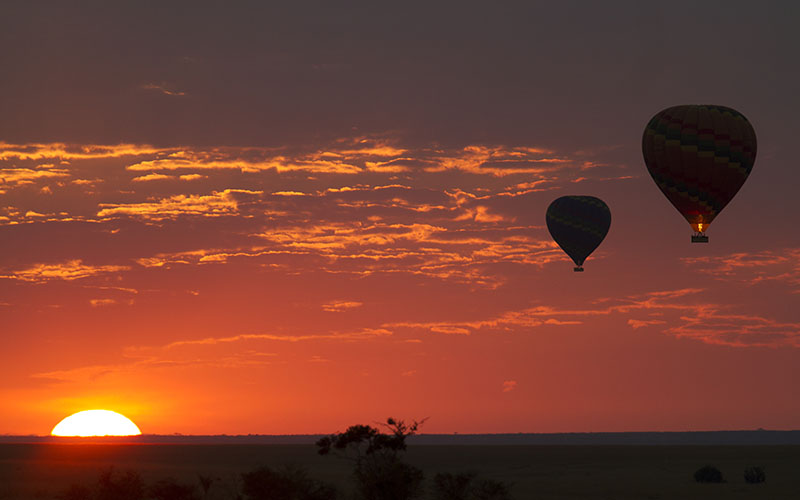 If you have an early morning in Dubai, your one day in Dubai should start with this adventurous hot air balloon ride. Many operators offer pickup and drop to the launch site at dawn. It's a great feeling gliding past the golden dunes and watching the sunrise from the golden dunes making it red. Flying at the height of the falcon is something you could have only seen in your dreams. After the ride, enjoy a fresh breakfast before being dropped back at the hotel—a magnificent way to start your day in Dubai.
Stop at the Atlantis Aquaventure Waterpark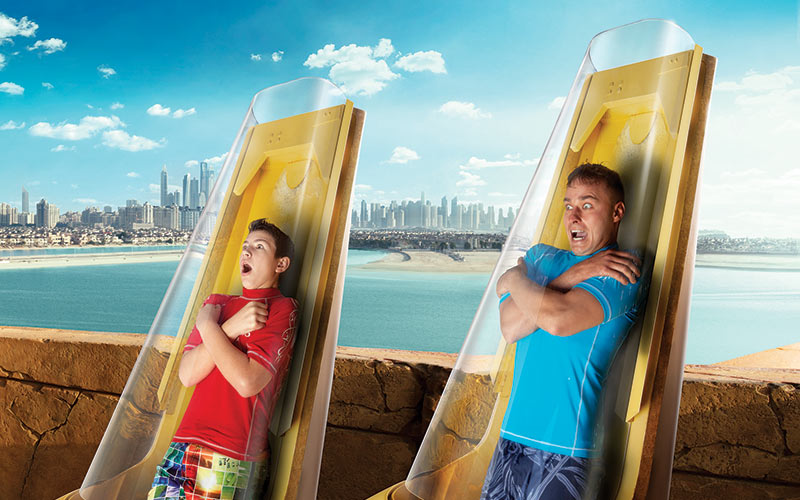 After a refreshing hot air balloon ride, you should stopover at the Atlantis Aquaventure Waterpark. If you start your one day in Dubai post 9 am, then head straight to this amazing destination. With its private beach, you can enjoy the sun's warmth or try out the incredible waterslides in the Waterpark. One of the coolest waterparks in the world has enough indulgences for all ages. So, whether you are alone or with your family and friends, this will surely enthral you with its offerings.
Explore the Lost Chambers Aquarium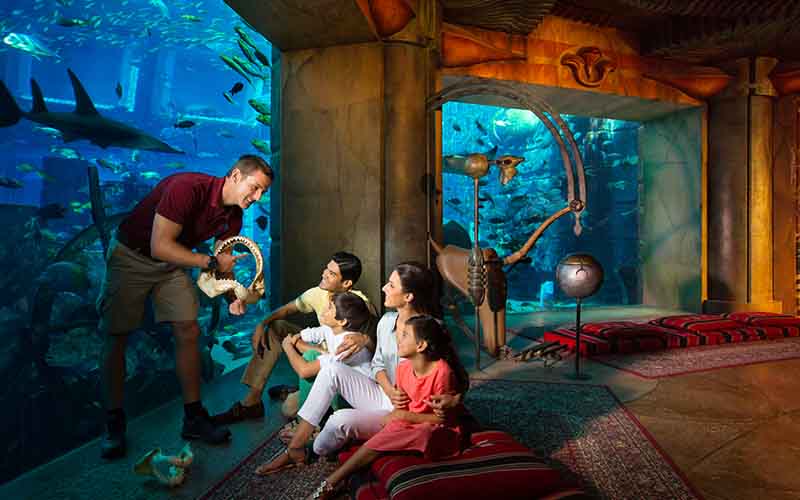 The Atlantis Palm Resort houses an underwater world in ten different areas. You can get an up-close encounter with different marine species like stingrays, piranhas, jellyfish, sharks, and other marine residents. You can try scuba diving with the marine species and even participate in a live feeding show in the largest open-air marine habitat. Several tour operators can include this destination in their one-day Dubai itinerary planned for you.
Day 1: Afternoon
Break for lunch
Explore the various eateries in the Mall of the Emirates or venture out for some delicious local treats from the ethnic Dubai cuisine in a Foodcourt or café. In addition, several joints are offering global cuisines, so select anyone as per your preference.
Head to the Ski Dubai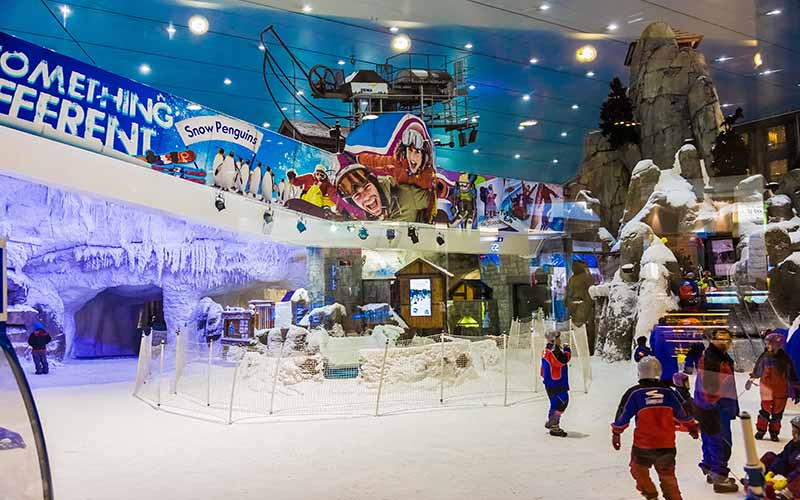 Welcome to the largest indoor ski resort, Ski Dubai. This spectacular destination is a great recipe to beat the extreme temperatures. Spend your entire energy skiing on one of the five slopes, toboggan runs, and sled races. You can even take ski learning lessons from the pro members. You can also enjoy a session interacting with the penguins housed inside or trying your free skills on the icy playground. Well, Dubai is also home to many outdoor activities, so you can enjoy the thrill both ways.
Explore the Dubai Creek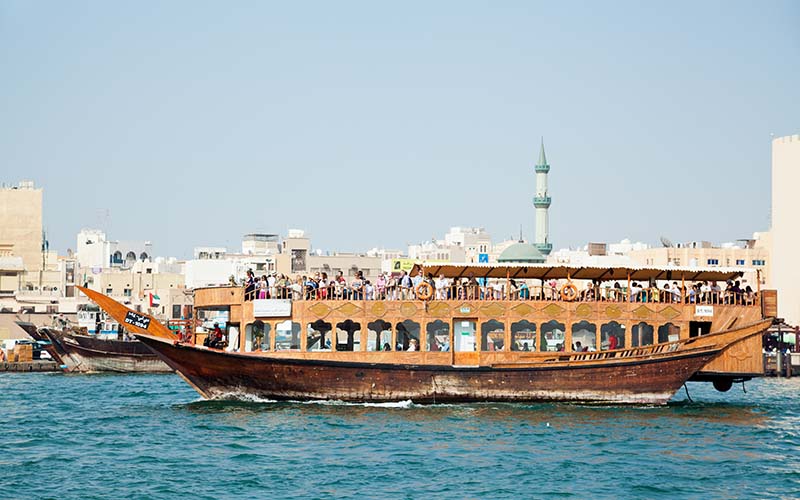 Old Dubai offers a traditional essence unique to the glitzy and glamorous modern Dubai city. Try out the traditional Abra, a wooden dhow boat ride where you can browse the Deira region's major highlights. In addition, you can visit the souks for indulging in some shopping guilts or cross over to the Bur Dubai side. You can take a better view as you hop on dhow cruise in Dubai Creek and Dubai Marina.
Browsing through the Dubai Souks

The Dubai Souks offers a perfect opportunity to indulge in some shopping. We recommend you to browse through the souks even though you don't purchase anything. It's a wonderful feeling getting to see expensive gold, heavy decorative metals, herbs, spices, textiles, handicrafts, and much more within one destination. If you are buying something, do remember to haggle as it can give you a good deal. You will enjoy exploring this wonderful destination as part of your one-day Dubai itinerary.
Day 1: Evening
Head to the Dubai Mall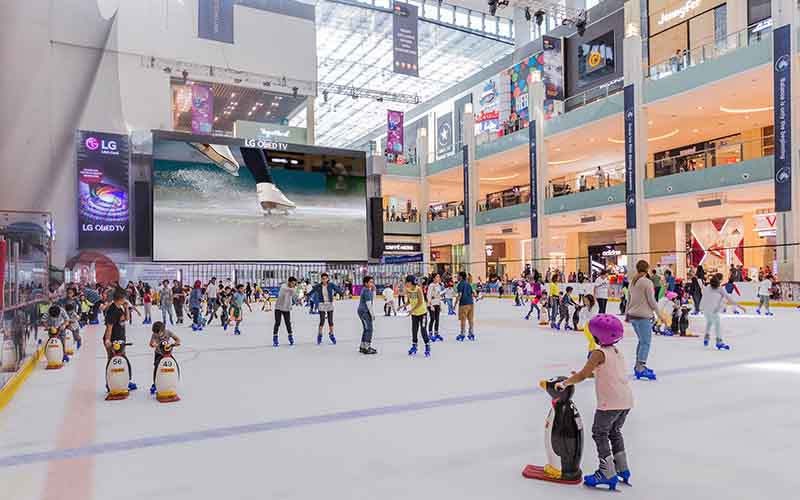 If you avoid purchasing something in the souks, you will find it hard to skip your shopping guilt when you head to the Dubai Mall. A fascinating way to explore Dubai in a day. With more than 1200+ retail outlets, several restaurants, a multiplex movie theatre, an indoor ice-skating rink, and plenty of adventurous activities to explore. Explore each corner of the four levels in the Dubai Mall as each retail outlet housed here has a unique offering. Then, grab a quick bite to break down your shopping spree.
The beautiful Dubai Fountains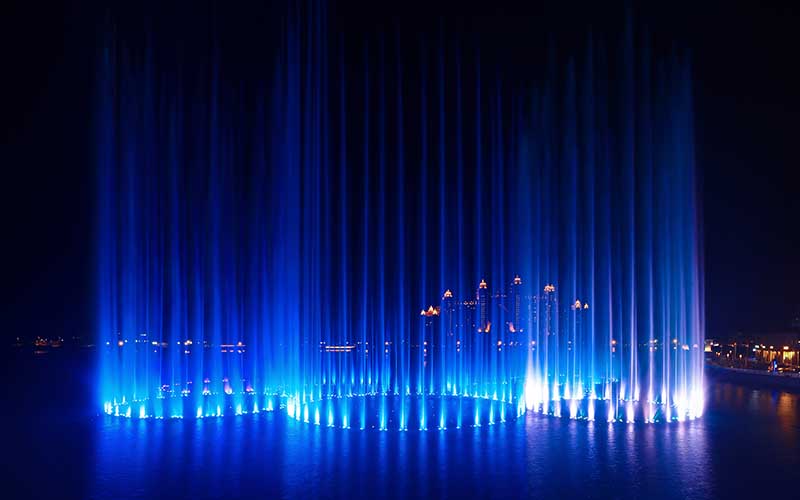 The dancing fountain is a perfect way to relax your mind and body after exploring the various offerings in the Dubai mall. The biggest choreographed fountains spray water jets to heights of up to 140 meters at the onset of light and music set to popular global and Arabic hits. Try to grab a spot near the Souk Al Bahar bridge for the best view. One activity that should be on your travel itinerary whenever you plan to explore the best of Dubai in a day.
Explore the tallest observation deck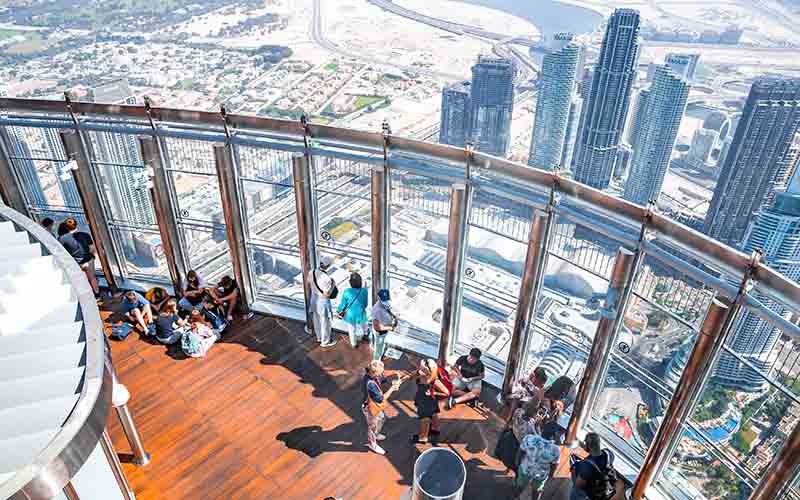 Well, the mighty Burj Khalifa needs no introduction. Zooming up 148 floors in the fastest elevator is an experience. Explore more about the Burj Khalifa and the concept and story behind building the tallest building worldwide. There are projections and video interactions that make this experience an eventful one. Once your reach the 148th floor, enjoy sweeping views of the entire Dubai landscape as it lights up post-sunset. It's a sight to witness as Dubai city comes to life. Explore the daring attractions from a birds-ey view. The one-click moment is on the cards as you don't get to witness the world at such heights daily—one of the perfect ways to bid farewell to your one day in Dubai itinerary.
Dubai's vibrant and buzzing sights make you feel that no matter how many days you spend, you will never be able to uncover Dubai completely. There is glitz and glamour, and it keeps getting added with each passing season. No matter the purpose of your trip, discovering Dubai in a day will be a magical experience. Don't forget to learn about etiquette in Dubai.