The United Arab Emirates (UAE) is one of the top tourist spots in the world. Although Dubai and Abu Dhabi are the UAE's most popular emirates mainly for their unique and state-of-the-art tourist attractions, the other emirates are also catching up. Sharjah is one such emirate. Located a short distance away from Dubai, Sharjah is known as the cultural capital of the UAE because the city is home to numerous cultural attractions, especially museums. One of the most popular and significant among them is the Sharjah Aquarium. Opened in 2008, the Sharjah Aquarium belongs to the Sharjah Museums Authority. If you are visiting Sharjah during your UAE trip, Sharjah Aquarium is one place you need to visit. Here are all the details you need to know about Sharjah Aquarium.
Sharjah Aquarium: Overview
The Sharjah Aquarium facility covers an area of 6500 square meters. Spread across 2 floors, this aquarium has 150 species of marine creatures in its 20 aquarium tanks. Visitors get to walk around the different aquarium tanks to see an interesting mix of marine and deep-sea creatures, including clownfish, moray eels, seahorses, reef sharks, coral sharks, seahorses, sea rays, etc. Moreover, you will get to see these sea animals in different habitats like rocky shores, mangroves, coral reefs, and lagoons.
Sharjah Aquarium: Purpose
The main aim of the Sharjah Aquarium is to familiarize people with the exuberant underwater world. Another aim of the aquarium is to create awareness among people on the topics such as marine pollution, land reclamation, soil spill calamities, and overfishing. With these efforts, the aquarium authorities expect to educate and inspire people that will help in enhancing and maintaining the underwater ecosystem.
Along with providing information and enhancing the knowledge of the visitors about marine life, the authorities have worked hard to make the aquarium a safe habitat for sea creatures. Special focus is provided to create the perfect environment for the growth and expansion of coral reefs. Several experts and volunteers have been roped into their efforts of conserving and protecting the aquatic ecosystem.
Apart from this, the Sharjah Aquarium has a recovery program for sea turtles. Injured sea turtles are brought to the facility, where the husbandry team rehabilitates them, after which they are released back in the sea.
Under the Sharjah Museum Authority's "We Care" social responsibility program, the aquarium also conducts an environmental clean-up drive every year to help people understand the importance of ecological conservation and saving marine attractions.
If you are a water baby, check out a unique hidden attraction in Dubai Khorfakkan Waterfall.
Sharjah Aquarium: Facilities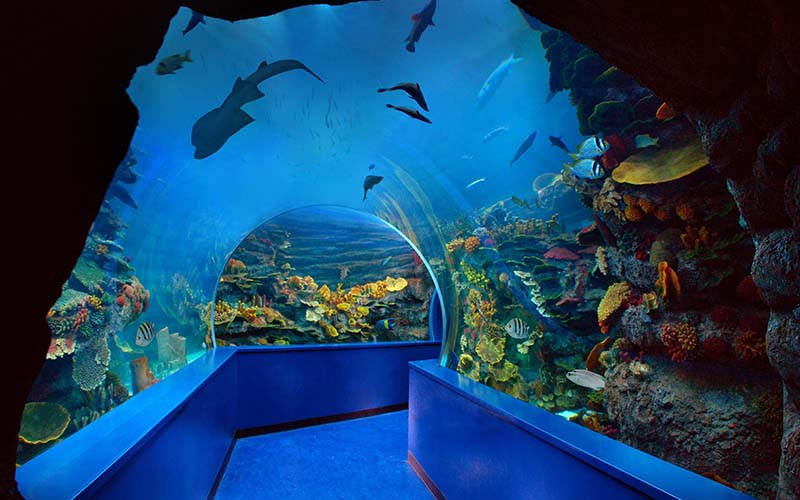 Along with exploring the colorful and magical underwater world while learning about marine life and ecosystem, you get to enjoy several amenities and facilities offered at the aquarium. Besides Wi-Fi connection made available for visitors, there are wheelchairs for senior citizens and others who need them. There are changing rooms for children and a separate room for mothers with babies. Other facilities at the aquarium include a cafeteria, a prayer room, retail stores, restrooms, and ample parking facility. The place also has an outdoor play area where children can enjoy fun games in a safe environment.
Sharjah Aquarium: Timings
Sharjah Aquarium remains open from 8 AM to 8 PM from Saturday to Thursday. On Friday, it remains open from 2 PM to 8 PM. The facility remains closed on Sundays. The timings may differ during the month of Ramadan.
Sharjah Aquarium: Tickets
The Sharjah Aquarium ticket prices are different for different groups of people. Here is the price list for the aquarium tickets:
Children under the age of 2 years: free
Children from 2 years to 12 years: AED 15
People over 13 years: AED 25
A children's group of 6 (between 2 and 12 years): AED 10 (per child)
An adult's group of 6 (above the age of 13 years): AED 15 (per person)
School trips from government schools: Free
People above the age of 60 years + 1 accompanying person: free
Person of determination: free
Sharjah Aquarium: How to Reach
The easiest way to reach Sharjah Aquarium is by road. You can either travel in your own car or taxi. If you are coming from Dubai, you can opt for the Dubai to Sharjah Ferry facility. In this case, you have to deboard at marine from where the aquarium is only 5 minutes way away.
Conclusion
Sharjah Aquarium is a fascinating attraction that will give you ample knowledge about the underwater world. So, if are visiting Sharjah or the UAE, do make it a point to visit this amazing attraction. You can also plan a short holiday to Ajman and Sharjah as we have done the research for you.