Dubai is a world-famous destination, known for versatile attractions: be it staying in a 7-star hotel, riding on the tallest Ferris wheel, partying on a dhow cruise Marina, or dining in the air. But, what it takes seriously, is the range of shopping malls.
Sprawling over a magnificent 5,400,000 sq ft area, Dubai Mall is one of the world's largest shopping malls. It is so large that the steel used in the architecture is more than the size of the Eiffel Tower. In an area equivalent to 200 football pitches, there are over a thousand luxurious and departmental stores, an Olympian-standard ice rink, and the largest aquarium housing gargantuan sharks.
To help you plan a perfect day out, here is the ultimate list of things to do in Dubai Mall today:
Fun Things to Do in Dubai Mall
With Family
1. Shop, shop, and shop!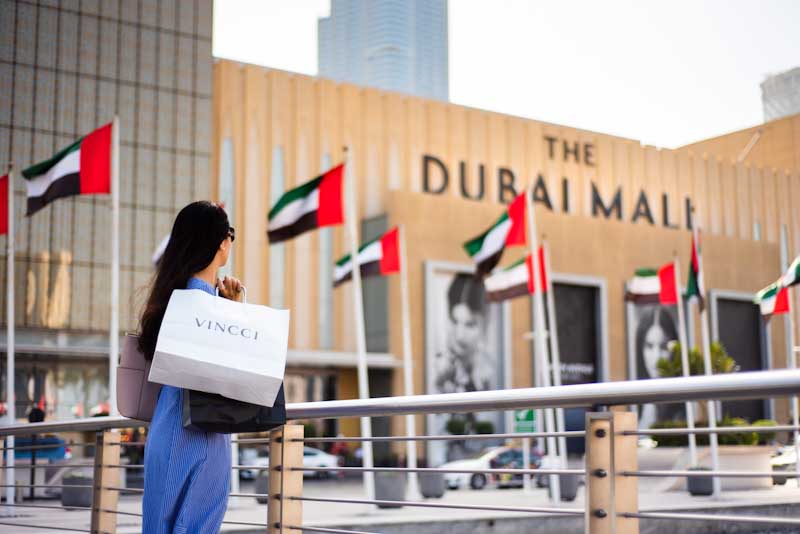 The no-nonsense thing you can do in a retail mall is to browse and shop. There are 1,200 retail stores, 70 branded outlets, and a couple of major department stores. You can swipe your credit card left, right, and front to buy from your favorite brands. Dubai Mall is synonymous with luxury. It has plenty of covetable and famous brands from across the globe; from Bulgari and Christian Louboutin to Tiffany & Co. If you come during the Dubai Shopping Festival, you can take home deluxe products at unbelievable discounts. 
2. Dive & Snorkel in Dubai Aquarium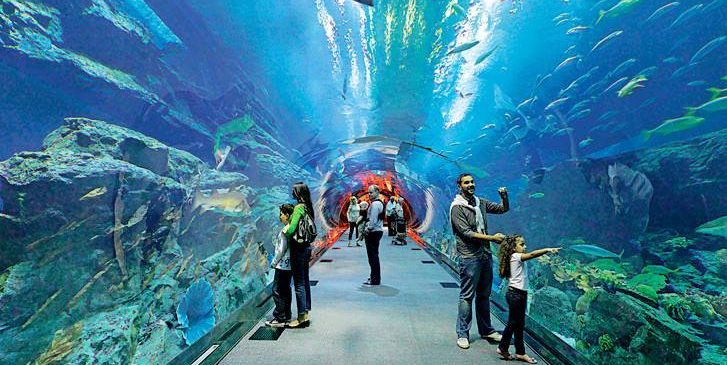 Dubai Aquarium & Underwater Zoo is an experience unlike any other. It is the world's largest suspended aquarium measuring 11 metres in height. One of the incredible summer attractions in Dubai, this aquarium is home to 140 species of marine animals, including 300 sharks & rays. The Underwater Zoo on Level 2 is beautifully segregated into three ecological zones. Stroll through this overlapping water zoo, take a glass bottom boat ride, enjoy cage diving, and go scuba diving and snorkeling with the sharks. 
3. Marvel at the art of Infinity Des Lumières
Take a step into another world as you witness the mind-blowing blend of art and science. Spread over 2,700 sqm, Infinity Des Lumières is a next-gen gallery. The exceptional use of technology, such as 130 projectors, multi-sensors, 58 speakers, and 3,000 HD digital moving images, brings life to this gallery. It reveals the world of legendary artists and architects Van Gogh, Gaudi, Kandinsky, and Klee that awaken your senses. It is one of the perfect spots for an immersive and innovative trip. 
4. Skate in Dubai Ice Rink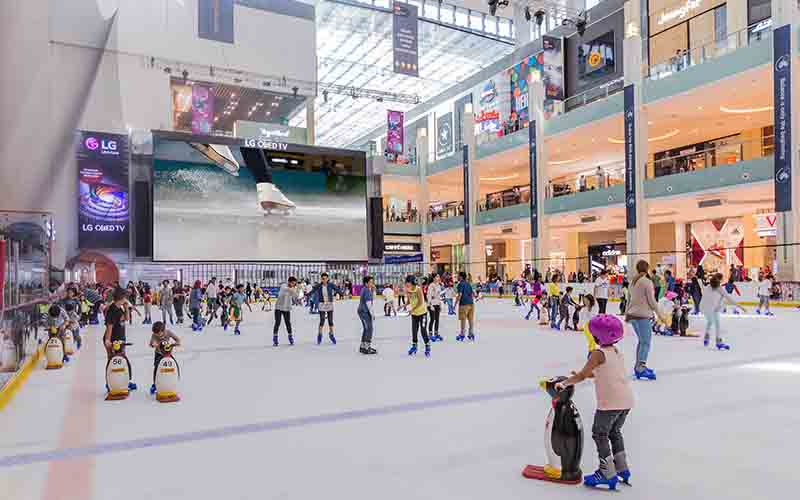 Let your kids show their best skating moves in the Dubai Ice Rink. Located on the ground floor, this snow city is filled with polar sports and activities for all ages alike. It has become a popular hotspot for people who want to have fun and adventure of different levels. Whether you are a beginner or an experienced skater, both can have a wonderful time. Come here for a corporate event, school trip, team-building session, or regular holiday. 
5. Experience the nail-biting fright at  Hysteria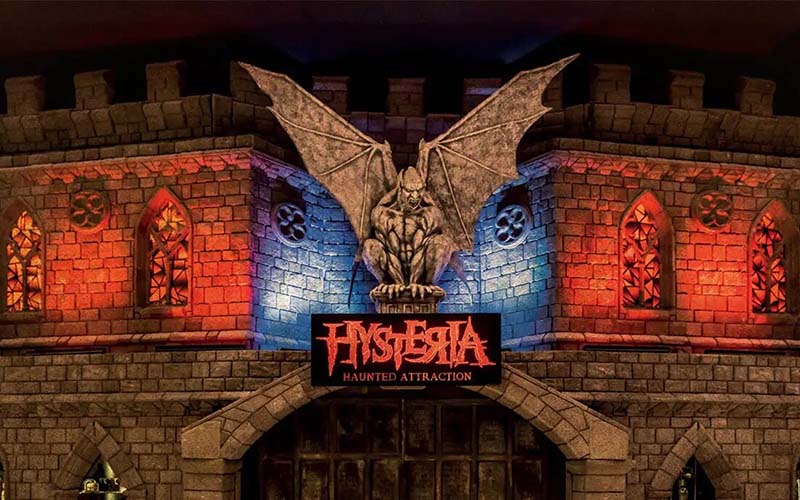 Can you believe Dubai's first haunted house is set in a family-friendly entertainment and leisure destination? Well, everything is possible in this city. Hysteria has the eeriest setup that brings out the wildest nightmares to reality. The hanging skeletons, scariest voices in the background, unexpected ghost encounters, and weird ambiance make the guests' blood run cold. Operating from 10 am to 11 pm on weekdays and til midnight on weekends, this place is all set to give the heebie-jeebies. 
6. Race at Ekart Zabeel

 
Anyone who is up for a mad day out with friends and siblings should visit Ekart Zabeel by Emaar. Located on the 9th floor of Dubai Mall, the place literally takes you to the ninth cloud with heart-pumping thrills. Hop on the electric go-kart and unleash your inner Paul Walker. Whiz across the open-air track where the drivers have to compete against the set time providing the much-needed adrenaline rush. The entire playground is maintained by state-of-the-art facilities for your safe adventure. 
7. Have fun at Trampo Extreme

 
The best thing to do in Dubai Mall with kids is to take them to Trampo Extreme. Bring your kids aged 3 and above to this fabulous indoor play space. Jump, laugh, and cheer on the best quality trampolines. Kids will go gaga as they flip and turn multiple times over these bouncy tramps. There are challenging obstacles, playful ball zones, and soft walls to create a fun playground for all the kids who love to make it fun. 
8. Indulge in imaginative games at  Play DXB

 
VR Park is now upgraded to Play DXB, a more powerful and interesting virtual reality theme park. You can sign up for a dozen of multi-sensory and VR experiences that raise the adrenaline. Wear the VR headset and indulge in exciting games that keep you on the edge of your seat. One of the popular attractions here is Dubai Drone, a scenic motion ride that takes you over the city's landmarks. You must check the height and age restrictions before visiting. 
9. Eat global cuisine
One of the best reasons to visit Dubai is its range of gastronomical delights. Since you would have definitely worked up an appetite in the mall, it's time to put your taste buds on a marathon. Visit the Food Court, which is filled with international aromas. Go on an epic culinary journey, trying different dishes from French and American to Indian and Lebanese.
10. Enjoy the grand movie-watching at Reel Cinemas

 
You would have never watched a movie like this before! Reel Cinemas is the most luxurious and comfortable movie-watching experience ever. Sit in the comfy sofas, dine from the 5-star menu, and get served by personal butlers — all while watching your favorite flicks on the big screen. The services even go beyond the usual by providing you with pillows and black as you lie down on the recliner for a more relaxed watch. 
Things to Do in Dubai Mall for Free
1. Admire Dubai Waterfall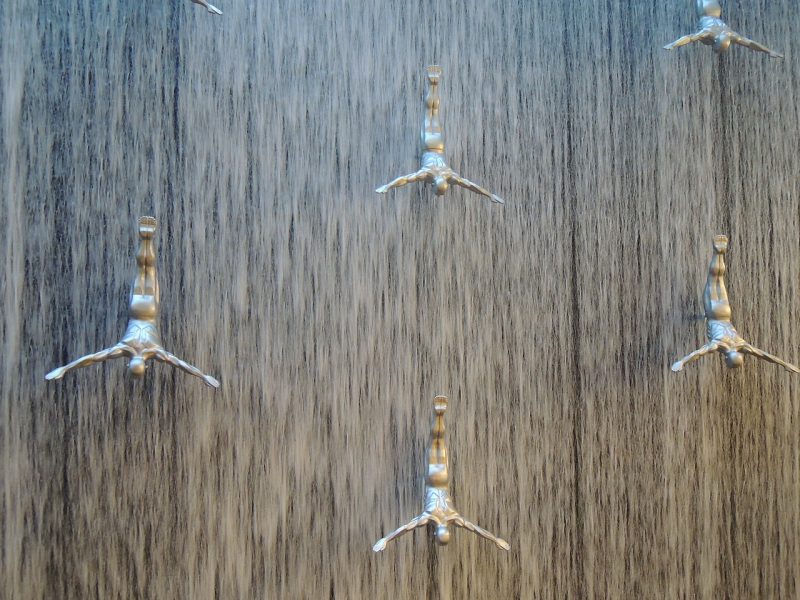 A giant artificial cascade flows in the middle of the mall up to the fourth floor, uplifting the whole ambiance. It is an enchanting addition to the affluent vibe of the place, and the sound of the water tumbling will make you feel rejuvenated — a complete retail therapy isn't it? There are human divers carved out of fibreglass creating a breathtaking visual. 
2. Watch Dubai Aquarium from Outside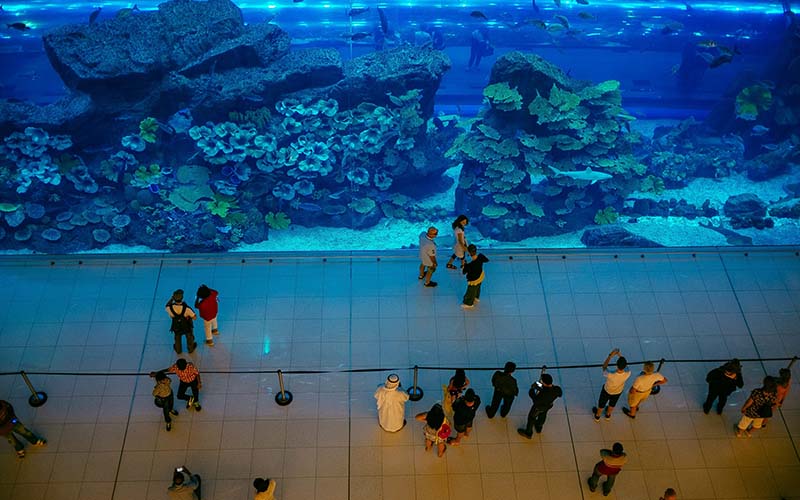 Well, to watch the majestic colorful fishes from outside requires no entrance fee. Standing in front of The Cheesecake Factory and Candylicious, you can gaze at the 33,000 marine animals living in their natural habitat. It's a treat to the eyes. 
3. Gaze at the Neck-Craning view of Dubai Dino
Are you a fan of Jurassic Park? Meet your buddy from another world live. Watch the Dubai Dino Display, a colossal skeleton of a 155 million-year-old dinosaur. Its drawn-out neck will make your jaws drop in wonder. You can find this and a lot more information on dinosaurs in the Souk area. 
4. Walking Tour on Fashion Avenue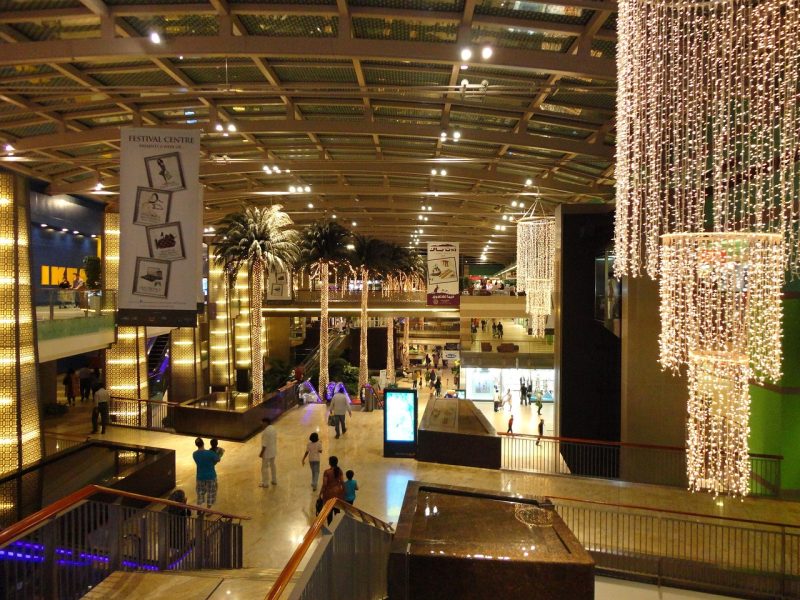 Upgrade your shopping experience by strolling through the palatial floors of Fashion Avenue. Keep your eyes glued to these fashion boutiques, as you come across 200 designer and flagship stores: Maybach, Chanel, Ulysses Nardin, Breitling, Valentino, Hermes, Rolex, Dolce & Gabbana, Prada, and Tom Ford. It is extraordinary to browse all these exorbitant brands under one roof. 
Places to Visit Near Dubai Mall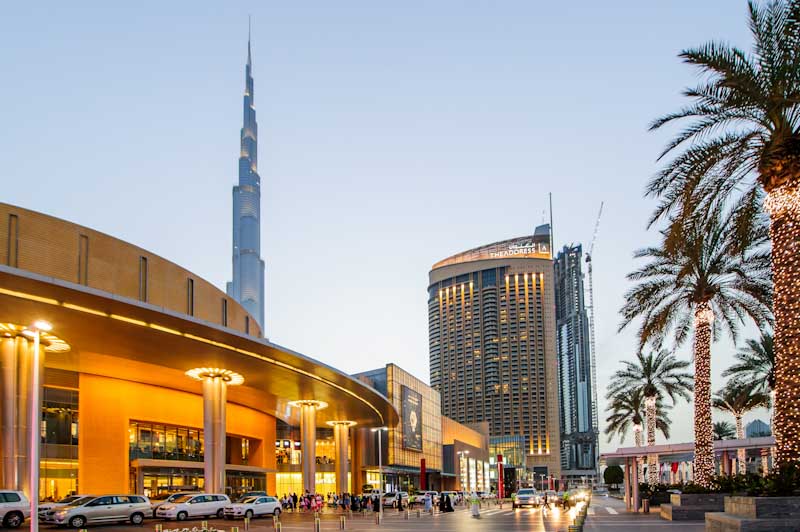 1. Dubai Fountain
Catch the best glimpse of the most visually attractive and jaw-dropping Dubai Fountain. It is the world's tallest choreographed fountain that spurts out 22,000 gallons of water. Tucked at the center of Downtown on the 30 acre of Burj Khalifa Lake, the striking performance is completed with the use of 6,600 lights and 25 illuminating projectors. One can hop on the boat or book a restaurant nearby to tap the toes of this stunning fountain dance. It is held every 30 minutes from 6 pm to 10 pm on weekdays and 6 pm to 11 pm on weekends. 
2. Burj Khalifa
Isn't it wonderful that the tallest building in the world, Burj Khalifa, is lying next to Dubai Mall? Head to one of the world's largest observation decks, At the Top, and immerse in unforgettable views of the cityscape. You will love the experience of cruising in the world's fastest double-deck elevators. The buildings below look like tiny, scattered seeds. It's an awe-inspiring visual of the sun setting on the horizon from a 360-degree vantage point, while you feel the glass crack underneath your feet. 
3. Dubai Opera
If you love authentic drama and music, book a seat at the grand Dubai Opera. It is a multi-functional theatre where you can observe ballet, concerts, opera, theatre, conferences and exhibitions. You can imagine the size when we say that it can hold 2,000 audiences at once. Right from dazzling architecture to stunning interior, Dubai Opera deserves a visit. 
FAQs
 1. What is the best time to visit Dubai Mall?
Dubai Mall is crowded and vibrant during the evenings, while it is calmer in the early mornings. One of the best times to visit Dubai Mall is in the winter months of November to March. For shoppers, the good time to be at Dubai Mall is during DSF ( December-January) and DSS (July-August). 
2. How to reach Dubai Mall?
You can reach Dubai Mall by metro to Burj Khalifa/ Dubai Mall station. You can also catch a bus to the Lower Ground floor. 
3. What are the best things to do in Dubai Mall? 
Besides loads of brand shopping, visitors can go ice skating, watch fish in Dubai Aquarium, have fun at Trampo Extreme, play video games at Play DXB, and watch movies at Reel Cinemas. 
Conclusion
Dubai Mall is a one-stop destination for complete entertainment, leisure, and shopping activities. It is a perfect family-friendly spot for all ages. So, whether you are in Dubai for 1 day or a week, do visit this mall.