If you plan to visit Dubai, you need to learn how to get about. How do you travel to your hotel from the airport? Or the Dubai Mall from your hotel? Using the Metro Dubai & Dubai buses is one of the fastest and least expensive methods to move around Dubai. Since its opening in September 2009, the Dubai Metro has revolutionized citywide public transit. The metro provides residents and visitors with an economical and practical means of getting around Dubai with its increasing network.
Dubai Metro: An Overview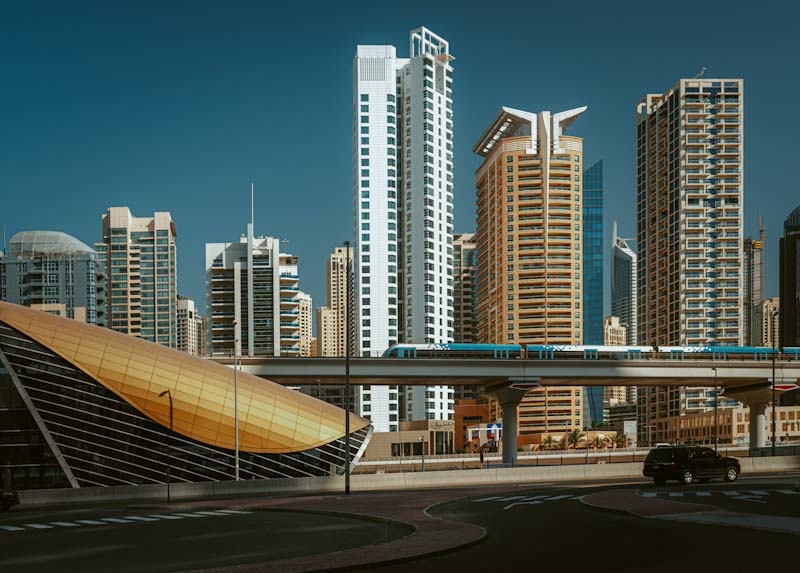 Dubai Metro is today renowned for its cutting-edge, futuristic design, which includes air-conditioned trains, roomy coaches, and cutting-edge technology like autonomous train control and screen doors on the platform. The Dubai Metro is particularly well known for its sustainability elements, such as its use of solar electricity and eco-friendly materials, for which it has won a number of accolades. This convenience plus conservation is one of the top reasons why Dubai is famous.
One of Dubai's busiest transport systems, the metro line Dubai has been in operation since 2009. They have two lines that travel across the city both above and below ground—the green and the red. The metro offers three classes: a women's and child's class, a silver class (which is more affordable), and a gold class (which is magnificent).
Dubai Metro Route Map (Displaying Lines)
Here is the detailed Dubai Metro Map to help you understand the routes running through major attractions.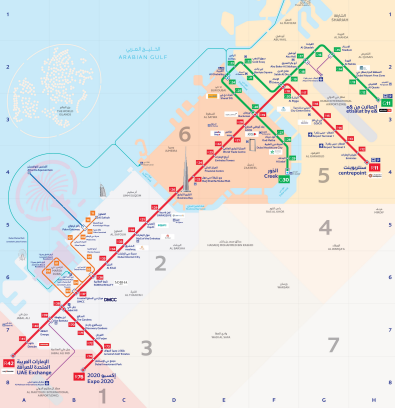 What are Dubai Metro Timings?
Well, here you go. The metro operates every Saturday, Sunday, Monday, Tuesday, and Wednesday from 5 a.m. until midnight. On Thursdays, it operates from 5 am-1 am, while on Fridays, it does so from 10 am to 1 am. So, if you have things to do in Dubai at night, these metros can help you go places. Every 4 minutes at peak hours and every 7 minutes otherwise, the trains operate fairly frequently. In short, if you want to know what time does Dubai metro close, then it is around 1 am midnight.
Major Lines of Dubai Metro
The Sheikh Zayed Road, the primary city thoroughfare, may be followed via the Red Line. Some of the main attractions along this route, which leaves from the Rashidiya station (near Dubai International Airport, abbreviated DXB), are the Burj Khalifa, Emirates Towers, The Dubai Mall,  Jumeirah Lakes Towers & Mall of the Emirates. In the UAE Exchange station in Dubai's Jebel Ali neighborhood, the queue comes to an end. The Red Line will be used by most visitors.
The Green Line travels from Etisalat station in the Al Twar neighborhood to Dubai Creek Park. By using this route, you may explore the charm and legacy of Dubai, by visiting Al Fahidi Historical District, Deira, and the gold and spice souks, the famous flea markets.
How to Use Dubai Metro?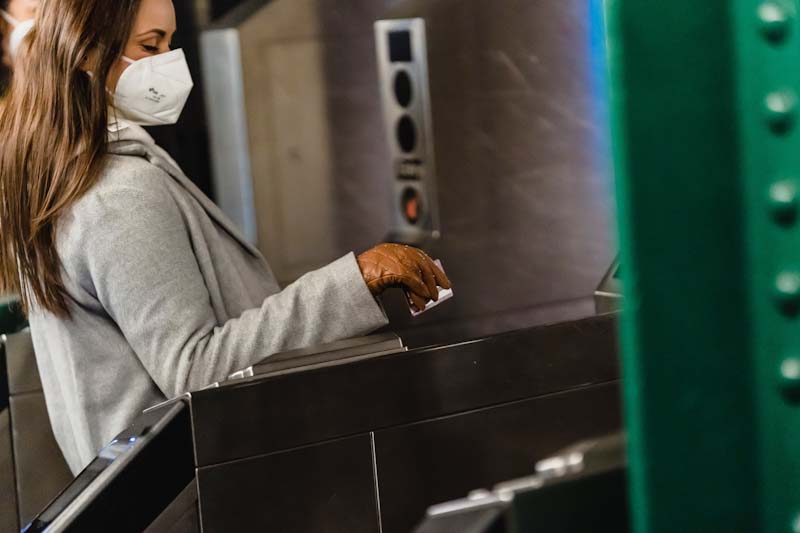 Now the question is how to use the metro in Dubai. A helpful ticket agent is waiting at the counter as you walk into the station. Tell him the station you are going to and if you would want a red ticket/a silver card. He will inform you of the cost, which is payable with cash or a credit card.
Tap the card against a card reader to open the gate. Look for a green arrow to check that you are entering the correct gate. Additionally, remember to keep your card close by because you will need it to leave.
Consult a posted signboard as soon as you enter. You can access a train that is headed in a different direction by using the escalator to the left or to the right.
Additionally, remember to enter the proper cabin when you are waiting for the train. The Gold cabin is available to those who have bought a Gold card and has plush leather chairs and expansive vistas. Naturally, only ladies and children are allowed in the ladies and Children cabin. There may be a fee if you choose the incorrect cabin.
Look at the floor marks beside the gate to see whether you are to enter a unique cabin.
Simply get off the train when you reach your location, then proceed to the gate. The right fare will be deducted when you tap the card against the reader.
So, whether you are for 1-day trip in Dubai or a week, hopping on the metro is one of the convenient methods to explore the city.
Dubai Metro Cost
How much is metro in Dubai? The Dubai Metro in fact is reasonably priced to use. The metro network in Dubai consists of seven zones, and your fare is determined by how many zones you travelled through at the end of your trip. There are also day permits that provide limitless travel.
The red card & the silver card are the two practical choices for a traveler.
Red Card: The red card only costs 2 AED. It has 90-day validity and may be filled with up to about 10 journeys or 5 daily tickets. The cost of the day pass is 20 AED.
Silver Card: You can also purchase a silver card for 25 AED. It will have a 19 AED capacity and may be recharged as needed. The silver card in fact is good for five years and can be used if you plan on returning shortly.
Gold Card: With this card, you may travel in first class. You may buy this card for 25 AED and get 20 AED back as credit.
Dubai Metro Facilities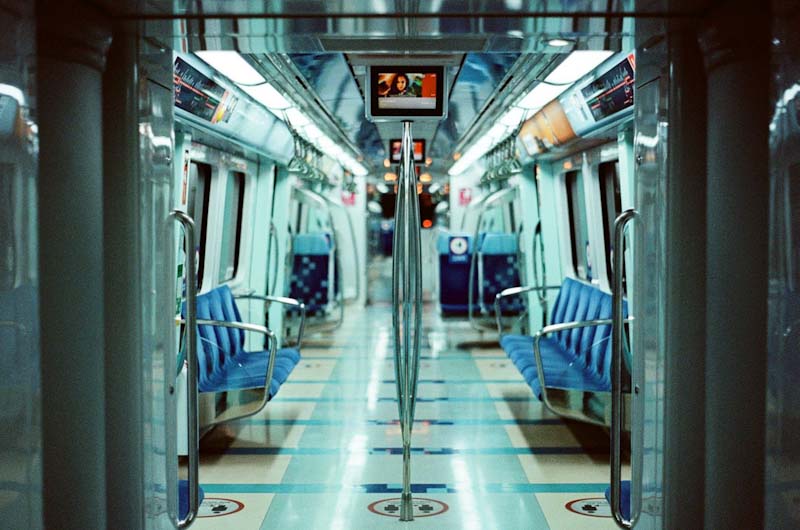 Dubai Metro offers the following facilities,
Over 3000 CCTV cameras
Dedicated metro police
Radio link
Emergency call box
Wi-Fi
Besides, the metro in Dubai is also equipped with various accessibility features for the commuters convenience. These features comprise,
Informative Displays
Lift access
Wheelchair access
Platform alerts
Tactile guidance paths
Code of Conduct in Dubai Metro
To protect everyone's safety and comfort, the RTA has also asked commuters using the Dubai Metro to adhere to some code of conduct while commuting. Avoid shoving other commuters; respect each person's right to personal space; go down the platform; give way to other commuters; move down to the cabins; and wait for other passengers to exit the train before entering it yourself. To avoid any unwanted attention, it is crucial to be aware of etiquette in Dubai.
Dubai Metro- Waiting Time
The wait for the train is not that long. During peak hours, the waiting time is in fact around 4 minutes, although it is often 7 minutes. Keep calm & wait for the turn because the train does not stop very often.
Benefits Galore
It costs four times less than a cab that is leased. Spend less while travelling, then.
It is the quickest and most straightforward method of transportation.
Because of both the metro police & CCTV cameras, it is the safest mode of transportation.
It is simple for you to go to the airport.
Every cabin offers free Wi-Fi.
You can view practically all of Dubai's prominent landmarks from the metro.
What is a NoL Card?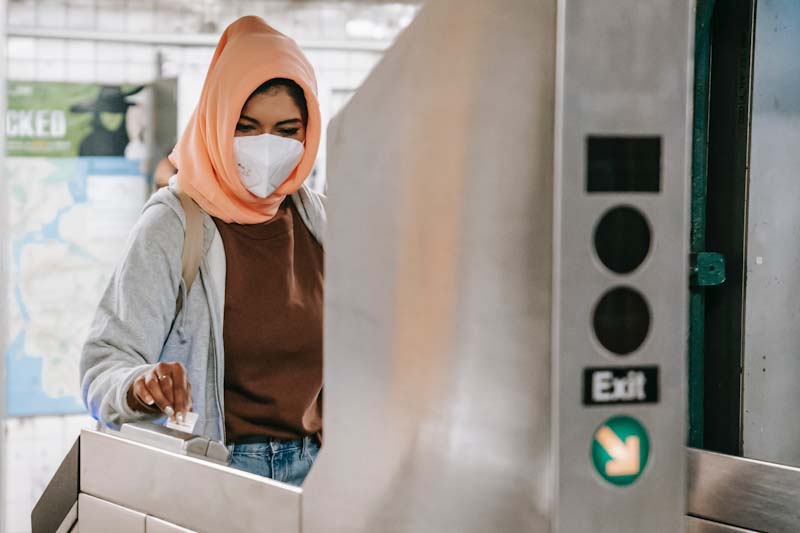 The Nol card, which offers lower rates, is a rechargeable ticket similar to New York City's Metrocard or London's Oyster card.
Nol cards may also be utilized to pay for fares on the city's buses, trams and taxis, among other public transit options.
There are numerous ticket types available, but most visitors choose the Silver Nol card, which can be filled with up to about AED 1,000 in credit and is the best option if you want to use public transit frequently while visiting Dubai.
Additional Advice
Route maps are accessible online and at stations, and the Dubai Metro is a quick and affordable method to get about the city.
Purchase Nol cards at the station counters or machines with cash or a credit card.
You will need your Nol card to escape the system after entering, so tap it on entry gates & retain it.
Make sure you get on the appropriate train: There are distinct Gold Card and women's and kids' only compartments on each train.
Using the metro while eating, drinking, or chewing gum is forbidden and punishable by steep fines.
Bottom Line
Whether you are a visitor or a permanent resident of Dubai, the city will always treat you with the utmost respect. One of the clearest instances of how this opportunistic emirate provides comfort to everyone is the Dubai metro train service. Dubai makes it simple in every way to better your life, from one trip & your everyday commute to the permanent work source. The metro service is reasonably priced, and the many lines make it suitable for all customers to go across the city. To ensure a pleasant trip, it is a good idea to review the route map, stops, and ticket prices. The Dubai Metro provides a practical, economical, and effective means of getting through the city. To guarantee a pleasant and trouble-free trip to Dubai with family or friends, familiarize yourself with the metro routes, stations, timetables, and laws.