Spending two days in Dubai, the epicenter of all things extravagant is the best option if you want to feel like royalty and go on a city getaway with all the glitz & glamour you could possible want and more. Dubai, which was built on the foundation of a city of riches and opulence that most of us can only imagine, is a place where supercars are pimped out, gems are everywhere, and futuristic architecture catches you off guard at every turn. Here are some tips for you to quickly learn about this magnificent city in just 48 hours.
Itinerary for 2 Days in Dubai
Two days in Dubai will be plenty to give you a taste of the city, but you will need to prioritize what you want to see & do.
Day 1 in Dubai
Old Quarter- Assuming you choose Deira as your base of operations, you would be located close to the airport in Dubai's historic district. The spice & gold souks are a busy, chaotic, must-see area in Old Dubai. Reach these stores early to avoid the tourist swarms that arrive about 9 am. You may get any kind of souvenir item, including gold, spices, and carpets, for a much less money here than in the malls. Never forget to barter fiercely here; it is all part and parcel of the experience.
Bur Dubai- On the first day in Dubai, you should definitely take an actual abra ride, however the ones close to the souks are rather pricey. Instead, stroll to the abra station & board a water taxi in the first row to Bur Dubai on the opposite side. It is inexpensive and provides wonderful picture possibilities.
Jumeirah Beach- Although Bur Dubai has many more souks, since you have previously seen them, take a cab to Jumeirah Beach. At this time, the beach will not be busy, and you can enjoy lovely views of Burj Al-Arab, the only seven-star hotel in the world. One of the few public, unrestricted beaches in Dubai is this one. The Dubai Fountain, the Dubai Mall, and Burj Khalifa are all located in Dubai Downtown, which may be reached by bus or cab (there is no train link from Jumeirah).
Burj Khalifa- The Burj Khalifa is one of the reasons why Dubai is famous. It might take more than 3 hours easily of your time. If you attend, make reservations in advance and get a ticket for the 148th floor's highest level.
Dubai Mall- Dubai Mall is worth a visit whether or not you want to shop. There is no need for transportation because you can visit the Mall immediately from the Burj Khalifa. In fact, you could spend days exploring this enormous shopping mall and yet not see everything. Here, one may find the Ice Rink, the Dubai Aquarium, and the Underwater Zoo, among other attractions. There are several good eating establishments around where you may enjoy a filling dinner before moving on to your next site.
Dubai Fountain- The Dubai Fountain, a beautiful location to visit at, is located just adjacent to the mall. You can catch this spectacular display, every 30 minutes amid the hours of 6 and 11 in the evenings. The ideal way to end your first day is to sit here among the visitors with Burj Khalifa brightly lighted in the background. On an abra boat trip that glides near to the dancing fountains, you may enjoy better views of the Dubai Fountains performance while avoiding the throng. Plus, it is one of the free things to  do in Dubai.
Day 2 in Dubai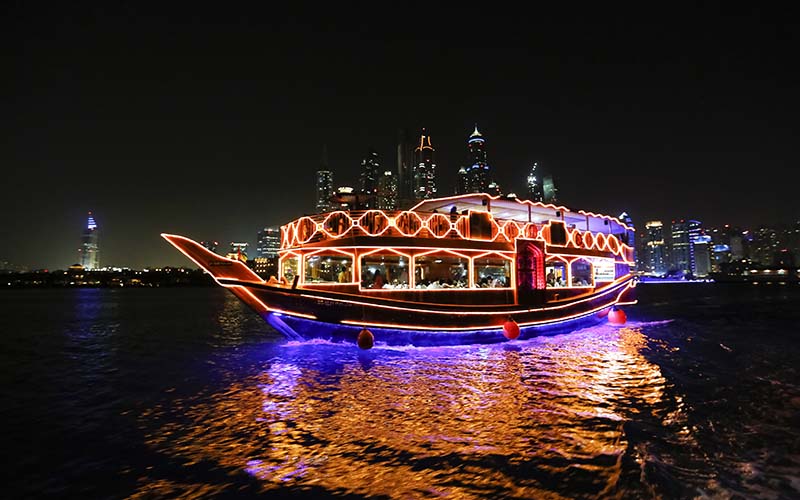 Dubai Marina- From the Deira City Center Metro Station, take the train to Dubai Marina; it will take you there in just 45 minutes. One of the biggest man-made marinas in the world, this area is wonderful for a morning stroll.
Madinat Jumeirah- The posh neighborhood of Madinat Jumeirah in Dubai, which is modeled like ancient Arabia, is at a little distance from the marina. You can spend at least two hours getting lost in this lovely region if you skip your coffee break.
Desert Safari Tour- Set aside the rest of your day for an afternoon desert safari coupled with BBQ to experience the ride of a lifetime. You will experience the desert up close and personal as you spend twenty minutes in 4WD vehicles dune bashing across the sand dunes. You will go to a real Arab camp and unwind with a shisha while belly dancers gyrate and mesmerize you with their dances. The desert safari excursion is capped off with a BBQ buffet dish.
Sunset Dinner Cruise- On your final night in Dubai, reward yourself with a wonderful 2-hour sunset dinner at dhow cruise Dubai. It is one of the best floating restaurants in world. Step on board a solid wooden dhow, relax on the top deck while enjoying a lavish buffet supper, and glide through the floodlit attractions as you take in Dubai's modern cityscape.
Where to Stay in Dubai?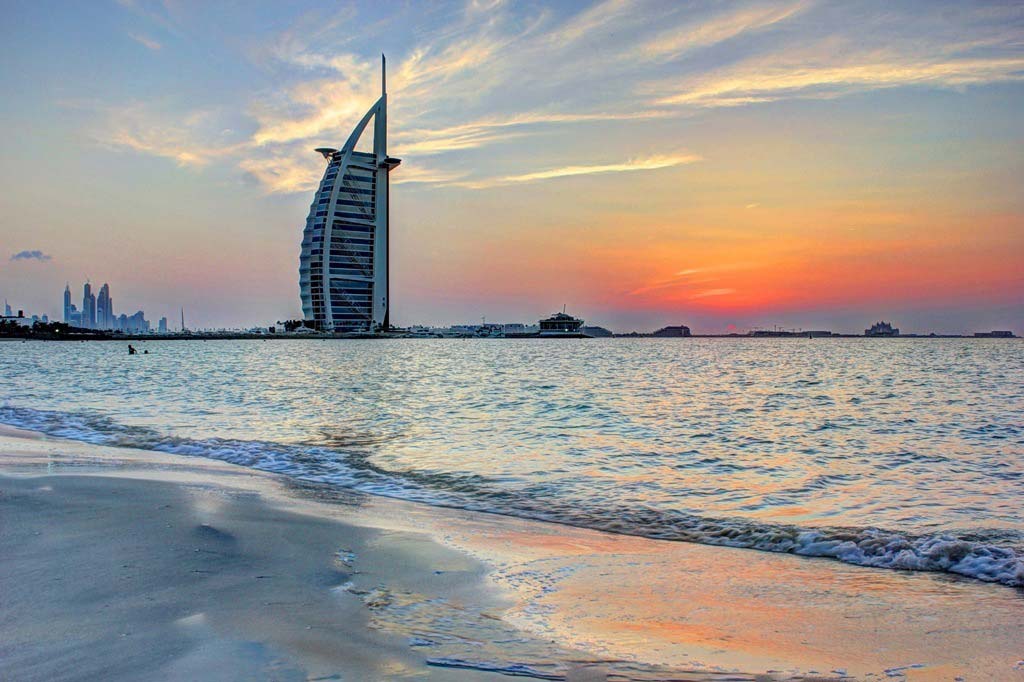 Atlantis The Palm– Numerous restaurants, the biggest water parks in the world, an aquarium, and other amenities can be found at this opulent resort. While you acclimatize to the time shift, it is a terrific location to unwind. It is perfect for guests who prefer to spend most of their time at the Atlantis The Palm because of its location on the apex of the man-made island, which is a little more private than other sites.
JW Marriot Marquis- The convenience of this upscale hotel's location makes it an outstanding choice for travelers on the go. You may go around the city quickly by a cab before retiring to your luxurious accommodations for the evening.
Burj AI Arab- The pinnacle of Dubai luxury and pleasure is this 5-star hotel. Everything about it is extravagant, including the Michelin-starred meals, the Rolls-Royce chauffeur service, and the MacBooks in the rooms. Although it is close to the Palm, getting to other locations is a little quicker due to its proximity to the highway.
Apart from these, there are budget hotels too which you can choose as per your needs and the area that you stay.
Where to Eat in Dubai?
Luckily, you can find many unique places to dine in Dubai. There are several restaurants and cafes in the Dubai Mall where you may go for breakfast, brunch, or lunch. There are several restaurants in Dubai where you may find some familiar comforts; however, not each of these serves genuine Arabian cuisine. After your ferry ride, you might have supper in the Dubai Marina. The Talk Restaurant, Mazina, & Zengo are among of the area's top eateries. As an alternative, the Dubai Mall is home to a number of eateries that are worth visiting. The mall's top eateries include Cova, Somewhere, and Tribes.
Near the Gold Souk, there are a few restaurants where you may enjoy ethnic eats in Old Dubai. Al Bait Al Qadeem is one of the top-rated eateries in the region. However, there are also KFC and McDonald's close by. Or, if you have planned ahead, you may bring a picnic and eat it while lounging by the sparkling Dubai Creek. After your desert adventure, you will be completely taken care of, so there is no need to find a restaurant later.
Tips for First-Time Visitors in Dubai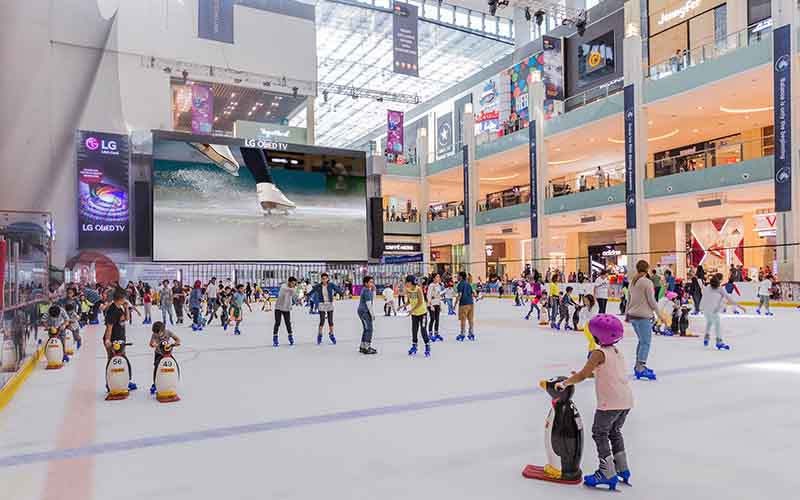 Respect Local Customs- For Dubai, being a Muslim nation, it is crucial to respect regional traditions. When visiting holy locations, especially, dress modestly and refrain from making public shows of affection. Also, know the etiquette in Dubai to holiday without disturbing the culture.
Be Ready for the Weather- Dubai may get very hot in the summer months, so be prepared for the weather. Sunscreen and breathable, lightweight clothes should be packed. Additionally, consuming lots of water can help you keep hydrated.
Plan the Transportation- Plan your transportation because it might be difficult for first-time tourists to navigate Dubai's extensive transit system. Think about hiring a car, using a cab, or using Dubai's public transit. The Dubai Metro in fact, is a practical and inexpensive choice.
Try Local Cuisine- Since Dubai is a fusion of many different cultures and cuisines, make sure to sample some of the regional specialties. Shawarma, hummus, falafel, & shish taouk are some of the most well-liked choices.
Be Mindful of Rules- Keep in mind that Dubai has strong regulations governing consumption of alcohol, use of drugs, and conduct in public. To keep away from any legal difficulties, be sure to abide by these guidelines.
Book in Advance- To minimize disappointment, it is a good idea to reserve your hotels, tours, and attractions in advance as Dubai is an admired tourist destination.
So, plan your trip around this guide and you will have unforgettable days. Continue reading about the best tips for planning a trip to Dubai.