For many, shopping is one of the things to do when travelling to other countries. Shopping can just be a rewarding experience as one can have the time pampering oneself. Malls are the go-to places for shopping. But, finding malls can be difficult, especially when one visits a place like Dubai for the first time. You will find all types of shopaholics here because of high-end retail stores, exclusive boutiques, street shops and flea markets in Dubai.
To help you make the most of your time here, we will give you a comprehensive list of malls in Dubai to satisfy your shopaholic. Continue reading below for your ultimate shopping guide in Dubai.
Dubai's Shopping Scene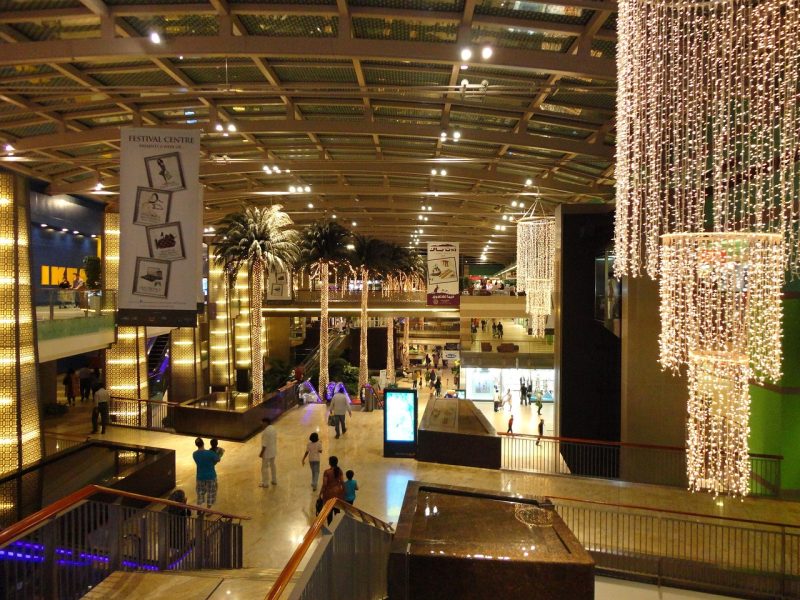 Dubai, the crown jewel of the United Arab Emirates, is known for its breathtaking skyline, beautiful beaches, and luxurious lifestyle. Blending tradition with innovation and luxury, this city has earned its reputation as a global hub for business, tourism, and entertainment.
When it comes to shopping, moreover, Dubai is a paradise unlike any other. In fact, Dubai is celebrated for its wide array of luxurious shopping malls, traditional souks, and bustling markets. From high-end fashion boutiques to traditional Arabian treasures, Dubai's shopping scene is a captivating fusion of global brands and local craftsmanship.
The city even celebrates an annual month-long Shopping Festival, transforming the city into one big shopping paradise and attracting millions of visitors worldwide.
Whether visiting Dubai for two days or a week, you cannot simply miss shopping in one or two of the city's best malls.
Top 10 Malls in Dubai
As a traveller, it would be regrettable to miss shopping in Dubai's best malls. This blog gives you a list of malls in Dubai to make the most of your shopping experience. Buckle up as we give you the top 10 malls in Dubai for your ultimate shopping experience.
1. Dragon Mart
Location: Interchange 5, International CIty, Al Awir Road, Dubai
If you are going for an affordable shopping spree, then Dragon Mart is the best place to go. Dragon Mart is a haven for bargain hunters. It is famous for offering affordable products and fantastic deals on many items. Known as the cheapest mall in Dubai, this shopping hub is the largest Chinese trading hub outside China. It is located in the International City area. Here, you'll find an extensive range of affordable products, from clothing and electronics to home furnishings and accessories. You can check out the Dubai Metro guide to understand how you can reach here.
2. Dubai Outlet Mall
Location: Route 66, Al Ain, Dubai Road, Madinat Hind 1, Dubai Outlet Mall
Get awesome discounts when shopping at the Dubai Outlet Mall! The Dubai Outlet Mall should not be missed by fashion enthusiasts looking for designer brands at discounted prices. Located in Dubailand, this mall features over 200 stores offering year-round discounts of up to 90% on world-famous brands. From clothing and footwear to accessories and home decor, Dubai Outlet Mall is a treasure trove of affordable luxury.
3. Ibn Battuta Mall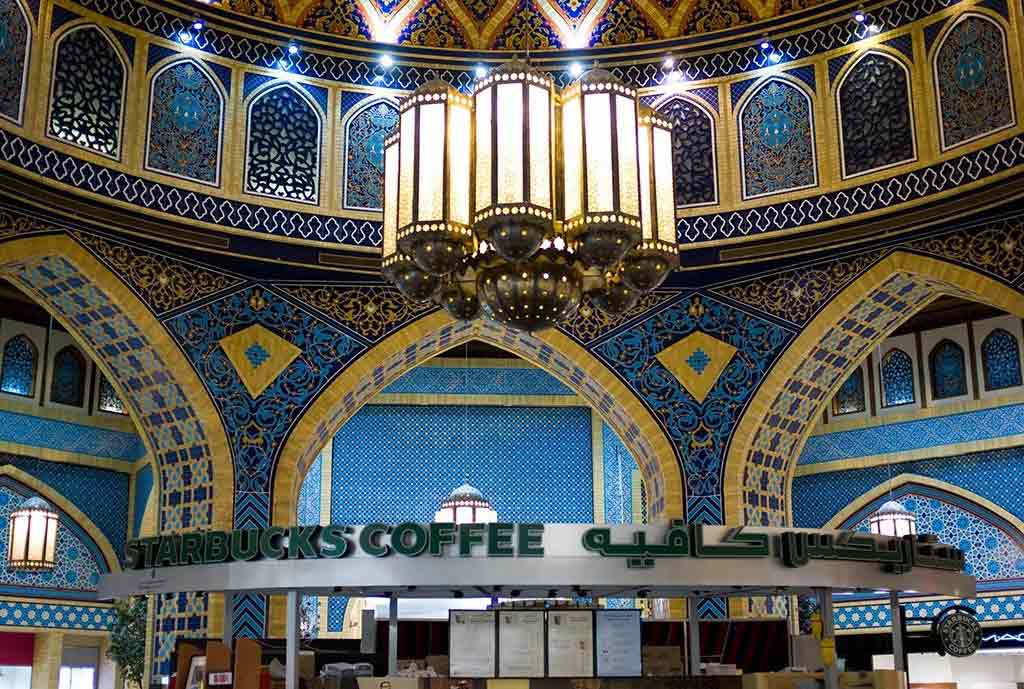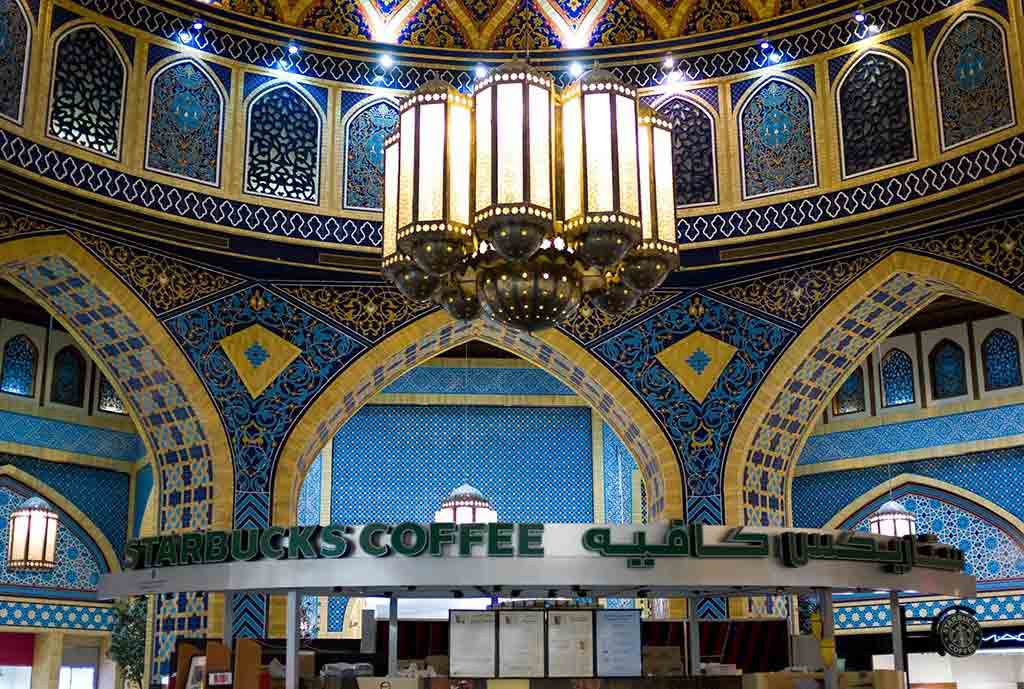 Location: Sheikh Zayed Rd, Jebel Ali Village, Close to Interchange 6, Dubai
Have you tried shopping with a mix of travel through history? The Ibn Battuta Mall offers such a unique shopping experience. This mall is inspired by the travels of the famous 14th-century Moroccan explorer, Abu Abdullah Muhammad ibn Battutah. Divided into six themed zones representing different regions, the Ibn Battuta Mall in Jebel Ali takes you on a cultural and historical shopping adventure. You can shop, dine, and watch various kinds of entertainment while immersing in the historical charm of the world witnessed by Ibn Battuta himself.
4. Mall of the Emirates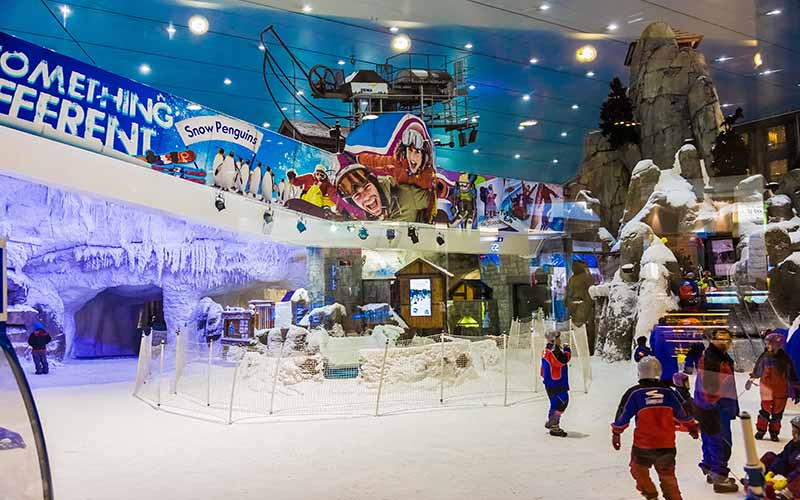 Location:  Interchange 4, Sheikh Zayed Rd, Al Barsha, Al Barsha 1, Dubai
No visit to Dubai would be complete without experiencing the blend of luxury and entertainment at the Mall of the Emirates. Located in Al Barsha, this mall is famous for its luxury brands, including designer fashion items, jewellery, and electronics. But what sets it apart is its star attraction–Ski Dubai, the Middle East's first indoor ski resort. Whether you hit the slopes or indulge in a shopping spree, the Mall of the Emirates promises an unforgettable shopping experience.
5. City Centre Deira
Location: 8th St, Port Saeed, Dubai
Located in the heart of Deira, City Centre Deira is one of Dubai's oldest and most beloved malls. With over 370 stores, this bustling shopping destination offers a delightful variety of fashion, electronics, and home furnishings. It also houses a dedicated Gold Centre, where you can find exquisite jewellery finely crafted to elegance. The mall also has numerous restaurants and cafes to dine at should you need to take a break from shopping.
6. Dubai Marina Mall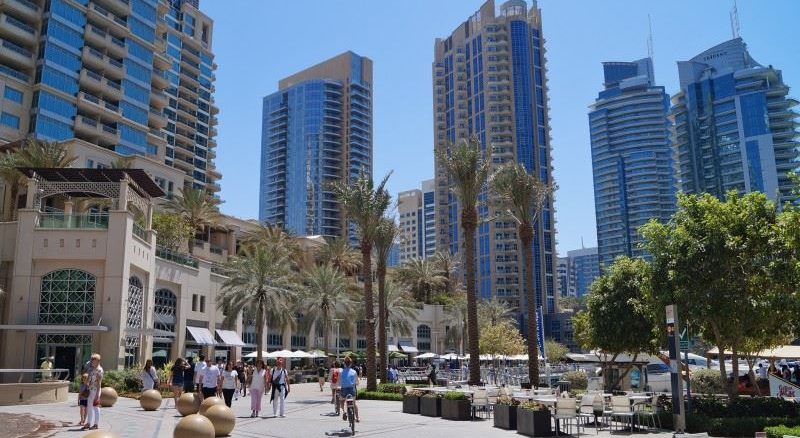 Location: Exit 32 – Sheikh Zayed Road, Dubai
Experience shopping along the waterfront at the Dubai Marina Mall! Situated along the stunning Dubai Marina waterfront, the Dubai Marina Mall offers a unique waterside shopping experience. Its strategic location provides a breathtaking view of the marina. The mall features a variety of stores, from high-street brands to specialty boutiques. You can enjoy a leisurely stroll along the promenade or dine at one of the waterfront restaurants post-shopping.In the neighborhood, you can find the most enchanting bars and restaurants in Dubai with a sumptuous menu. Not just that,
7. Dubai Mall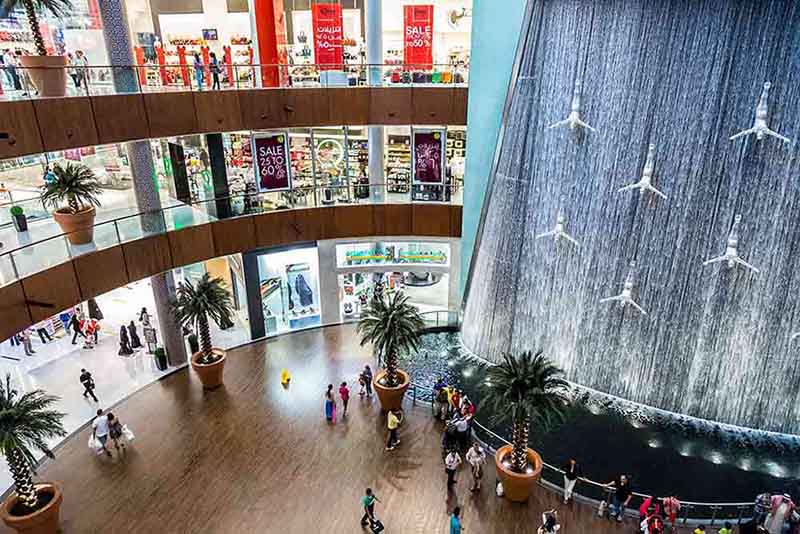 Location: Next to Burj Khalifa, Downtown Dubai, Dubai
When in Dubai, you can't miss shopping at the world's biggest mall–the Dubai Mall. The Dubai Mall is known as the biggest mall in Dubai and in the world by total area – one of the reasons why Dubai is famous. Located near the Burj Khalifa, this enormous shopping hub boasts over 1,200 stores, showcasing everything from luxury fashion items to electronics and home decor. Although the Dubai Mall shops are captivating, it is not just a shopping destination. It's also a complete entertainment hub with attractions like the Dubai Aquarium, Play DXB, Hysteria, and an indoor theme park. You must visit Dubai in December as the city is immersed in one of the popular festivals called the Dubai Shopping Festival. Dubai Mall is one of the biggest centers for this festival.
8. Wafi Mall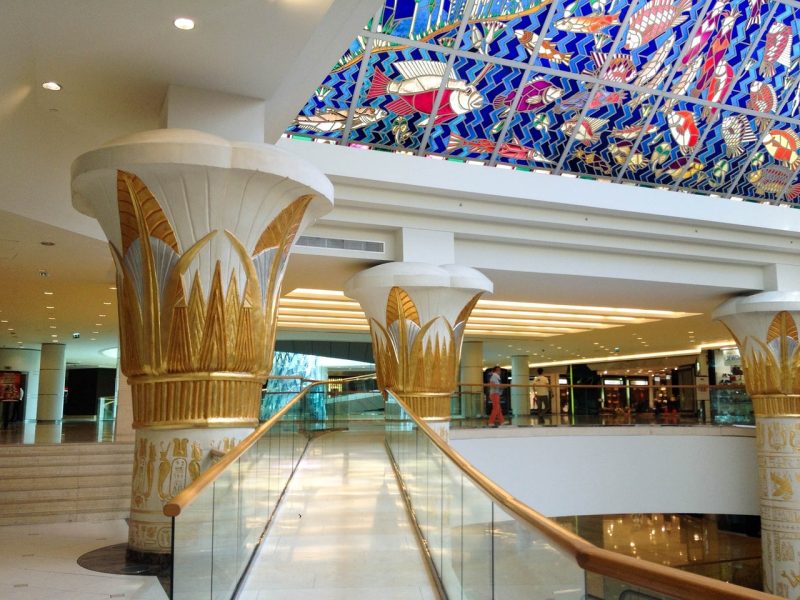 Location: Oud Metha Rd, Umm Hurair 2, Dubai
Step into a world of Egyptian-inspired elegance while shopping at Wafi Mall. Located in Oud Metha, this unique shopping destination showcases stunning architecture reminiscent of ancient Egypt. Enjoy shopping from the mall's selection of high-end boutiques, art galleries, and luxury brands. Pamper yourself at the Egyptian-themed restaurants and spas. The Wafi Mall certainly brings a unique kind of elegance to a new level.
9. Dubai Festival City Mall
Location: Crescent Rd, Dubai Festival City, Dubai
Tag the family along for a fun-filled shopping experience at the Dubai Festival City Mall! Located on the banks of Dubai Creek, the Dubai Festival City Mall combines shopping with entertainment. The mall features a wide range of retail outlets, including popular fashion and lifestyle brands. On top of that, shoppers can enjoy the impressive IMAGINE show, a captivating multimedia spectacle of high Tech lasers, light, water, and fire. Shopping can't get any more entertaining at the Dubai Festival City Mall.
10. Dubai Outlet Village
Location: Near Dubai Parks and Resorts, Mina Jebel Ali, Dubai
Get great bargains on luxury brand items at the Dubai Outlet Village! This Mediterranean-inspired shopping village offers a unique shopping experience with over 130 stores offering year-round discounts on high-end fashion items, accessories, and lifestyle products. Have time strolling through its charming streets and indulge in luxury shopping at affordable prices.
FAQs
1. How big is the Dubai Mall?
Known as the biggest mall in Dubai, the Dubai Mall covers a total area of over 12 million square feet. It also holds the title as the biggest mall in the world.
2. Which mall in Dubai offers the best discounts and deals?
The Dubai Outlet Mall is known to offer the best discounts and deals. It has more than 200 stores that offer year-round discounts of up to 90% on international and luxury brands. Great discounts are also available in the Dubai Outlet Village.
3. Are the best malls in Dubai accessible?
 The best malls in Dubai are located around the city and are very accessible. You can reach the malls in Dubai either through the metro or through taxi. The Dubai Mall is even located near the Burj Khalifa.
Conclusion
Whether you're searching for designer labels, or unique souvenirs and memorabilia, Dubai's best malls are certainly ready to offer you the best. With its unparalleled blend of luxury, diversity, and innovation, Dubai lives up to its name as a commercial hub for shopaholics and connoisseurs of style alike.